The American Psychological Association has released tips for how to manage anxiety caused by the 2020 election, after a survey revealed the upcoming vote is a significant source of stress in the lives of most people in the country.
A nationally representative survey of U.S. adults carried out by The Harris Poll for the APA suggested that more than two thirds (68 percent) of over-18s found the presidential election on November 3 a significant source of stress. That figure was up from 52 percent in 2016.
The survey was accompanied by evidence-based advice from the APA on how to cope with stress in the run up to polling day. Scroll down to find some of the advice from the association, as well as recommendations from experts who spoke to Newsweek.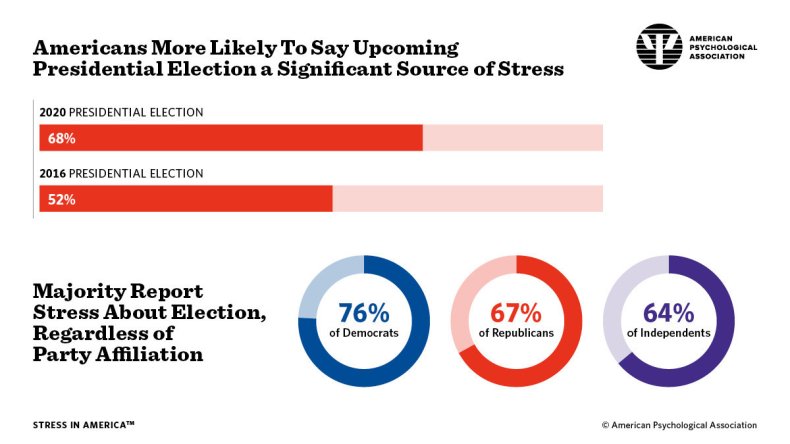 The race between President Donald Trump and former Vice President Joe Biden comes at a turbulent time for the U.S., amid the COVID-19 pandemic that has killed almost 211,000 people in the country, the nomination of a new Supreme Court judge following the death of Ruth Bader Ginsburg, and Black Lives Matter protests. On top of that, the president has stoked unfounded fears about voter fraud.
"Even wearing a mask in public is leading to political divide. Something unheard of in the political landscape," Ken Yeager, director of the Stress, Trauma and Resilience Program at The Ohio State Wexner Medical Center, told Newsweek.
Keith Humphreys, a professor of psychiatry and behavioral sciences at Stanford told Newsweek that "the level of emotional upset in 2020 is more than I have seen in any election in my lifetime."
Don't dwell on what you can't control
The election, the COVID-19 pandemic, and social unrest are combining to create a sense of uncertainty, according to the APA. "Avoid dwelling on things you can't control," it suggests. "When uncertainty strikes, many people immediately imagine worst-case scenarios. Break the habit of ruminating on bad outcomes."
Steven Stosny, a therapist credited for coining the term "election stress disorder" in 2016 after noticing a spike in anxiety among his clients, told Newsweek: "Whenever we focus on what we cannot control, we feel powerless. Shift the focus to deeper values—compassion, equality, justice. Most people feel more empowered when they think about their values, and powerless when they think about social policy."
Give yourself permission to take a break from the news
The APA advises against fixating on news coverage and to instead engage in meaningful activities, like the things you enjoy and issues that are important to you. "By making a plan on how you will vote, for example—in person, by mail or as part of early voting—you are more likely to follow through," it stated.
Yeager said it makes sense to limit one's exposure to the news. "The 24 hour news cycle is a source for 24 hours of stimulus that can provoke anxiety or depression," he said.
Humphreys' advice is not to "doomscroll." He said: "The polls will not change based on whether you check them every five seconds or every five days. Anxiety is best handled by being active, for example volunteering to work at the polls or to make calls on behalf of the candidate you support."
Recognize that some anxiety is expected but know when to seek help
"A bit of anxiety about this election cycle is very normal," Jennifer Douglas, clinical assistant professor in the department psychiatry and behavioral sciences at Stanford, told Newsweek. "Many election cycles bring about strong emotions including hopes and fears about how the administration will reflect our values as citizens."
A person should seek professional help if election anxiety has started to interfere with their everyday life, for instance if they lose sleep, get in fights with family or friends, or have ongoing irritability or a depressed mood, Douglas said.
Remember things will move slower this election
Due to the COVID-19 pandemic, more people will be voting by mail this year. These take longer to process, meaning it is unlikely the winner will be revealed on Election Day. "If you think this will raise your anxiety, keep busy with things that you enjoy and stay connected to social support so that you aren't continually checking for what could be viewed as 'bad' news," the APA said.
"Don't hold your breath, cast your votes and cross your fingers," Yeager said. "Remember the nation moves slow, it is a system that requires time to work through judicial and legislative issues."
Practice values-based living
According to Douglas, coping with election anxiety comes down to a mixture of stress management and what psychologists call values-based living. "If we know that we value time with our family, but that viewing the news will put us in a state of worry so we can't be present, then we can time our news consumption so it has minimal impact on our family time." It can also involve dedicating some of the time we would normally spend worrying to tangible action, like volunteering or donating, she said.
Stay connected, even if it is virtually
The APA said research shows people who have at least one or two family members of friends to reach out to for emotional support are able to deal with a stressful situation better than those who do not. The association advises staying socially connected, perhaps by going for a walk or spending time with friends and family.
Of course, the varying rules and guidelines on social distancing in the U.S. due to the COVID-19 pandemic have disrupted how we usually interact with one another. But Yeager said social distancing should not mean social isolation. "Stay connected via phone, internet, text, tweet whatever works best for you," he said.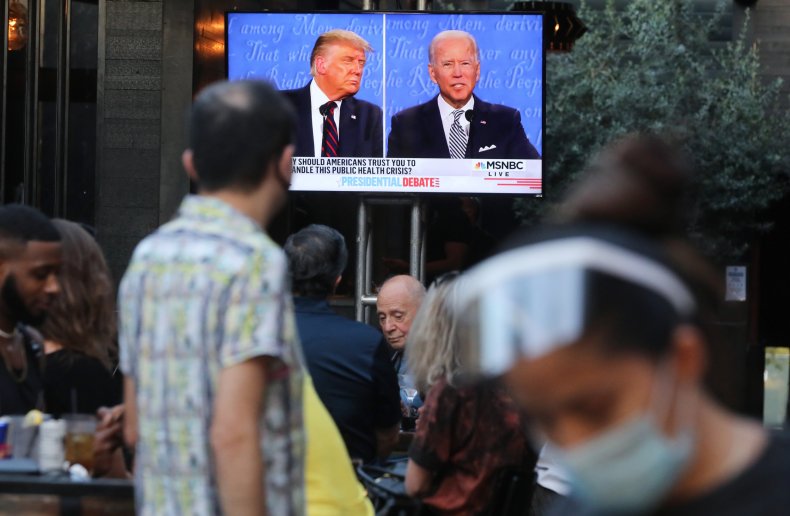 Write down your thoughts
According to Stosny, writing down our thoughts can help to ease stress. "Anxious thoughts race through your mind, and the faster they go, they more exaggerated and less realistic they become," he said. "Next to each anxious thought, write down what you will do to make your life better and more meaningful if the election goes against you. Empower yourself by lobbying Congress, writing letters, joining activist groups."
Stay Active
Evidence suggests exercising can help to relieve stress and even help with conditions such as anxiety and depression, partly thanks to the release of chemicals like endorphins "Moving helps us release the energy we experience when we feel stressed," the APA said.
Psychologist Dr. Vaile Wright, senior director for health care innovation at APA, told Newsweek: "This is an unprecedented time and it is to be expected that people are feeling more overwhelmed or anxious than at other times in our memory." She said it is important to take care of yourself by getting enough sleep, eating well, and staying active.
Uncommon Knowledge
Newsweek is committed to challenging conventional wisdom and finding connections in the search for common ground.
Newsweek is committed to challenging conventional wisdom and finding connections in the search for common ground.
About the writer
Kashmira Gander is Deputy Science Editor at Newsweek. Her interests include health, gender, LGBTQIA+ issues, human rights, subcultures, music, and lifestyle. Her work has also been published in the The Independent, The Independent on Sunday, The i Newspaper, the London Evening Standard and International Business Times UK.