How Does Coronavirus Spread, and Can You Pass on Covid-19 When You Aren't Showing Symptoms?
Since it emerged last December, the new coronavirus has killed over 7,500 people in almost 190,000 confirmed cases, according to a tracker from Johns Hopkins University. Of these, more than 8,600 have recovered.
At a media briefing last week where he declared COVID-19 a pandemic, World Health Organization director-general Tedros Adhanom Ghebreyesus said the UN agency was "deeply concerned" by "the alarming levels of spread and severity" of the disease.
But how exactly is SARS-CoV-2—the virus that causes COVID-19—transmitted?
The new member of the large coronavirus family of pathogens does not appear to infect the body in a particularly unique way, Jessica Justman, associate professor of epidemiology at Columbia University Mailman School of Public Health, told Newsweek. Like other viruses, it binds to a receptor found on many cells in the body, including those in the lower respiratory tract. The microbes, which are a protein coat filled with genetic material, then hijack the cells in order to replicate. This is why some COVID-19 patients develop pneumonia, an infection of the air sacs in one or both lungs, said Justman.
As Lotti Tajouri, associate professor of Biomedical Sciences at Bond University explained in The Conversation, when a person is infected with a bug, they becomes a "reservoir of virus particles which can be released in bodily fluids." If the virus can enter the body of a new victim the cycle starts again.
When a sick person coughs or sneezes, the virus particles travel on the expelled droplets, Deenan Pillay, professor of virology at University College London, U.K., told Newsweek. If a person breathes in these globules, or if they touch an infected surface like a door handle and transfer the particles to their mouth or nose, the virus can then try to invade their cells.
However, Pillay said catching the virus from droplets only happens when a person is "very close proximity to an infected individual" as it is not thought to survive long as an aerosol, or a particle suspended in the air. Viruses can, however, remain on some surfaces for up to 72 hours, said Pillay, which is why we are told to take measures to protect ourselves from COVID-19 like regularly washing our hands and not touching our faces.
Following the start of the outbreak late last year, scientists have been racing to learn about the characteristics of SARS-CoV-2, including how it is spread, in greater detail. Questions without a definite answer include how long it can linger in the air.
One pre-print study, meaning it hasn't been peer-reviewed, appearing on the website medRxiv.org, saw scientists use a nebulizer to shoot droplets infected with SARS-CoV-2 into the air to simulate a cough to see how long it remained active on different surfaces. They found the coronavirus can live up to three days on plastic and steel, 24 hours on cardboard, four hours on copper, and as an aerosol for up to three hours.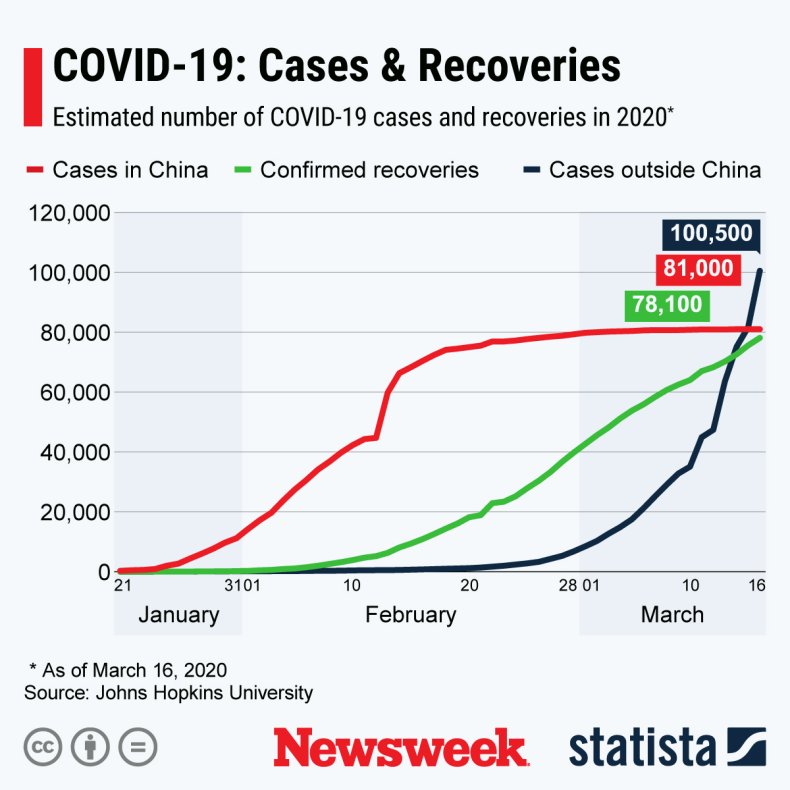 But experts stressed to Newsweek we should not read too much into individual studies.
Studies with such methods "only tell us so much about the real life situation where things like moisture could make a difference," Jenna Macciochi, lecturer in immunology at the University of Sussex, told Newsweek. "Truth is we don't know definitively and so should be cautious."
Justman emphasized the fact the study hasn't gone though the rigorous peer review process, and does not change our understanding of the how it spreads "but does refine our knowledge about some characteristics of the virus under very specific conditions."
"The paper did not look at virus stability in respiratory droplets, which are larger than the small droplets found in aerosol and are thought to be responsible for the main route of transmission," she said.
Angela Rasmussen, a virologist and associate research scientist at Columbia University, stressed to Newsweek: "The virus is not 'airborne' except in certain circumstances, specifically in aerosol-generating medical procedures such as intubation [where a tube is inserted into the mouth and airway].
"These typically occur in negative-pressure ICUs [intensive care units] where staff have been trained to wear PPE [personal protective equipment] to reduce their risk of exposure and airflow is controlled to prevent spread of aerosols to other places."
Similarly, questions have emerged over whether people can pass the virus on even if they aren't showing symptoms.
A study also published in the pre-print server medRxiv based on COVID-19 cases reported by Chinese health departments in 18 provinces found it took an average of three days for an infected person to pass the disease on, with 12 percent of reports indicating pre-symptomatic transmission. The paper is in press with the Emerging Infectious Diseases, according to the University of Texas at Austin.
Ranu S. Dhillon of the Division of Global Health Equity at Brigham and Women's Hospital, Harvard Medical School, told Newsweek: "From all the available data to-date, it certainly appears that people can be infected and pass the virus onto others before or without experiencing any symptoms.
"This goes not only for people who get infected and only experience mild symptoms, but even people who ultimately become very sick but are in the period of time before they begin having symptoms as well as people who never evolve illness at all."
However, he added: "We need more research to judge this conclusively and just how infectious mild, presymptomatic, and asymptomatic individuals are, but there is enough evidence to indicate that it would be best for people to scale back on visits to elderly and or vulnerable relatives. This of course becomes tricky because sometimes those relatives rely on you for caretaking and checking in. Families should evolve alternative ways of doing this."
Last week, Bill Keevil, professor of environmental healthcare at the University of Southampton, U.K., told Newsweek its appears people can pass on the virus without showing symptoms, "otherwise how come there is so much untraceable community spread?"
However, Michael Head, senior research fellow at the U.K.'s University of Southampton and an expert in epidemiology and health policy, said "these are likely to be very few in number and not responsible for significant amounts of transmission."
As such, the current best course of action to take in areas where the virus is spreading is to practice social distancing, Rasmussen said. "Avoid crowded spaces in public, practice good hand hygiene, and maintain physical distance from people."
But Pillay added: "There is no need to stop going outside. Indeed, this will be important during any prolonged period of 'isolation'. The key thing is not to be in very close proximity to others who may be infected, or to whom you may unknowingly pass infection to."
Asked how worried he is about the virus, Pillay said: "I am worried, of course. But the risk of severe disease is low," adding, "we all have a responsibility to protect ourselves and others through the guidance given."
World Health Organization advice for avoiding spread of coronavirus disease (COVID-19)
Hygiene advice
Clean hands frequently with soap and water, or alcohol-based hand rub.
Wash hands after coughing or sneezing; when caring for the sick; before; during and after food preparation; before eating; after using the toilet; when hands are visibly dirty; and after handling animals or waste.
Maintain at least 1 meter (3 feet) distance from anyone who is coughing or sneezing.
Avoid touching your hands, nose and mouth. Do not spit in public.
Cover your mouth and nose with a tissue or bent elbow when coughing or sneezing. Discard the tissue immediately and clean your hands.
Medical advice
If you feel unwell (fever, cough, difficulty breathing) seek medical care early and call local health authorities in advance.
Stay up to date on COVID-19 developments issued by health authorities and follow their guidance.
Mask usage
Healthy individuals only need to wear a mask if taking care of a sick person.
Wear a mask if you are coughing or sneezing.
Masks are effective when used in combination with frequent hand cleaning.
Do not touch the mask while wearing it. Clean hands if you touch the mask.
Learn how to properly put on, remove and dispose of masks. Clean hands after disposing of mask.
Do not reuse single-use masks.