How to Cut Men's Hair at Home During the Coronavirus Outbreak
As the number of coronavirus (COVID-19) cases continues to soar, people who are self-isolating at home are trying to find creative ways to carry on, including when it comes to cutting their hair.
"Men's haircuts are definitely hard to do yourself with no hairdressing experience," Brad Mondo, creative director and CEO of Xmondo Hair, told Newsweek.
"People always think they can be the next Vidal Sassoon once they're stood in front of a mirror with a pair of kitchen scissors," Sam Hickey, head barber at Murdock London, told Newsweek. "However, once they make that fatal first snip, they will inevitably try and repair the damage whilst causing more mayhem."
Hickey has been a barber since 2011 and currently manages the Murdock London flagship store. The brand has expanded its horizons and has moved across the pond to New York City, which means Hickey spends quite a bit of time in the U.S.
What sort of mistakes do people make when trying to cut their own hair?
"They will take their fringe too high and/or severely wonky," Hickey said. "They will take a pair of beard trimmers and think they can give themselves the Hollywood-esque buzz cut but come out looking like a kiwi fruit and instantly regret it.
"Very rarely, people ended up nicking their ears with scissors and this is an obvious nightmare. I would always recommend minimal trimming, just very loose ends around edges. Don't try and give yourself layers or precision cuts. It's never as easy as someone makes it look on YouTube.
"There have been some really rogue guys giving their girlfriends/partners a pair of clippers, a photo of them on holiday last year in Spain and telling them to recreate the look," he explains. "What they end up getting is a really shabby version of the Tommy Shelby haircut. Inevitably, it's also wonky."
The head barber also warns against people using "tools" that would normally be used in a kitchen. "Never use anything you'd use to chop food with for a haircut—leave your pizza scissors to cut pizza." He advises that Americans can order clippers from Amazon, which is still delivering.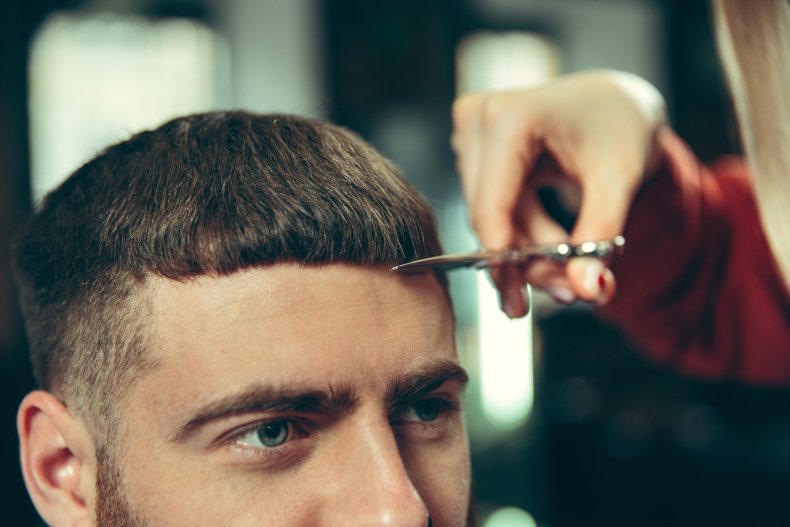 How can men cut their hair at home?
According to Hickey, while men should be able to let their hair go a little during self-isolation, there are ways for them to give themselves a haircut if desperation sets in.
"It would be best to trim just very loose edges and ends to avoid taking too much off," he told Newsweek. "Use nail scissors—definitely nothing that can be classed as a kitchen utensil—as these aren't going to be too awkward to maneuver with."
For men who normally have their trim done using clippers, the barber advises that keeping things simple would be best. "Anything like a crew cut—think Wentworth Miller in Prison Break," he explains. "Anything more such as partings or combovers will be too much to potentially achieve at home with just a clipper guarded guide.
"Just don't try and create a new style in the mirror with a pair of kitchen scissors."
Mondo concurs: "I recommend trimming the sides of your hair into an undercut sort of style with clippers to maintain your cut till quarantine is over. It should be pretty easy to see the sides of your hair in the mirror, so start there.
"Make sure you don't go too high up. Stop at the corners of where your hairline starts to square off," he continues. "Use a two or three-guard to start and go shorter if you feel the need. Start off long—you can always go shorter.
"For the back, mark with one finger how high you want to go in the back and then follow with the clippers up to that finger. Check your work with a hand mirror or take a selfie of the back of your head," he concludes.
What products can men use during self-isolation?
If you're a man with long hair, Hickey advises that you "condition, condition, condition."
"Make sure you're using a conditioner—leave-in or wash out—to ensure your long locks maintain nourishment and strength," he explains.
For men with shorter hair, the barber recommends using a clean shampoo and conditioner—these are completely free of parabens and sulfates, which are harmful to the hair. "Men rarely use a conditioner so using it twice a week will be a lot less effort and make the hair noticeably healthier."
Eating-wise, hair is made of protein so eating a protein-rich diet will aid hair growth and hair health, the barber advises.
But for those who might not feel brave enough to tackle their own hair, Mondo has some further advice for them: "I see so many guys rocking the shaved head right now—give it a go! If you don't like it then that's fine because by the time people see you again it'll be nice and grown out. If you go down this route, use a two-guard to shave your head. That's usually a good length."
Newsweek has affiliate partnerships. If you make a purchase using our links, we may earn a share of the sale.