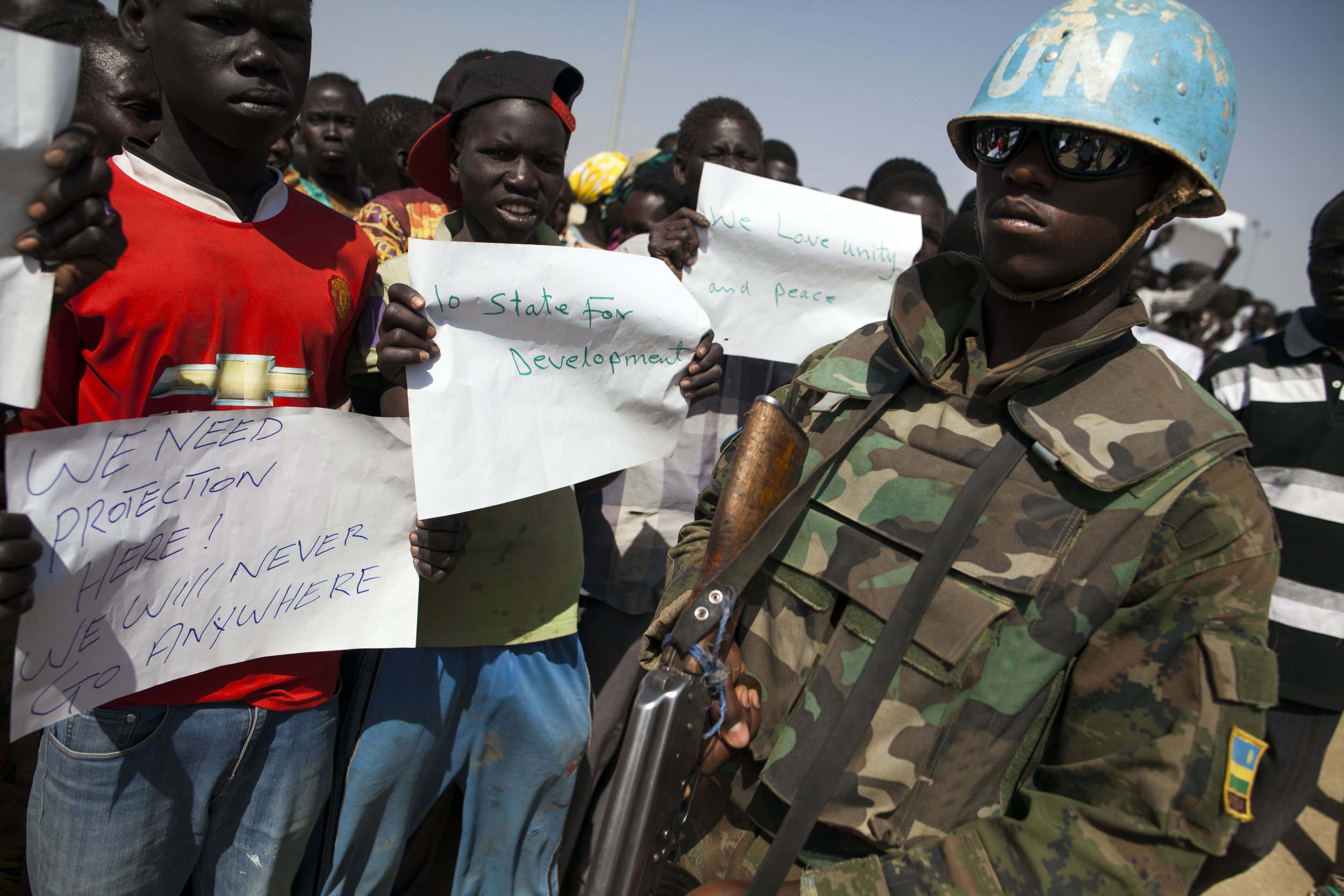 As South Sudan edges closer to civil war, it is clear that the world's youngest country has run out of options to save itself.
Renewed fighting broke out in the capital Juba on July 7 between armed forces loyal to South Sudan's President Salva Kiir and the recently-replaced First Vice-President Riek Machar. The fighting has killed hundreds of people and forced tens of thousands of people to flee their homes. The United Nations protection sites were attacked and World Food Program warehouses were looted during the fighting. Although the two leaders declared a ceasefire on July 11, the fears of possible outright civil war continue to threaten the shaky ceasefire. These have been heightened since Machar was replaced by Kiir with a new First Vice-President, Taban Deng Gai, an appointment that Machar has said is illegal.
The U.N. Security Council condemned the fighting, and the Intergovernmental Authority on Development (IGAD)—a regional group in East Africa—has called for the deployment of a regional protection force to separate the warring parties, protect the civilian population and major installations, and enforce the pacification of Juba.
The recent violence not only raises doubts about the future of the peace agreement signed in August 2015, but also renders the recently constituted Transitional Government of National Unity ineffectual. The peace agreement was expected to restore law and order in the country by implementing key provisions of security arrangements, including the demilitarization of the capital city. Juba has never been demilitarized. Instead, it has been militarized by hosting two armies with divided ethnic and political loyalties. The deliberate military attacks by Kiir's forces on Machar's residence and headquarters shattered the uneasy working relations between the president and his rival.
South Sudan cannot save itself; it needs to be saved from itself. A well-planned and coordinated regional intervention force from East Africa seems the only feasible option at the moment to halt the violence and revive the implementation of the peace agreement. A regional military intervention cannot be a durable solution by itself, however, unless it is backed by a concrete political program geared toward cultivating an enabling environment for a successful transition. I concur with Ugandan academic Mahmood Mamdani that South Sudan has yet to transition itself to a state since its independence in July 2011. The regional intervention, if successfully framed, can be used as a vehicle to help South Sudan become a functioning and responsive state worthy of owning its sovereignty.
President Salva Kiir and his inner circle have adamantly opposed the presence of an additional single foreign soldier in South Sudan, claiming that it violates the sovereignty of the country. Their opposition to the proposed plan is mainly driven by parochial ethnic sentiment and an ill-conceived narrow territorial conception of sovereignty. Those who reject any kind of foreign intervention ignore the underlying fact that the renewed fighting and the rise of human suffering are signs of the deep decay of the existing political system.
Sovereignty is not a given right; it is a legal status that has to be earned through protecting citizens and upholding the international conventions on humanitarian law and human rights. None of these requirements have been fulfilled by South Sudan's government. Its political and military leaders, with sheer disregard for human lives, have turned South Sudan into a graveyard for its citizens. The recent fighting proved that only foreign intervention can prevent further civilian deaths. The recent violence in the capital city was not an aberration: it is the product of a political and socio-economic system that was destined to fail by producing more violence, death, and displacement. The growth of such a political and military crisis, managed by failed leaders, has facilitated conditions for a surge in support for a regional and international intervention to save lives and avoid a large-scale catastrophe.
South Sudan, as currently constituted, has run out of internal options to save itself. It could be saved from total disintegration if its leaders accept the call for foreign intervention. But intervention will only succeed if it speaks to the concerns and aspirations of the South Sudanese people who are tired of living under the yoke of political and military leaders with little interest in the well-being of the people. The regional and international actors should not only focus their mandate on saving lives by halting the violence and assisting the supply of aid, but also creating an enabling environment for long-term stability to prevent future conflict and loss of lives safeguarded by holding those who have obstructed the implementation of the peace agreement and engineered the violence accountable. If they do so, foreign intervention can give the people of South Sudan and their leaders the opportunity to evaluate where they are, how they got here and, more importantly, what needs to be done to heal and rebuild South Sudan.
Amir Idris is a South Sudanese academic and professor and chair of Department of African and African American Studies at Fordham University, New York City.