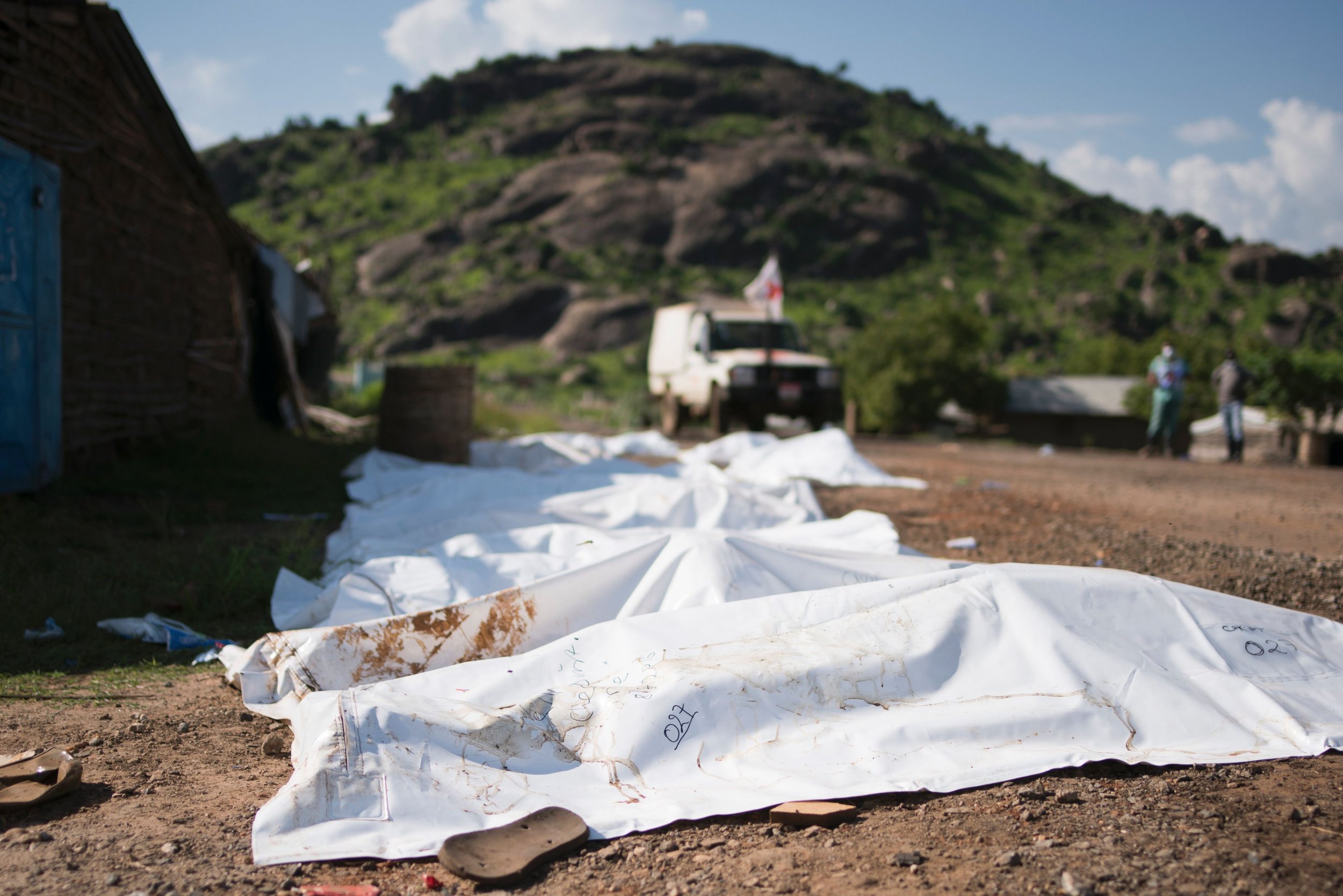 South Sudanese filmmaker Simon Bingo only returned to his birth country in 2009, following a 10-year absence forced by the country's protracted independence war.
Since returning from a Kenyan refugee camp in 2009, Bingo, 29, has already lived through one civil war, which ran from December 2013 until August 2015, when a nominal peace agreement was signed.
Now he is planning to flee again, this time to the Ugandan capital Kampala, following the most recent outbreak of violence in South Sudan, in the capital Juba, which has claimed almost 300 lives since earlier in July.
"[The fighting] was much worse than [at the start of] the 2013 war," Bingo tells Newsweek from Juba. "In the 2013 war, there were no heavy guns, no helicopters. This time, there were gunships, there were helicopters, heavy tanks, heavy gunshots, heavy bombs around us. We were really frightened and everybody was affected."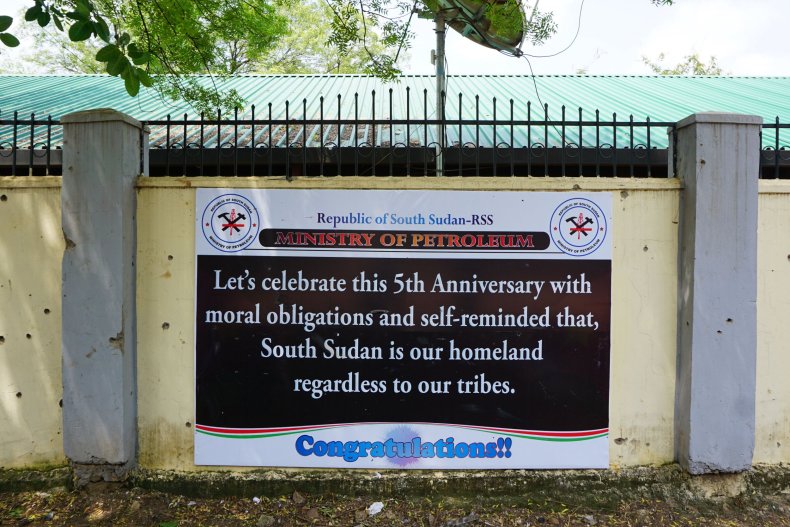 Differing accounts
Accounts of how the recent violence began vary according to the source. As with everything in South Sudan, there are two stories—one according to the government of President Salva Kiir, the other according to the forces allied to First Vice President Riek Machar.
South Sudan's ambassador to the U.K., Sabit A. Alley, tells Newsweek his sources in Juba said that the violence was sparked on July 7. According to Alley, the national army—the Sudan People's Liberation Army, or SPLA—had tightened security ahead of celebrations planned for July 9, the country's fifth independence day since it broke free from northern neighbor Sudan in a referendum in 2011. Troops allied to Machar were stopped at a checkpoint in the Juba suburb of Gudele, but refused to be checked by the rival forces. A gunfight broke out and two government soldiers, two security personnel and a doctor were shot and killed by the rebels, according to Alley.
Alley says that the clashes quickly escalated and were exacerbated by a Facebook post by Machar's spokesman James Gatdet Dak on July 8. Dak posted that fighting had broken out in the confines of the presidential palace in Juba while a meeting between President Kiir, Machar and James Wani Igga, South Sudan's vice president aligned to Kiir, took place. Machar's spokesman suggested in his Facebook post that the violence was "a setup to arrest and possibly harm" the opposition leader.
According to Alley, Dak's post prompted opposition soldiers to descend on the palace, shooting and killing a presidential guard. This led to an intense outbreak of fighting that continued sporadically until July 11—including, according to Alley, an attack on a government checkpoint on the Juba-Yei road by rebels—when both Kiir and Machar called for a ceasefire. "It is these provocations by Machar's forces that caused the four days of fighting in the capital," says Alley.
The opposition's account tells a different story. Newsweek attempted to contact Dak for a full account, but received no reply. But public posts on the spokesman's Facebook page show that he claimed that forces loyal to Machar—known as the SPLA-in-Opposition, or SPLA-IO—were attacked on July 7 by Kiir's troops in Gudele. The opposition forces were "taking food to our soldiers who always sleep in the office of the first vice president at night to guard it," according to Dak.
Machar's spokesman also vehemently denied that his Facebook post prompted an escalation in the violence. Machar himself told the BBC's Focus on Africa program that he was "nearly assassinated" during the fighting at the presidential palace, but was unclear on whether he believes it was orchestrated by Kiir's forces or a third column attempting to assassinate both Kiir and Machar. (Kiir has since claimed that he acted as a "human shield" for Machar during the fighting.) Dak also claimed that the president's forces used helicopter gunships to attack rebel bases during the fighting.
For civilians like Bingo, the tit-for-tat accounts of the violence are indicative of the polarized nature of South Sudan's government and, ultimately, are inconsequential. "How the fighting broke out, who started the fighting, we don't know. Whether it was the government or the rebels, we don't know," says Bingo. "This is confusing, but we are not interested in who started the fighting. Our problem is that why do we as civilians always have to suffer?"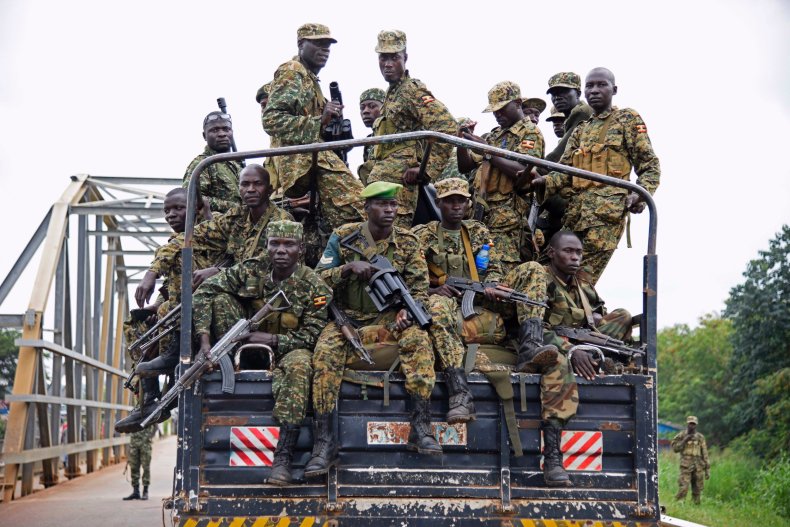 Humanitarian crisis looming?
The ramifications of the latest outbreak of fighting for South Sudan's already-traumatized population have been significant. Bingo speaks of markets and shops being looted and of only two weeks' worth of food being left in the capital. Countries including India and Uganda have begun mass evacuations of their citizens from Juba, with the latter bringing some 38,000 people back to the country in Ugandan military convoys. On the other hand, the United States has sent troops to South Sudan to protect its interests and assist with the removal of its staff from the country.
The fighting displaced 36,000 people, around 15,000 of who remain removed from their homes, according to the International Organization for Migration. Scores of people in the capital have also fallen ill with suspected cases of cholera as conditions deteriorate, with health experts predicting a humanitarian crisis in a country already besieged by a multitude of natural and man-made troubles. A South Sudanese doctor working at a hospital in Juba tells Newsweek that a "significant number" of patients are being treated with medication for watery diarrhea, a telltale symptom of the potentially-fatal bacterial infection, and that the hospital expects to receive "more and more" suspected cholera patients. "It is still tense. People are still not certain what will happen tomorrow, but they are doing their normal activities," says the doctor, who wishes to remain anonymous for security reasons.
One particularly controversial consequence of the fighting has been the African Union's (AU) proposal to deploy a new regional intervention force to keep the peace in South Sudan. The country is already hosting a U.N. mission that consists of more than 12,000 troops, along with 1,000 other staff and volunteers. (Two Chinese peacekeepers were killed in the recent violence and the mission has been criticized for failing to protect civilians, with reports of women being raped nearby the U.N.'s headquarters in Juba.)
But in the wake of the recent violence, the AU has said that the peacekeeping force "doesn't have the mandate to impose peace," and South Sudan's neighbors, including Kenya and Ethiopia, have backed proposals for a new force with a tougher mission. The proposal has not gone down well with Kiir, who has said his government "will not accept even a single soldier" on top of the current U.N. deployment, and the idea has sparked protests among government supporters in Juba.
Ambassador Alley says that the AU's proposal will not be accepted by the government in Juba. "What would be the point of bringing more troops? What would they be coming to do? The best thing for IGAD, the AU and the U.N. to do would be to provide the necessary support for the implementation of the peace agreement… We don't need more troops in South Sudan," he says, referring to the Intergovernmental Authority on Development (IGAD), a regional body in East Africa. As on so many occasions in the country, however, the message from the opposition is starkly different—Dak told the Sudan Tribune that Machar and his forces are "for [the] deployment of a third-party force in Juba."
But according to Amir Idris, a South Sudanese academic based in the United States, the country's current administration has been "rendered ineffectual" by the recent fighting and South Sudan needs to be saved from itself. "South Sudan, as currently constituted, has run out of internal options," says Idris, professor and chair of the department of African and African American Studies at Fordham University, New York. "A well-planned and coordinated regional intervention force from East Africa seems the only feasible option at the moment to halt the violence and revise the implementation of the peace agreement."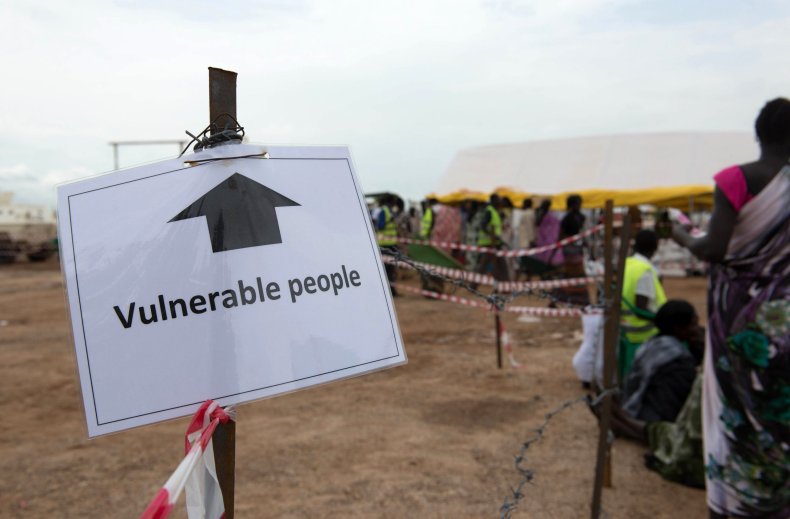 Civil war
Perhaps the greatest tragedy of July's fighting is that it came at a time when South Sudan was starting—in a very limited sense—to show signs of progress towards nationhood, a dream its people have been clinging to since they voted overwhelmingly for independence. This progress was symbolized by the return of Machar to the capital in April to re-take up the post of first vice president. Machar had been absent from Juba and holed up in rural military bases in towns such as Akobo, near the Ethiopian border, for more than two years after fighting that broke out in Juba in December 2013 morphed into a full-scale, ethnically-charged civil war.
At that time, tensions were high between Kiir and Machar—the president had dismissed Machar from his role as vice-president in July 2013 as Kiir purged his political rivals. On or around December 15, 2013, a low-level spat between soldiers loyal to Kiir and those backing Machar escalated along ethnic lines—Kiir is a Dinka and Machar a Nuer, with most of their respective followers belonging to their leader's ethnic group. When Kiir accused his rival of plotting a presidential coup, the country was thrust into all-out war. The recent fighting in July, for South Sudanese citizens, must feel like a painful case of déjà vu.
At the center of South Sudan's ongoing troubles lies the two main protagonists, their roles colored by an ethnic divide that has split the country. On the one side stands Kiir, representing the Dinka community, which is the majority ethnicity in South Sudan and constitutes 35.8 percent of the population. Rarely appearing in public without his trademark black stetson hat—a tradition reportedly stemming from a cowboy hat gifted to Kiir by then-U.S. President George Bush in 2006—Kiir is a veteran of the south's decades-long independence war against the government in Khartoum, the Sudanese capital, and a founding member of the Sudan People's Liberation Movement (SPLM), which now functions as South Sudan's governing party. The successor of John Garang, a leading figure in the independence war, Kiir is described on South Sudan's government website in quasi-messianic terms: "Many political analysts and opinion leaders worldwide describe him [Kiir] as the Biblical Joshua who took the mantle of leadership from Moses just as the Israelites were on the verge of entering Canaan and capably established the then-fugitives in the Promised Land."
Opposite Kiir, Machar stands as the representative of the Nuer, who constitute 15.6 percent of South Sudan's population. Educated at an English university and formerly married to a British aid worker killed in a car crash in 1993 when pregnant with his child, Machar played a divisive role in the North-South independence war. At times, he commanded forces in the SPLA, but Machar also challenged the authority of its leader Garang in the early 1990s, signing a peace agreement with the Sudanese government of Omar Al-Bashir in 1997 before eventually rejoining the SPLM in 2002. Machar was labelled a "prophet of doom" by Kiir when he was sacked from the government in July 2013. But after Machar returned to join Kiir in a transitional unity government in April, the president described his rival as "my brother" and called upon the nation to join them "in peace and reconciliation."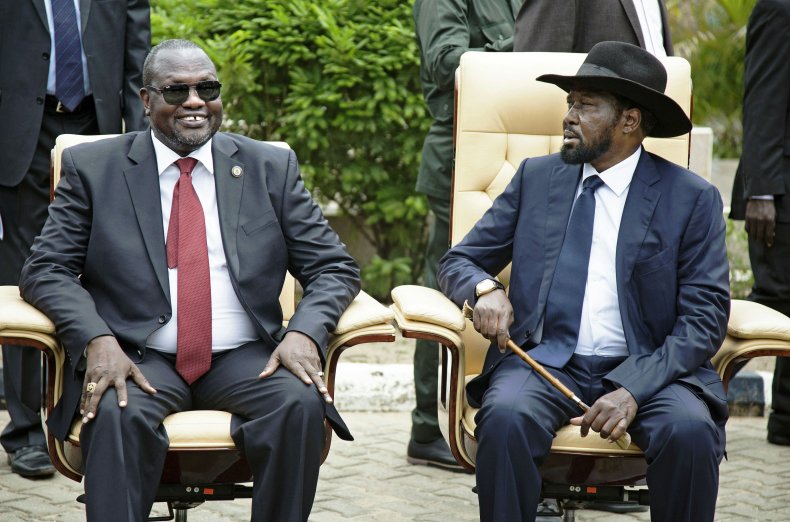 What does the future hold?
According to Ambassador Alley, the recent violence in Juba was the result of mistrust between Kiir's army and forces loyal to Machar—the first vice president brought several thousand troops with him to the capital when he returned. "[But] I don't see that mistrust between the two leaders. What I see is that they are all genuinely committed to the implementation of the peace agreement," Alley tells Newsweek. "The president in particular has time and again repeated his commitment to the full implementation of the peace agreement."
The message from the opposition is less convincing, however—Machar has been in hiding outside Juba since the outbreak of violence, and Machar's spokesman Dak has told the Sudan Tribune that the opposition "don't trust President Salva Kiir and his assurances to provide protection to our leadership." Kiir issued a plea to his rival on Thursday to return to Juba and said he expected to hear from Machar within 48 hours. How the Nuer leader responds to that call could prove crucial in determining whether the peace agreement can be salvaged.
As Juba continues to reel from the latest flare-up of violence—shootings and disappearances are still being reported, while the opposition has claimed to be coming under attack from Kiir's forces—the future of the world's youngest nation remains at stake. Despite having the third-largest oil reserves in sub-Saharan Africa, South Sudan's economy is in crisis—inflation is approaching 300 percent, and the International Monetary Fund predicted in June that the country's budget deficit for 2016-17 could soon constitute $1.1 billion, or 25 percent of national GDP. Famine is also a real possibility—the U.N. Food and Agriculture Organization said in June that almost 5 million people are facing severe food insecurity in the coming months, with South Sudan's rainy season making harvesting more difficult. Almost 1.7 million people remain internally displaced and nearly 900,000 refugees have fled the country since the civil war broke out in December 2013.
For filmmaker Bingo, the country's recent five-year independence anniversary was supposed to be a time of joy: his siblings came to visit him from Uganda to enjoy the festivities in Juba. Instead, he and others like him find themselves fleeing their homes and wondering when South Sudan will, finally, begin to look like a functioning, independent and peaceful nation.
"As civilians, we are always hopeful and optimistic, as citizens you always want your country to do good, but we are not optimistic about our politicians," says Bingo. "We thought the 2013 war was going to be the end… but our politicians have not realized that war is not the only solution to all the problems. Having the current politicians means we are not really clear about our country's future."