Recovery efforts continue after an outbreak of deadly tornadoes tore through at least six states overnight this past Friday, leading to widespread damage and fears that up to 100 people have died.
The storms were part of an intense and rare weather system that struck the states, which included Arkansas, Illinois, Kentucky, Missouri, Mississippi and Tennessee. The catastrophic outbreak brought dozens of storm reports on Friday night and may have broken records as one of the deadliest and longest tornado events in U.S. history.
Kentucky has been hit particularly hard by the storms, with up to 70 people feared dead in the state alone. Tens of thousands of people were without power this weekend, and the mayor of Mayfield, Kentucky, warned on Monday that residents could be without heat or hot water for a "long time."
"Our infrastructure is so damaged. We have no running water. Our water tower was lost. Our wastewater management was lost, and there's no natural gas to the city. So we have nothing to rely on there," Mayor Kathy Stewart O'Nan told CBS. "So that is purely survival at this point for so many of our people."
Other states were also hit hard. So far, officials have said that at least six people were killed at an Amazon warehouse in Illinois, four died in Tennessee and two died in Arkansas. Videos and photos showed how the storms wreaked havoc across the region, ripping through buildings, collapsing roofs, destroying cars and trapping people under piles of rubble and debris.
As rescue and recovery efforts continue, here are some ways to help those who have been affected: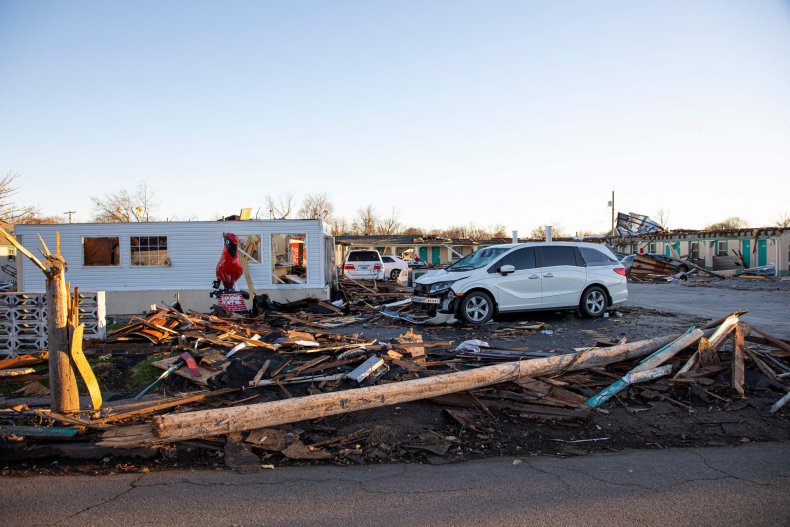 Local Relief Funds/Volunteer Opportunities
Team Western Kentucky Tornado Relief Fund
On Friday, Kentucky Governor Andy Beshear set up a state-run fund to assist tornado victims and begin with rebuilding efforts. Individuals can donate at this link or by sending a check to Public Protection Cabinet, 500 Mero Street, 218 NC, Frankfort, Kentucky 40601.
Blood Assurance
This blood bank that collects donations across the South is asking people to volunteer and make appointments because of a "critical need" for supplies in Tennessee and Kentucky.
Brother's Brother Foundation (BBF)
A Pittsburgh-based organization that provides disaster relief is accepting donations to provide food and assistance to several food banks in Arkansas and Kentucky. BBF is also sending items to victims and emergency crews in affected areas.
Kentucky Tornado Relief Fund
The University of Kentucky's College of Medicine has established a GoFundMe page to raise money to help local organizations that are providing aid to those displaced and in need of supplies.
Bowling Green Fire Department
The fire department in Bowling Green, Kentucky, is seeking volunteers to help with a variety of recovery efforts. To do so, you can send the department a Facebook message with your name, contact information and the level of assistance you can offer.
Aspire Appalachia
This eastern Kentucky nonprofit is seeking donations in order to send money to a variety of local relief organizations throughout the region. Donations can be made by sending money to paypal@aspireappalachia.org.
National Relief Efforts
American Red Cross
The American Red Cross, a volunteer humanitarian organization, has opened shelters and is seeking volunteers to give blood. It is collecting donations from both its national chapter and its local location in Western Kentucky. You can donate by visiting redcross.org, calling 1-800-RED-CROSS or texting REDCROSS at 90999.
CARE
This organization, which works with impoverished communities, is collecting money to provide food, money assistance and clean water to tornado victims.
GoFundMe
The fundraising tool has created a centralized hub with a number of verified organizations to help those affected by the tornadoes. It will continue to be updated with new fundraisers as they become verified.
The Salvation Army
Donations are being collected to help tornado victims in such states as Arkansas, Kentucky and Tennessee.
International Medical Corps
This organization, which provides emergency medical services during disasters, is raising funds to provide tornado victims with shelter and necessary essential items.
Global Empowerment Mission
This disaster relief organization based in Florida is sending large trucks carrying supplies to western Kentucky, in partnership with Racing Louisville and the Louisville City Football Club. Donation information can be found here.