Honey bees could become the latest crime fighters to help locate the bodies of missing people.
At George Mason University (GMU) in Virginia, the Honey Bee Initiative and the Forensic Science Research and Training Laboratory are teaming up to find out if the honey produced by bees can help investigators crack cold cases.
More than 600,000 people go missing in the United States every year, according to the National Missing and Unidentified Persons System (NamUs). While many of those individuals are found alive, tens of thousands remain missing and an estimated 4,400 unidentified bodies are recovered each year.
Bee honey contains proteins with biochemical information about what the bees have eaten. Alessandra Luchini, a biologist at GMU, developed a process to extract proteins from honey and determine if the bees had ingested pesticides. She brought this research to Anthony Falsetti, a professor in the Forensic Science Program who is leading the forensics honey bee experiment.
Falsetti explained to Newsweek, "We thought, well, if bees are feeding on flowering plants that are near decomposing bodies, would the chemical compounds of human decomposition be part of the proteins that the bees ingest? And if they ingest it, will they deposit it in their honey?"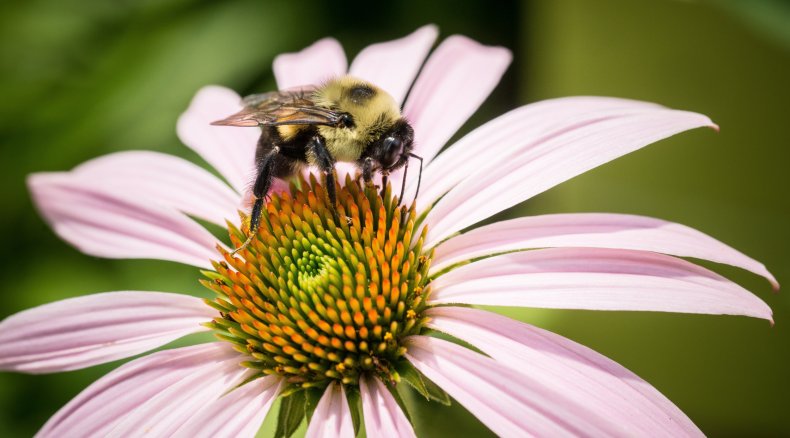 Professor Mary Ellen O'Toole is the director of GMU's Forensic Science Program and a former FBI agent who worked on hundreds of serial murder cases during her 28 years with the bureau. She told Newsweek that outdoor crime scenes were always challenging to investigate.
"A lot of times the victims are left outside," O'Toole said. "They're left in the environment. And the environment can do some crazy things to human remains. It could be the result of the weather, it could be the result of predators, bugs...all of those things can impact decomposition."
Researchers identified a heavily wooded, one-acre section of the outdoor forensic lab at GMU to perform their experiment. A total of 160 unique plants with highly scented flowers are being planted in the area. By the end of April, researchers will bury donated human remains in 18 to 24-inch deep graves. Falsetti said they are working with local law enforcement to mimic the graves that killers use in real cases, which tend to be relatively shallow. The Virginia State Anatomical Program is providing corpses.
O'Toole said that honey bees could provide a brand new "crime fighting tool" to forensics investigators. "Once you get those human remains, then you can begin your analysis of what happened," she said. "The important thing is to make that determination of what happened. The sooner that we can do that, the more likely we will be able to identify the offender."
Scientific advancements have recently been used to crack several cold cases, including the 1960 murder of Sharon Lee Gallegos solved this month and the 1964 cold case of Marise Ann Chiverella solved with the help of a college student last month. In November, a Florida man was arrested after DNA evidence from a discarded beer can connected him to the 25-year-old cold case murder of Terence Paquette.
Update 03/30/22 11:44 a.m. ET: This article was updated with comment from Professor Mary Ellen O'Toole and Professor Anthony Falsetti.