How Ken Jennings and Mayim Bialik Will Split 'Jeopardy!' Hosting Duties
Ken Jennings and Mayim Bialik will share hosting duties on Jeopardy! for the rest of the year, it has been revealed.
Mike Richards, the syndicated quiz show's former executive producer, announced last month that he was stepping down as host—just nine days after he had been unveiled as the new presenter.
He filmed one week of episodes before his exit, so Richards is currently on screens presenting Season 38's first batch of shows.
In a post shared on the official Jeopardy! Twitter account on Thursday, it was announced that Bialik and Jennings would follow him.
The tweet read: "Not sure if you've heard but @missmayim and @kenjennings are hosting me until the end of the year. Everyone on the staff is supralunar."
A follow-up post offered more details on how the two would share the job: "Beginning Monday, September 20, Bialik is hosting several weeks of episodes, which will air through November 5. After that, Bialik and Jennings will split hosting duties as their schedules allow through the end of the calendar year."
The message was also shared to the show's official website, along with biographies of actress and neuroscientist Bialik and all-time Jeopardy! champion Jennings.
Richards' appointment as successor to the much-loved Alex Trebek, who died late last year, came after a months-long search for a new presenter and a revolving cast of celebrity guest hosts trying out for the job.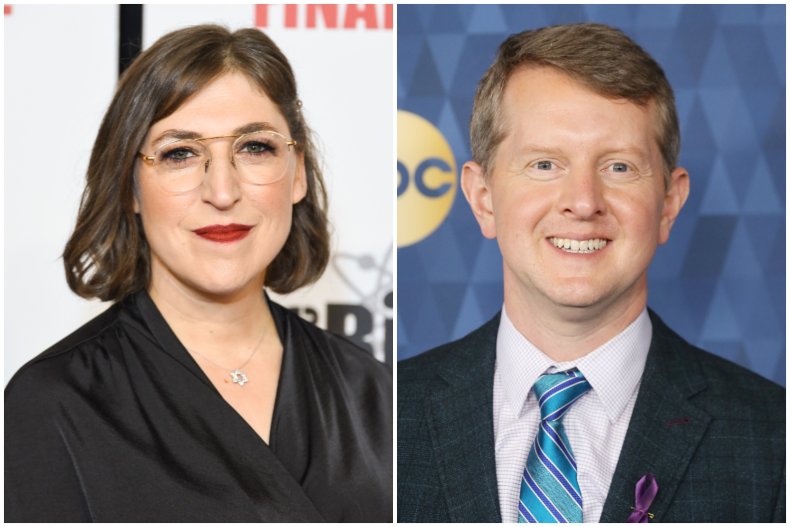 That run started with Jennings in January and ended with Joe Buck in August—with the likes of Robin Roberts, Katie Couric, Aaron Rodgers, Anderson Cooper, LeVar Burton, and Buzzy Cohen in between.
When Richards was named the show's new permanent host in August, it was also announced that The Big Bang Theory star Bialik would present Jeopardy! specials and tournaments.
Within days of the announcement, however, reports resurfaced that models had accused Richards of discriminatory behavior when he was a producer on The Price Is Right.
Next came a devastating article in The Ringer, detailing a series of offensive comments he had made while hosting a podcast between 2013 and 2014.
As the backlash raged, he issued an apology—but soon had to accede to the demands that he step down as host.
Things got worse for Richards when, less than two weeks later, Sony Pictures Television announced that he was also out as executive producer of Jeopardy! and Wheel of Fortune.
Suzanne Prete, executive vice president of business and strategy, announced Richards' exit in a message to staff members that Sony shared with Newsweek.
Prete said: "I'm writing to let you know that Mike will no longer be serving as EP of Wheel and Jeopardy! effective immediately.
"We had hoped that when Mike stepped down from the host position at Jeopardy! it would have minimized the disruption and internal difficulties we have all experienced these last few weeks. That clearly has not happened."