How Many Mass Shootings Have There Been in 2021 So Far? It Depends How You Count
Three massage parlors in Atlanta, a grocery store in Colorado and an office in California were all sites of deadly mass shootings in March 2021.
Twenty-two lives were lost during these tragedies, leading to renewed calls for action to prevent gun violence.
Campaigners often cite mass shooting statistics. So, how regular are mass shootings and how many have there been in 2021?
It depends how you count.
There is not a single universally accepted definition of a mass shooting, meaning the total for 2021 stands somewhere between three and 45.
Take a closer look at the definitions and how the tallies have been recorded below.
The Violence Project (3)
This nonprofit campaign group defines "mass shootings" as those in which "four or more victims are murdered with firearms—not including the offender(s)—within one event, and at least some of the murders occurred in a public location or locations in close geographical proximity."
The second half of this definition removes fatal shootings that take place in private settings, which often involve family members.
By this measure, there were no large-scale shootings in a public place for a year between March 2020 and March 16, the day of the Atlanta shootings.
The table below shows the number of mass shootings each year between 2015 and 2019, according to the Violence Project database.
| | |
| --- | --- |
| Year | Number of mass shootings |
| 2019 | 7 |
| 2018 | 9 |
| 2017 | 7 |
| 2016 | 5 |
| 2015 | 5 |
A similar definition is used by Congress' think tank, the Congressional Research Service, although it uses "mass shootings" as an umbrella term, with "mass public shootings" as a subset of this.
The Gun Violence Archive (45)
Another widely cited database of mass shootings comes from the Gun Violence Archive.
This project monitors local news outlets and police reports to track shootings across the country—and it counts injuries as well as fatalities.
It defines "mass shootings" as involving "a minimum of four victims shot, either injured or killed, not including any shooter who may also have been killed or injured in the incident."
This tally does not omit shootings in private homes. So, it includes the killing of four members of a family in Phoenix, Arizona, on the same day as the Atlanta shootings.
It also counts a case in Maryland last week, when a gunman shot dead two people at a convenience store and was later found to have killed his parents at their home.
The legal definition (5)
U.S. law, as set by Congress, does not offer a specific definition of a "mass shooting."
After the 2012 massacre at Sandy Hook, however, Congress moved to define "mass killings" as incidents in which three or more people are killed in a single incident.
By this definition, a shooting in Houston on March 10, in which a man killed three people in a parking lot, could also be included.
An incident in which a gunman killed three people in Memphis, Tennessee, on March 26 would also count towards the total.
Since 2013, when the Investigative Assistance for Violent Crimes Act came into force, the FBI has been allowed to provide federal assistance during active shooter incidents and mass killings (defined as above) in public places.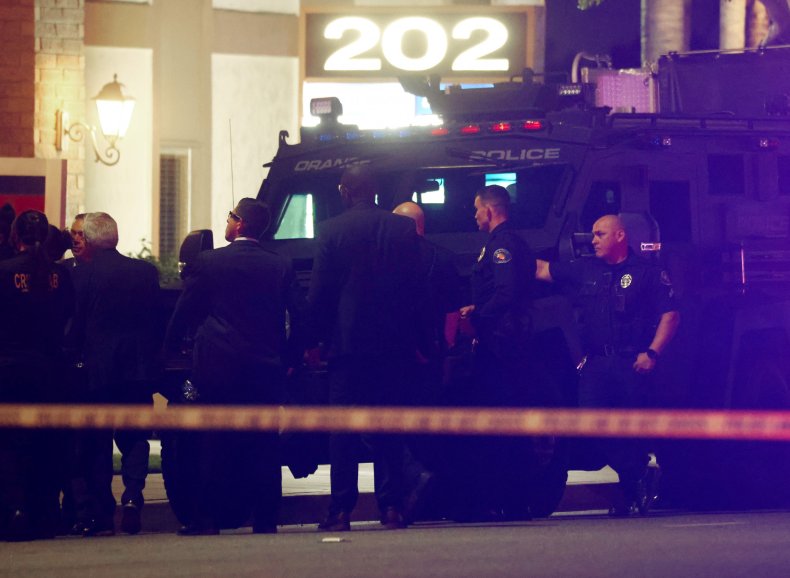 Correction 4/1/21, 2:30 p.m. ET: This article was updated to reflect The Violence Project's full database.