'How Many People Did Rudy Giuliani Infect?' Twitter Reacts to Trump Lawyer's COVID Diagnosis
Shortly after President Donald Trump announced Sunday that his attorney Rudy Giuliani had tested positive with COVID-19, many on Twitter began sharing videos of Giuliani attending crowded events in recents days without wearing a mask.
".@RudyGiuliani, by far the greatest mayor in the history of NYC, and who has been working tirelessly exposing the most corrupt election (by far!) in the history of the USA, has tested positive for the China Virus. Get better soon Rudy, we will carry on!!!" Trump tweeted on Sunday afternoon.
Giuliani, who served as New York City's mayor from 1994 to 2001, is currently representing Trump in his unsuccessful legal effort to overturn the results of the presidential election. Over the past couple of weeks, the attorney has held events in multiple battleground states to push unfounded—and often bizarre—claims of widespread voter fraud. These allegations lack evidence and have nearly all been rejected or dismissed by judges in courts across the country.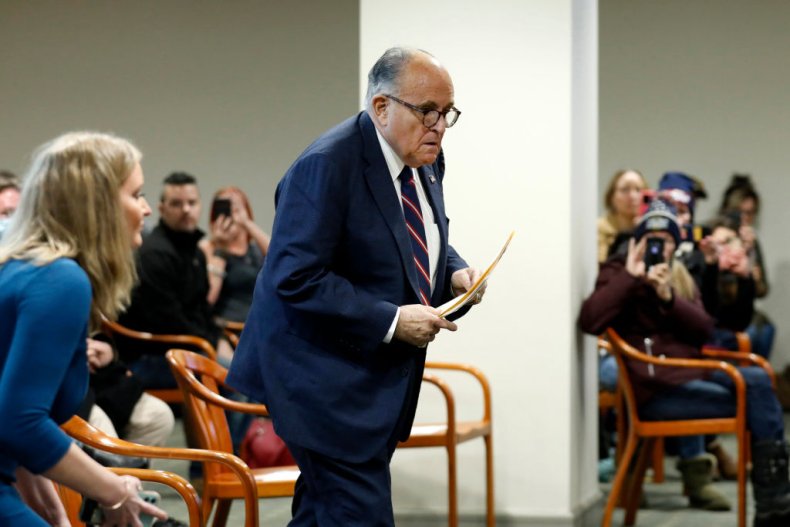 With the news of Giuliani's COVID diagnosis, many began circulating a video of the attorney without a mask urging a woman during a Michigan hearing to remove her mask as she discussed her concerns about the election. The woman declined in to remove her mask.
"Here's Rudy Giuliani in Lansing Wednesday asking one of his witnesses if they were comfortable taking off their mask while testifying...she wasn't," local Michigan station Fox 17 reporter Aaron Parseghian tweeted, attaching a video from the hearing. "He has since tested positive for COVID-19."
"Wow. How many people did Rudy Giuliani infect?" author and activist Shannon Watts tweet, sharing the same clip.
In addition to Michigan, Giuliani traveled to Georgia last week and met indoors with Republican leaders there. The prior week, Giuliani attended a hearing in Pennsylvania alongside Republicans, after which at least two GOP state lawmakers tested positive for COVID-19. At the time, Democrats warned that the event had the potential to become a "super spreader" for the novel coronavirus.
"MOST WORRISOME—Giuliani testified in Georgia at a very crowded legislative hearing just this Thursday without any mask for more than 15 minutes. Everyone on at least his side of the room may have to quarantine. Maybe even the entire room," epidemiologist and health economist Eric Feigl-Ding tweeted.
Others highlighted that Giuliani is just the latest in a long list of close Trump associates and administration officials who have tested positive for COVID-19 over the past few months.
"By NBC's count, at least 53 people in Trump's orbit have tested positive for COVID-19. That number includes administration officials, campaign staffers and close contacts," NBC News White House correspondent Geoff Bennett tweeted.
"(The count starts with Hope Hicks' diagnosis in October and includes the Giuliani announcement today.)" Bennet added.
"How Rudy Giuliani didn't get covid until now is the more interesting question. They're likely getting a #SARSCoV2 monoclonal antibody ready for infusion. This treatment an affinity for politicians and friends, including Trump, Christie, and Carson. Otherwise very hard to come by," physician and scientist Eric Topol tweeted.
Others on Twitter shared their hope that Giuliani would recover quickly.
"My thoughts and prayers are with @RudyGiuliani who was recently diagnosed with COVID-19. Rudy is a fighter in every sense of the word, and I have no doubt he'll be back in the arena in no time. America's with you, Mr. Mayor!" C J Pearson, president of the Free Thinker Project, tweeted.
But others mocked Giuliani, taking aim at his efforts to overturn the election results on behalf of Trump.
"After testing positive for Covid-19, Rudy Giuliani filed a lawsuit with the lab demanding the results be overturned," actor George Takei tweeted.
"BREAKING- Rudy Giuliani finally got some positive news after Biden won the election," artist and writer Tony Posnanski wrote in a Twitter post.
Newsweek reached out to Giuliani's firm for comment.