How Meghan Markle Helped Naomi Osaka After French Open Tennis Dispute
Meghan Markle is among the celebrities Naomi Osaka thanked for helping her deal with the fallout from her French Open tennis dispute.
The 23-year-old Japanese star said the Duchess of Sussex was among celebrities who "supported, encouraged and offered such kind words" during her mental health struggle.
Osaka is on the front cover of Time and in an opinion piece for the magazine described how she asked to skip press conferences at the tournament in May to protect her mental health.
However, she wrote that she was asked to detail her symptoms and felt she should have been given the right to privacy.
Ultimately, she was fined $15,000 for refusing to give press conferences and then pulled out of the tournament at the end of May.
In her op-ed for Time, she wrote: "I also want to thank those in the public eye who have supported, encouraged and offered such kind words.
"Michelle Obama, Michael Phelps, Steph Curry, Novak Djokovic, Meghan Markle, to name a few."
It is not clear what Meghan said to Osaka but the duke and duchess have some experience of disputes relating to the media.
Meghan and husband Prince Harry speak regularly about mental health and have specifically talked about the pressures of negative publicity.
However, they have also fought to redefine their relationship with the media—just as Osaka has called for the introduction of sick days to help struggling stars tap out of press conferences during difficult periods.
Osaka wrote in Time: "Perhaps we should give athletes the right to take a mental break from media scrutiny on a rare occasion without being subject to strict sanctions."
For Meghan and Harry, it was the "royal rota" that they wanted to overturn—a system through which specific U.K. newspapers and TV networks are given access to the royal family.
Outlets accredited for the rota take it in turns to cover specific stage-managed public engagements, often to charities, hospitals or even state visits and banquets.
The system ensures the royals get coverage for their events, even some that might ordinarily not trouble the editors of Britain's newspapers.
For the British media, it offers an opportunity to get close enough to the royals to capture video and pictures of them meeting members of the public, while accompanied by a minder from the press office.
When Meghan and Harry announced they were stepping back from royal duties through their now defunct Sussex Royal website in January 2020 they said they were pulling out of the rota.
Explaining their decision, a statement on the website read: "Historically, the understanding with the Royal Rota expects that if Their Royal Highnesses were to release a photo that has never been seen, they would be expected to give the image to The Rota (of which four of the seven are UK tabloids) simultaneously or in advance of their own release.
"This formula enables these select publications to profit by publishing these images on their websites/front pages. Any breach in this understanding creates long term repercussions.
"The current structure makes it challenging for The Duke and Duchess of Sussex to personally share moments in their lives directly with members of the public (via social media for example), without first going through the filter of the Royal Rota."
Instead, they said they would work with smaller outlets or specialist journalists and later they emailed four U.K. tabloid brands to announce they were boycotting them.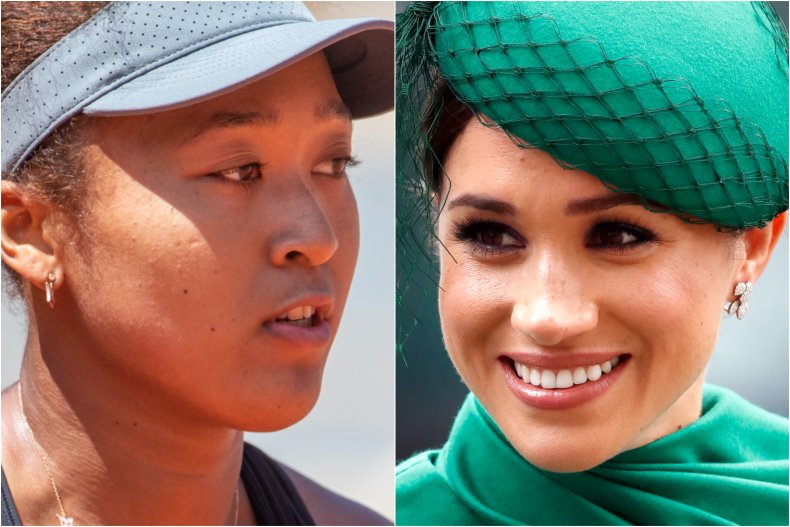 The Daily Mail, The Sun, The Daily Mirror and The Daily Express and their Sunday editions were told the Sussexes would only communicate with them through their lawyers, Schillings.
Since breaking with the Rota, Meghan and Harry have done more work with U.S. outlets, like Time, for whom they did public talks last year.
And, like Osaka, Meghan also wrote her own first-person essay, though hers was for the New York Times and was about having a miscarriage while holding baby Archie in summer 2020.
In November essay "The Losses We Share," Meghan wrote: "It was a July morning that began as ordinarily as any other day: Make breakfast. Feed the dogs. Take vitamins. Find that missing sock.
"Pick up the rogue crayon that rolled under the table. Throw my hair in a ponytail before getting my son from his crib.
"After changing his diaper, I felt a sharp cramp. I dropped to the floor with him in my arms, humming a lullaby to keep us both calm, the cheerful tune a stark contrast to my sense that something was not right.
"I knew, as I clutched my firstborn child, that I was losing my second."
Osaka wrote in Time: "I communicated that I wanted to skip press conferences at Roland Garros to exercise self-care and preservation of my mental health. I stand by that. Athletes are humans.
"Tennis is our privileged profession, and of course there are commitments off the court that coincide.
"But I can't imagine another profession where a consistent attendance record (I have missed one press conference in my seven years on tour) would be so harshly scrutinized."
She added: "In my case, I felt under a great amount of pressure to disclose my symptoms—frankly because the press and the tournament did not believe me. I do not wish that on anyone and hope that we can enact measures to protect athletes, especially the fragile ones."