How Meghan Markle's Past Palace Balcony Appearances Show Her Pushed to Back
Meghan Markle and Prince Harry were denied spots on the Buckingham Palace balcony during the upcoming Trooping the Colour—but recent past balcony appearances have seen them squeezed to the back.
The Duke and Duchess of Sussex will attend Queen Elizabeth II's Platinum Jubilee but they will not form part of the iconic picture of the royal family watching the monarch's birthday parade.
A Buckingham Palace statement on May 6 said the privilege was reserved for working royals meaning Harry and Meghan will miss out, as will Prince Andrew.
While the verdict may be a blow, images from Meghan's past balcony appearances show she was not exactly front and center even in the days when she was filling Britain's newspapers with page after page of happy and glorious pro-royal coverage.
Meghan's Last Trooping the Colour
Meghan and Harry's most recent outing on the palace balcony is a case in point as both were squashed behind Prince Andrew on one side and on the other behind James, Viscount Severn, the son of Prince Edward and Sophie, Countess of Wessex.
The Sussexes were at Trooping the Colour on June 8, 2019, when Prince Charles, Princess Anne and Prince Andrew crowded around Elizabeth.
Prince William and Kate Middleton had their own space off to one side with their children but Meghan was pictured craning to see over the head of Viscount Severn, then 12.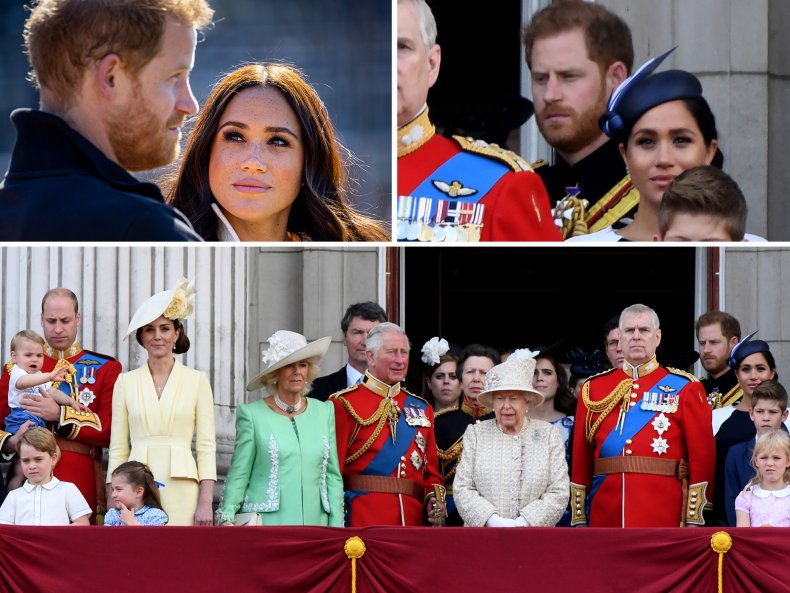 Trooping the Colour 2018
They got a little closer to the queen in June 2018, a month after their royal wedding which Meghan suggested in a court filing brought in $1.26 billion in revenue to Britain.
However, Harry and Meghan were still seen firmly at the back with their faces in shadow.
At one point, they can be seen seemingly trying to nuzzle into the front row as they chat to Prince Charles.
However, they did not find their way fully into the light until they shuffled past Prince William and Kate Middleton to the distant outer reaches of the balcony to join Peter Phillips, son of Princess Anne.
They were not, however, put front and center in recognition of the global spotlight their Windsor Castle ceremony brought on Britain and the royal family.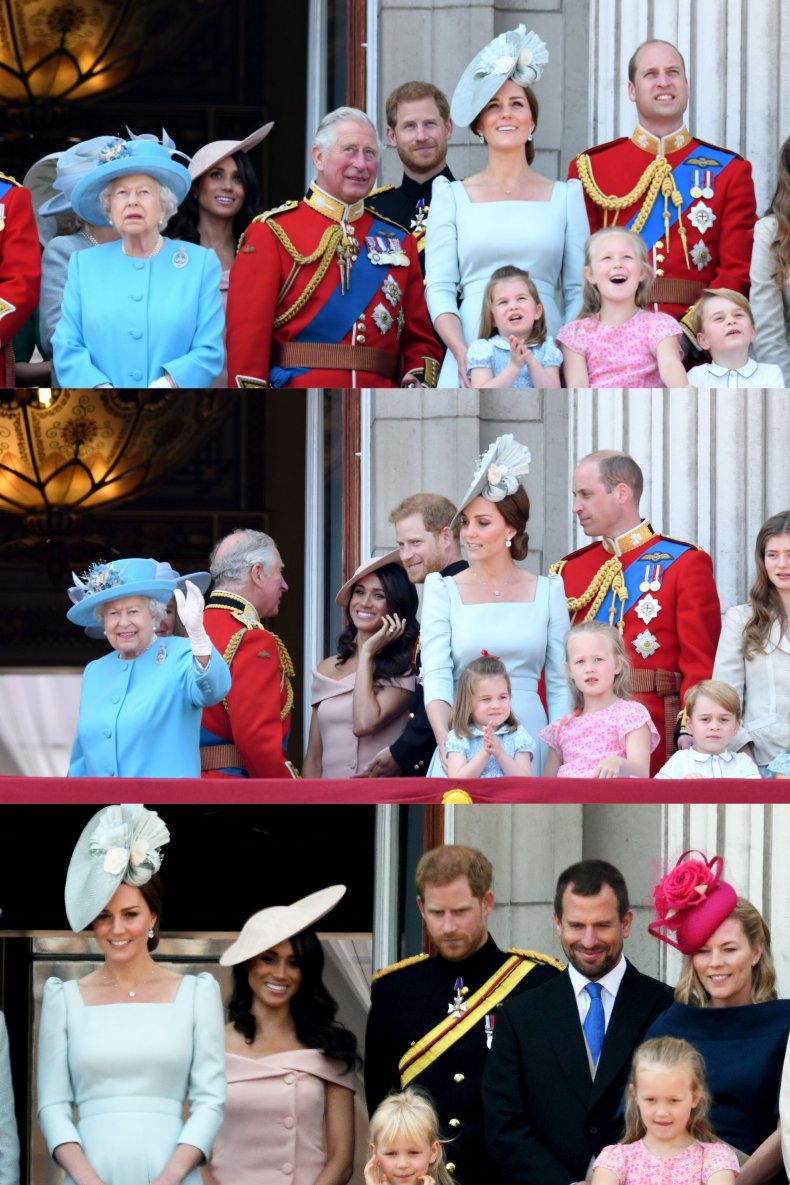 Harry and Meghan at RAF Centenary
Harry and Meghan's most prominent Buckingham Palace balcony appearance was not for Trooping the Colour.
The couple were given pride of place at the Centenary of the Royal Air Force (RAF) in July 2018, two months after the wedding and a month after Meghan's first appearance at Trooping.
The Sussexes were in between the queen on one side and Prince William and Kate Middleton on the other.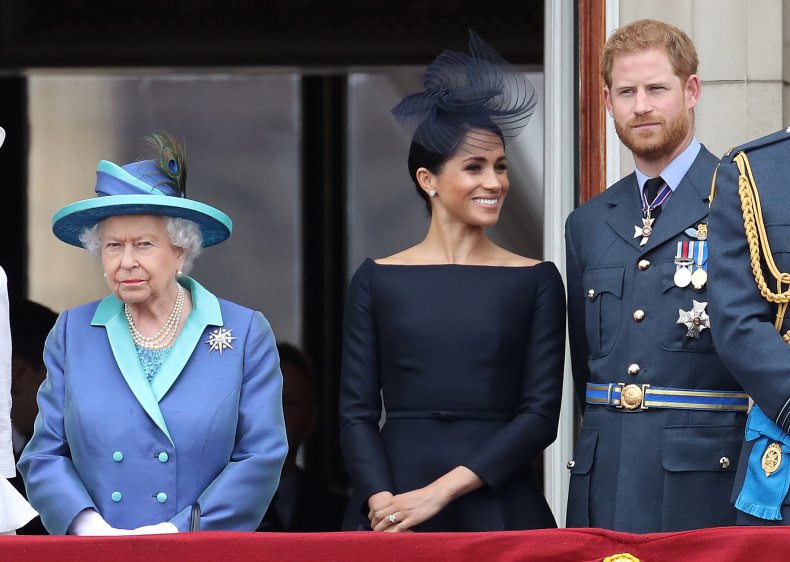 Prince Harry's Pre-Wedding Balcony Appearances
Meghan only got to appear on the balcony after she married Harry in May 2018 at Windsor Castle.
Prince Harry was similarly in the background before that point in 2017, months before his engagement to Meghan was announced, and in 2016, shortly after he met the duchess.
The positioning could be down to his place in the line of succession, though Prince Andrew is below him and at times was more prominently displayed, as in 2019.
Harry was more visible in 2015 when he was flanked by Prince Philip on one side and Kate Middleton on the other.
That year, it was Prince Andrew and the queen's other children who appeared to have been muscled out of shot.