Meghan Set for First Appearance Alongside Disgraced Andrew Since Quitting
Meghan Markle is expected to appear at the same Platinum Jubilee event as Prince Andrew—following her past comments in support of the Me Too movement.
The Duchess of Sussex will reportedly attend a Service of Thanksgiving for the Queen's Reign, at St. Paul's Cathedral in London on June 3, 2022.
It will be her first public appearance in Britain since March 2020, when she completed her final royal engagements before beginning a new life back home in California.
However, Meghan and Prince Harry will not be the only royals making a sensational return to the U.K. public stage as Newsweek understands Prince Andrew will also be at the event in celebration of his mother's 70 years on the throne.
The juxtaposition may be uncomfortable for Meghan who has previously backed Me Too and said women's voices should be listened to but has never commented publicly on the allegations against Harry's uncle.
Meghan and Harry are also close with his daughter Princess Eugenie, who is the only royal known to have visited them in California. And the duchess told Oprah Winfrey that "Eugenie and I had known each other before I knew Harry" during her interview in March 2021.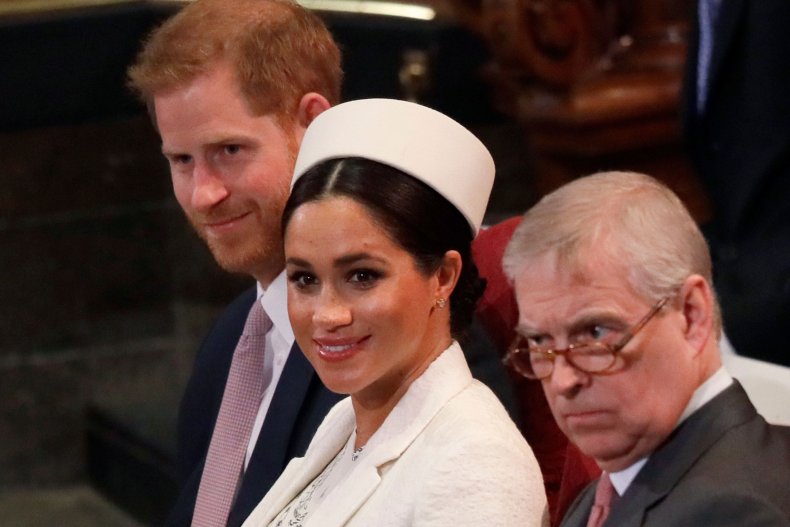 Prince Andrew was accused of rape by Jeffrey Epstein victim Virginia Giuffre who said he had sex with her when she was a 17-year-old trafficking victim.
He denies her account but settled the lawsuit out of court, paying an undisclosed sum in damages while not admitting liability.
The last time the Duke of York pushed himself into the limelight was at a memorial service to Prince Philip in March 2022, when he unexpectedly walked the queen to her seat at Westminster Abbey.
Then, there was a chorus of condemnation in the media about the prominent role he played, overshadowing the purpose of the event which was to pay respects to the Duke of Edinburgh.
Andrew's attendance at the jubilee could produce a similar response with Harry and Meghan among the wider royal family experiencing collateral damage as a result.
Meghan in particular has been outspoken in the past about the need to let women use their voices.
In 2018, she told the Royal Foundation Forum: "I hear a lot of people speaking about girls' empowerment and women's empowerment—you will hear people saying they are helping women find their voices.
"I fundamentally disagree with that because women don't need to find their voices, they need to be empowered to use it and people need to be urged to listen."
She added: "Right now with so many campaigns like Me Too and Time's Up there's no better time to continue to shine a light on women feeling empowered and people supporting them."
Giuffre has used her voice in numerous interviews and through court filings by her legal team as part of the lawsuit in New York, which was concluded in March 2022.
Her complaint document, seen by Newsweek, read: "On one occasion, Prince Andrew sexually abused [Giuffre] in London at Maxwell's home. During this encounter, Epstein, Maxwell, and Prince Andrew forced [Giuffre], a child, to have sexual intercourse with Prince Andrew against her will."
"On another occasion," the filing continued, "Prince Andrew sexually abused [Giuffre] in Epstein's New York mansion in this District.
"During this encounter, Maxwell forced [Giuffre], a child, and another victim to sit on Prince Andrew's lap as Prince Andrew touched her. During his visit to New York, Prince Andrew forced [Giuffre] to engage in sex acts against her will.
"On another occasion, Prince Andrew sexually abused [Giuffre] on Epstein's private island in the U.S. Virgin Islands, Little St. James."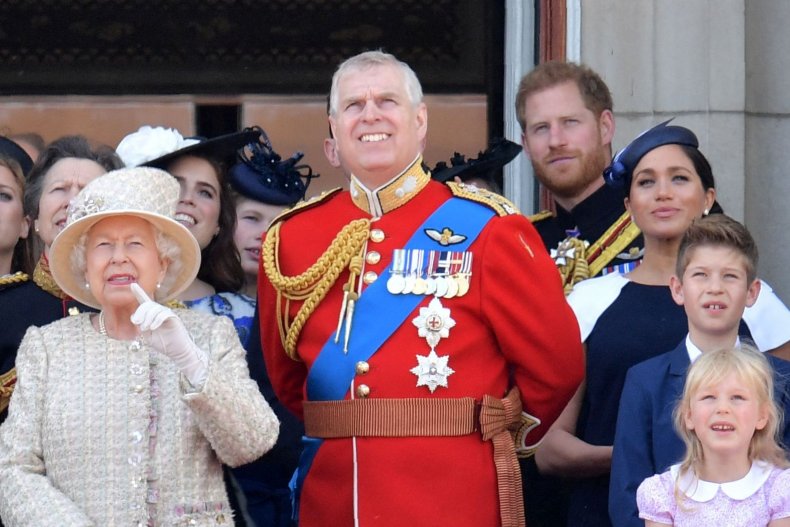 The filing added: "During each of the aforementioned incidents, [Giuffre] was compelled by express or implied threats by Epstein, Maxwell, and/or Prince Andrew to engage in sexual acts with Prince Andrew, and feared death or physical injury to herself or another and other repercussions for disobeying Epstein, Maxwell, and Prince Andrew due to their powerful connections, wealth, and authority."
Meghan and Harry may try to simply avoid Prince Andrew, though they have in the past often be positioned either next to or at least near each other, perhaps due to their similar role in the royal hierarchy.
Andrew and Harry are both spares who grew up in the shadow of older brothers who were direct heirs to the throne.
Either way, there is a risk Andrew will taint not only the queen's jubilee but also Harry and Meghan's big return to the U.K. royal scene.
For more royal news and commentary check out Newsweek's The Royal Report podcast: