How New Zealand's Political System Restricted Guns Days After Mass Shooting
A week after the mass shooting at a Texas elementary school that left 19 children and two teachers dead, most Democratic and Republican lawmakers in the U.S. remain sharply divided on whether gun law reform is the answer in preventing similar incidents.
But when New Zealand experienced a rare mass shooting in 2019 that left 50 people dead and many others injured, such reform took just a matter of days. After meeting with President Joe Biden at the White House Tuesday, New Zealand Prime Minister Jacinda Ardern spoke about her country's successful push to ban most semiautomatic firearms, noting that their nations' two political systems are "very different."
The mass school shooting at Robb Elementary School in Uvalde, Texas, was met with intense and widespread grief and anger, but the incident also inspired comparisons to other countries and how they respond to such events. In remarks at the White House on the day of the shooting last week, for example, Biden said that he was "struck" with the thought that "these kinds of mass shootings rarely happen anywhere else in the world."
"They have mental health problems," Biden said. "They have domestic disputes in other countries. They have people who are lost. But these kinds of mass shootings never happen with the kind of frequency that they happen in America."
Speaking to reporters outside the White House Tuesday, Ardern said that in the aftermath of the 2019 shootings at two mosques in New Zealand, the public "had an expectation that if we knew what the problem was, that we do something about it."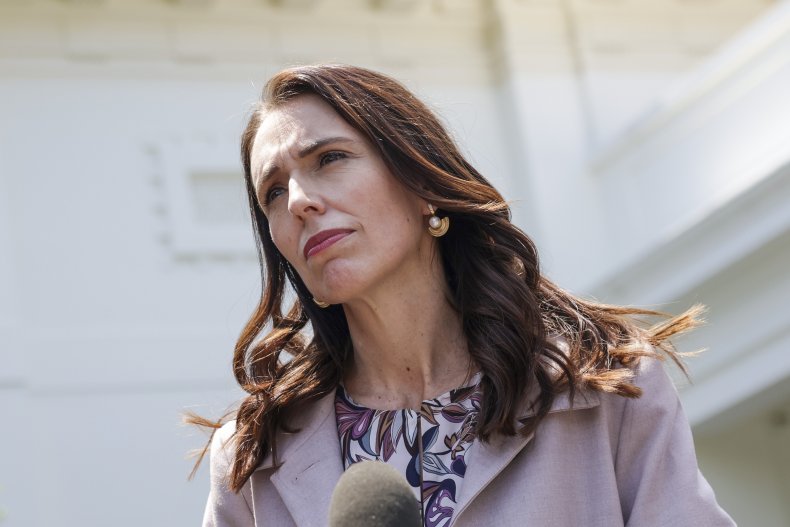 "Now, the context I have to give is our political system is very different," she said. "We had the ability with, actually, the unanimous support of parliamentarians to place a ban on semiautomatic, military-style weapons and assault rifles. So we did that."

It was the New Zealand public, however, that "set the expectation first and foremost," Ardern added.
Although Ardern said that support for the measure was unanimous, The New York Times and New Zealand news website Stuff reported that one lawmaker voted against it. Newsweek reached out to Ardern's office for clarification and further comment.
Ardern announced a temporary ban on the weapons days after the deadly attack, and within weeks lawmakers had voted 119-1 to make it permanent, the Times reported.
While speaking before lawmakers about the legislation around that time, Ardern noted there were very few occasions in her experience "when I have seen Parliament come together in this way, and I cannot imagine circumstances where that is more necessary than it is now."
During the speech, she made a point of paying tribute to the opposition, who she said was "nothing but constructive" from the moment the semiautomatic weapons issue emerged.
Ardern noted that the gunman in the New Zealand shootings had obtained the guns used in the attacks legally and easily modified them to hold more than 60 bullets per magazine.
"I could not fathom how weapons that could cause such destruction and large-scale death could have been obtained legally in this country," Ardern said.
New Zealand's quick action on gun reform stands in stark contrast to the U.S., where the issue of gun violence has been sharply divided along partisan lines for years, with no federal legislative action. An Associated Press-NORC poll released May 27 showed that overall a slim majority of Americans, 51 percent, support a nationwide ban on AR-15 rifle sales, as well as sales of similar semiautomatic firearms. Among Democrats, 75 percent said they were in favor of the measure.