How Prince Harry's 'Groomzilla' Led to 'First Ever' Story on Bad Behavior
Prince Harry turned into "groomzilla" before the royal wedding leading to the "first-ever negative piece of coverage about the behaviour" of the royal and Meghan Markle, a biography says.
The Duke of Sussex was shouting "in front of too many people" after a dispute over Meghan's wedding day tiara, according to Tina Brown's new book The Palace Papers.
The result was the first in a series of negative news stories that ultimately left Meghan feeling suicidal.
The duchess wanted to bring her New York stylist in for a hair trial, which required access to the jewelry she intended to wear on her head when she tied the knot with Harry in May 2018.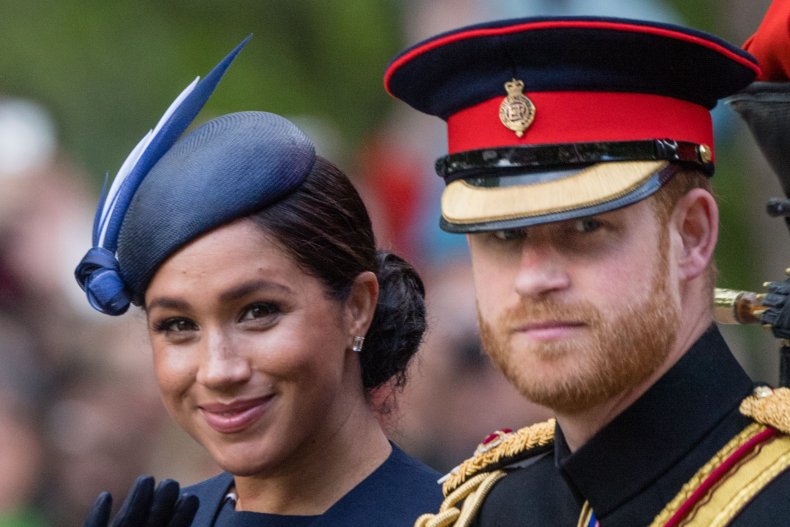 However, Queen Mary's bandeau tiara was kept under lock and key, requiring her to go through set protocols to seek access to the approximately $2.5 million piece.
When Meghan felt the queen's dresser Angela Kelly was blocking the appointment, Harry stepped in to defend his wife.
Brown wrote: "It's not unusual for a bride to get everything she wants or become overwrought before her wedding, less usual for the man to turn into groomzilla. Harry was determined his wife should get everything he considered her due.
"There was a lot of raging, a palace source told me. 'In-person shouting in front of other members of staff, basically in front of too many people, which is why it all started to come out and became the first-ever negative piece of coverage about the behaviour of the couple.'"
News of the explosive disagreement did not emerge until months later on November 9, 2018, when U.K. tabloid The Sun ran an article suggesting the queen had put Harry and Meghan in their place.
It gave a slightly different account of the argument, suggesting it revolved around which tiara Meghan was to have worn, and quoted a "royal insider" who said: "Meghan can be difficult."
The Daily Telegraph published a story later that month suggesting Meghan made Kate Middleton cry at a bridesmaids' dress fitting.
The Sun ran the story on its front page though Meghan later told Oprah Winfrey the allegation was false and that the reverse had happened.
The duchess said the incident marked a turning point in media negativity towards her which by January 2019 left her feeling suicidal.
Days later, The Daily Mail described Meghan as a "dictatorial bride" as it published its own story about Meghan requesting atomizer perfume sprays at St. George's Chapel to cover the musty smell of the building.
In the November 30 story, Buckingham Palace staff were said to feel the move was inappropriate at the historic venue where generations of royals have been both married and held funerals.
The Sunday Times had its own story in December suggesting Meghan's staff found her challenging to work for and suggesting she was to blame for high staff turnover.
The headline nicknamed her "Duchess Difficult," a moniker that stuck for months afterwards, though is seldom used now.
For more royal news and commentary check out Newsweek's The Royal Report podcast:
Meghan told Winfrey: "The narrative with Kate—which didn't happen—was really, really difficult and something that,  I think, that's when everything changed, really."
She added: "The reverse happened. And I don't say that to be disparaging to anyone, because it was a really hard week of the wedding. And she was upset about something, but she owned it, and she apologized.
"And she brought me flowers and a note, apologizing. And she did what I would do if I knew that I hurt someone, right, to just take accountability for it."
Meghan said her friends had told the communications team the accusation was untrue but that the palace would not go on record to dispute the story.
Brown wrote in her book: "She was outraged that they wouldn't immediately deny something that, inconveniently, appeared to them to be true, if incomplete. (Best guess: both of them had meltdowns that day.)"