Both Prince Harry and Meghan Markle are actively including their mothers in their personal and professional lives, Newsweek has heard.
Discussing Harry and Meghan's recent appearance at the NAACP Image Awards with Meghan's mother Doria Ragland, Jack Royston told Kristen Meinzer on Newsweek's The Royal Report podcast just how significant it was for both mothers to be represented on such a special occasion.
Meghan appeared at the gala with Harry and her mother Ragland, wearing a dress which was a subtle nod to her mother-in-law Princess Diana, who wore a very similar silhouette on a state visit to Thailand in 1988.
"The subtle references are arguably the best ones," said Royston of Meghan's Christopher John Rogers blue ombre gown. "Meghan also had some of Diana's jewelry on, including her engagement ring, which had stones from Diana's collection."
Keeping Diana's memory alive and having her be a part of his relationship with Meghan has been very important to Harry as vocalized in the couple's 2017 engagement interview. Speaking of the ring he designed for Meghan, Harry said: "The little diamonds on either side are from my mother's jewelry collection to make sure that she's with us on this crazy journey together."
Meghan responded: "Not being able to meet [Harry's] mom, it's so important to me to know that she's a part of this with us".
Since that day Diana has been a constant in all aspects of the couple's married life, from the charitable causes they support (Harry continuing his mother's work with HIV and AIDS) to their own children, with their first-born daughter Lilibet, being given Diana as her middle name in 2021.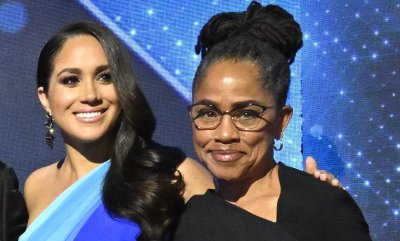 Keeping Diana's memory alive is a life's work for Harry and Meghan but no less important to the couple is Meghan's own mother Ragland, who has shared in nearly all of their most celebrated moments.
Also present at the NAACP awards ceremony, Ragland has been a strong support for her daughter throughout her royal journey. It was Ragland who stayed with Meghan the night before her wedding to Prince Harry and drove with her daughter alone to St George's Chapel the next day.
Ragland also flew to London several times during the first two years of Meghan and Harry's marriage to support her daughter. On one of these occasions Meghan broke with royal tradition by bringing her mother to the launch of her first large-scale initiative, a community cookbook used to raise funds for people affected by the Grenfell Tower fire of 2017, which killed 72 people.
When the couple's first child, Archie Harrison Mountbatten-Winsdor, was born in 2019 Ragland was also present, appearing in a photograph of Harry and Meghan introducing their son to Queen Elizabeth II and Prince Philip at Windsor Castle.
For Harry, any opportunity to have his mother be present in his life after her tragic death is incredibly important. Royston said on Newsweek's The Royal Report podcast with Meinzer that "he is genuinely into the symbolism of these moments."
Ragland's attendance on the evening of the NAACP awards, along with Meghan's tribute to Princess Diana, presented yet another opportunity for both Harry and Meghan to keep their mothers a visible part of their lives as they move forward with their public roles.