How Prince Harry and Prince William Political Controversies Compare
Prince William was this week accused of risking the royal family's cherished reputation for political impartiality—months after Prince Harry commented on the U.S. election.
The monarchy in Britain, by convention, is expected to remain politically impartial to avoid the perception it represents some in society more than others.
However, over the past year both Prince Harry and Prince William have been accused of overstepping the mark.
William spent a week touring Scotland but on the final day of his visit sparked a backlash over Scottish Independence.
Here's how the scandal matches up to Harry and Meghan's
'It's Vital That We Reject Hate Speech'
Prince Harry and Meghan Markle made a series of interventions in the run-up to the presidential election in November, starting in June last year.
Meghan urged graduating students of her old school Immaculate Heart to use their vote to make the world a better place.
However, the backlash against her did not begin until some weeks later when in August she appeared at an online voter registration drive for Michelle Obama's When All Women Vote initiative.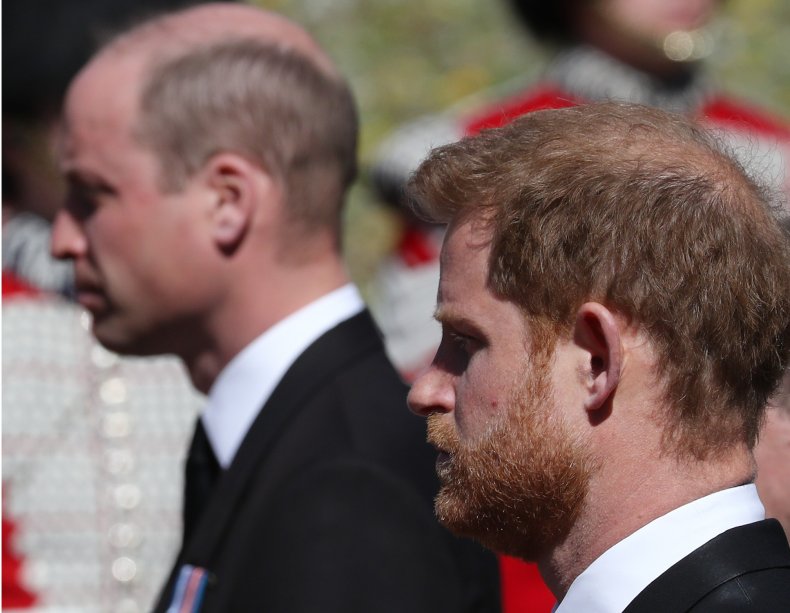 She said: "We all know what's at stake this year. I know it. I think all of you know it.
"If you're here at this fun event here with us, you're just as mobilized and energized to be the change that we all need and deserve."
Prince Harry became personally involved in September when he told Time 100: "This election I'm not going to be able to vote here in the U.S. but many of you may not know I haven't been able to vote in the U.K. my entire life.
"As we approach this November, it's vital that we reject hate speech, misinformation and online negativity."
The remarks led to then-President Donald Trump telling a White House briefing: "I'm not a fan of hers.
"I would say this—and she has probably has heard that—I wish a lot of luck to Harry because he's going to need it."
There were calls for the couple to be stripped of their titles, including by Piers Morgan. Republican Congressman Jason Smith, of Missouri, wrote to the British embassy to complain.
And at the time, royal biographer and GMA contributor Robert Jobson told the Daily Mail: "Frankly, I think it would be better for Harry to withdraw, along with his son, from the line of succession to avoid further confusion.
"By saying they are HRHs and the duke and duchess, but not allowed to use the titles, just confuses the situation."
'It Does Seem Extraordinarily Foolish'
Prince William kicked off his week of engagements in Scotland with a speech about his commitment to the country.
He described a childhood spent swimming in Scottish lochs, his grandfather Prince Philip's barbecues and his time at St Andrew's University falling in love with wife Kate Middleton.
He also spoke from the heart about the days after the death of Princess Diana, when he, Harry and the royals were in Balmoral on their August holiday.
However, on the final day he had a private meeting with former Prime Minister Gordon Brown, who has launched a campaign to keep Scotland in the union.
Former Scottish First Minister Alex Salmond, now leader of the pro-independence Alba Party, said in a Twitter video that "it does seem extraordinarily foolish to have a situation where it can even be said," by the media, "that somehow the monarchy, the future head of state, the panoply of the royal family has been somehow involved in the Scottish constitutional debate."
He added: "We should have no compunction and no hesitation about seeing in that meeting with Gordon Brown what seems to be the preparations for doing what is absolutely extraordinary which would be to have a constitutional monarchy looking and directly discussing aspects of the constitutional debate which should, of course, be left to the people.
"It would be enormously wise of the royal family to follow basically what has been the Queen's example over her long reign, to keep the monarchy over and above politics."
A spokesperson for Kensington Palace said: "During his time in Scotland, Prince William has spoken to a broad range of people from different communities including politicians from across the political spectrum."
The Duke of Cambridge also met pro-independence SNP First Minister Nicola Sturgeon during the tour.