How Prince William Challenged Prince Harry's Narrative Over 3 Days of Royal Bombshells
Prince William laid out his own account of royal life in terms that challenged Prince Harry's during three days of explosive royal revelations last week.
The Duke of Cambridge made rare public statements on his upbringing, grief over his mother's death, and most unusually of all—Princess Diana's "paranoia."
The future-king's intervention came as Prince Harry talked again about the British media attacking Meghan Markle and his family's "total neglect" in response to his pleas for help.
Harry spoke at length about Princess Diana being hounded to her death by the paparazzi and his fears for Meghan Markle's mental health after she experienced suicidal thoughts in January 2019.
The first three episodes were released to the media under embargo but even as news organizations across America were preparing their coverage on Thursday, another story about Diana broke.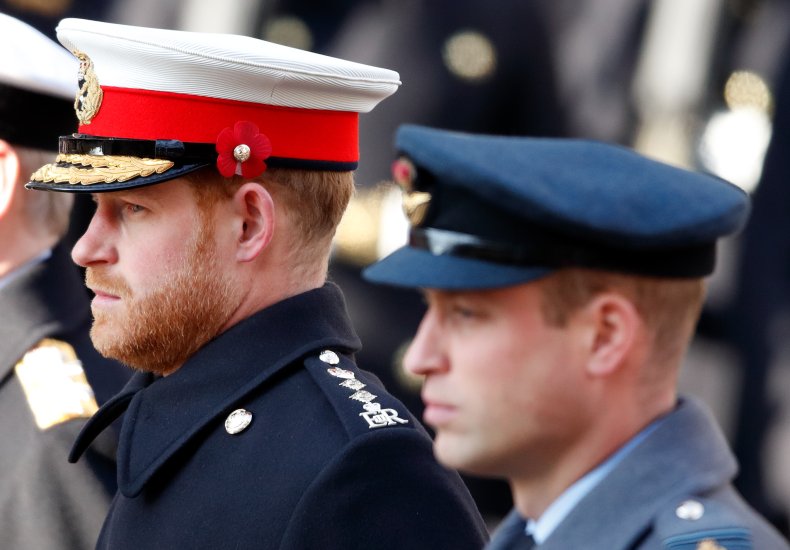 Thursday
In 1995, William and Harry's mother did her own bombshell TV interview for the BBC laying bare her experience at the hands of the royal family, including Prince Charles' affair with Camilla Parker-Bowles, now his wife.
In order to secure the interview, BBC journalist Martin Bashir forged financial paperwork to make it look like her staff was spying on her, an internal investigation found on Thursday.
William issued a strongly worded response which not only heaped criticism on the BBC but also described the content of his mother's interview as a "false narrative."
He said: "It is my view that the deceitful way the interview was obtained substantially influenced what my mother said.
"The interview was a major contribution to making my parents' relationship worse and has since hurt countless others.
"It brings indescribable sadness to know that the BBC's failures contributed significantly to her fear, paranoia and isolation that I remember from those final years with her.
"But what saddens me most, is that if the BBC had properly investigated the complaints and concerns first raised in 1995, my mother would have known that she had been deceived."
He added: "It is my firm view that this Panorama programme holds no legitimacy and should never be aired again.
"It effectively established a false narrative which, for over a quarter of a century, has been commercialised by the BBC and others."
The statement was released even as news organizations in America were preparing to publish write-ups of Prince Harry's comments about the paparazzi hounding his mother.
While Prince William placed the blame squarely with the BBC, Prince Harry's own statement on Martin Bashir said "it's bigger than one outlet, one
network, or one publication."
He added: "She was resilient, brave, and unquestionably honest.
"The ripple effect of a culture of exploitation and unethical practices ultimately took her life.
"To those who have taken some form of accountability, thank you for owning it. That is the first step towards justice and truth."
Friday
What ran on the front pages of U.K. newspapers the following day was predominantly Prince William's narrative.
The Daily Mail front page read "William: BBC Lies Ruined My Mother's Life" while the Daily Mirror's read "BBC's Lies Destroyed Our Mum" and The Guardian wrote, "Deceitful and damaging: furious William attacks BBC over Bashir."
However, the U.K. press did not appear to have been given access to the embargoed content from the Apple TV Oprah series, The Me You Can't See.
In the documentary, Harry blamed their mother's death solely on the paparazzi photographers chasing her.
He said: "I was so angry with what happened to her [Diana] and the fact there was no justice at all. Nothing came from that.
"The same people that chased her into the tunnel photographed her dying on the back seat of that car."
He added: "My mother was chased to her death while she was in a relationship with someone that wasn't white. And now look what's happened [to Meghan].
"You want to talk about history repeating itself, they're not going to stop until she dies."
And he renewed his attacks on his family, saying when he went to the royal family for help he was met with "total silence or total neglect."
Saturday
Prince William toured Scotland over the weekend and used the opportunity to discuss another aspect of royal life Prince Harry has recently commented on—their childhood.
In March, Harry told Oprah he liked living in California because he got to ride around with Archie on the back of a bicycle, adding that Prince Charles had not been able to do the same when he and William were children.
Harry told the CBS prime time special: "I guess the highlight for me is sticking him on the back of a bicycle in his little baby seat and taking him on bike rides which is something I was never able to do when I was young."
However, Prince William presented a very different narrative of the royal upbringing with summer holidays spent out of the public eye at Queen Elizabeth II's 50,000-acre private estate Balmoral.
Far from being in hiding from the paparazzi and unable to go for bike rides, William described swimming in lochs and spoke fondly of his time at the University of St Andrews.
He told the General Assembly of the Church of Scotland: "My childhood was full of holidays having fun in the fresh air and swimming in lochs, family barbeques with my grandfather in command, and yes - the odd midge.
"I spent four very happy and formative years studying in St Andrews. The town and the students left me alone to get on with student life, allowing me to share their freedoms and their pubs."
Prince William's reference to being left alone at St Andrews also challenges Prince Harry's claims about media harassment.
The Duke and Duchess of Sussex launched six lawsuits in around a year in an effort to draw a line around their family's privacy but Archie was still photographed on his first day of nursery, with paparazzi agency Backgrid passing the pictures to Page Six.
The royal family's traditional approach relies on trying to negotiate agreements with media organizations in order to persuade them to back off, Professor Tim Luckhurst, principal of South College, Durham University, previously told Newsweek.
He described how Prince William and Kate Middleton had successfully used this approach to create space at the start of their relationship.
In January, Professor Luckhurst, former editor of The Scotsman, told Newsweek: "In many cases, the privacy that has been afforded to children has been afforded on the basis of negotiated agreements between the industry and the royal family.
"Meghan has put herself outside the royal family by deciding to step down from her duties.
"She's not benefiting from that negotiated stand-off which has benefited the royal family before, even to the extent of completely leaving William and Kate alone while they were at St Andrews.
"I was a newspaper editor then and we said we just would not try to interfere in any way and that was honored."
Prince William also used that speech to talk about his own grief at his mother's death.
He said: "I was in Balmoral when I was told that my mother had died. Still in shock, I found sanctuary in the service at Crathie Kirk [church] that very morning.
"And in the dark days of grief that followed, I found comfort and solace in the Scottish outdoors.
"As a result, the connection I feel to Scotland will forever run deep. And yet alongside this painful memory, is one of great joy.
Because it was here in Scotland – twenty years ago this year – that I first met Catherine."