Prince Harry has criticised the New York Post for publishing "photos of my son being picked up from school" and denounced the U.S. paparazzi "feeding frenzy," in a podcast appearance..
The Duke of Sussex has repeatedly criticised the British tabloids for the way his family have been treated but made his most outspoken comments yet about U.S. media.
In an Armchair Experts episode released on Thursday morning, Harry spoke about the paparazzi "madness" the couple experienced when briefly living in L.A. during the first few months of their time in America.
He also addressed a set of photos printed in the Post's Page Six gossip column within days of Prince Philip's funeral. Archie's face was not pixelated in the images, which showed Meghan Markle carrying the youngster on her baby bump.
Prince Harry told host Dax Shepard: "Page Six of the New York Post, they took photos of my son being picked up from school on his first day."
The prince added: "It's this sort of rabid feeding frenzy, and going back to the kids point it's absolutely true. These kids don't get a choice; they don't get a say in it.
"If it [Paparazzi attention] becomes any worse then what you're basically accepting is ... let's punish people who have got a talent and have literally worked their asses off to get to a point where, yes, they're making money and, yes, their fans are contributing to that but they're bringing entertainment and value to society."
As Newsweek revealed at the time, the royal family were still within the two-week period of mourning Queen Elizabeth II requested for her husband Prince Philip.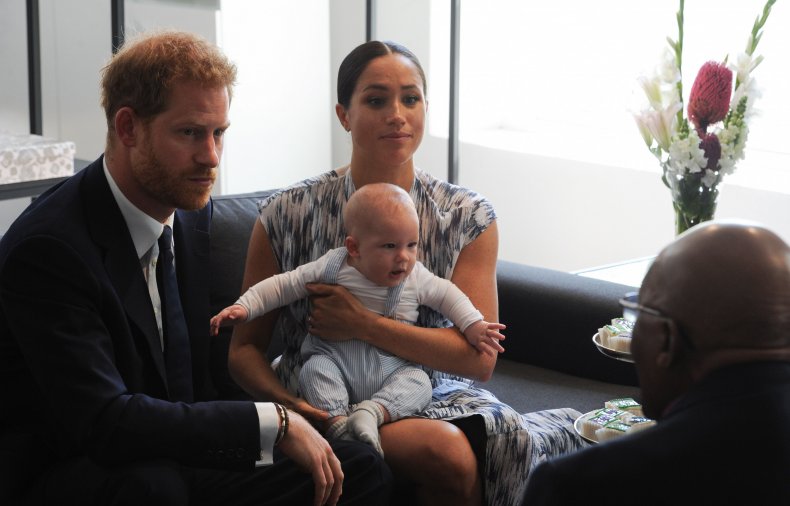 The duke also revisited the period of frenzied activity in the months after he and Meghan arrived on U.S. soil following their split with royal life.
Paparazzi agency X17 used a drone to take pictures of baby Archie playing in the private grounds of the Sussexes' friend Tyler Perry's L.A. mansion.
The images were sold to German mass market magazine Bunte, which splashed them on the front page, as Newsweek revealed last summer.
Meghan and Harry sued, winning an apology from the agency and got some of their court costs paid.
Harry told the podcast. "The way I look at it, especially now living here, one hour outside LA, it's a feeding frenzy here.
"We spent the first three and a half months living at Tyler Perry's house.
"The helicopters, the drones, the paparazzi cutting the fence, like, it was madness. And people out there, their response was 'what do you expect if you live in LA?'
"First of all, we didn't mean to live in LA. This is a staging area to try and find a house. And secondly, how sad that if you live in LA and you're a well known figure you just have to expect it.
"The first lot of security we had, I said 'where's the safest place?' He said 'inside.' I said, 'sorry so just because I'm a well known person, I can't go outside anymore?"
Harry said the situation with the paparazzi had got "way better" since the couple moved to Montecito, in Santa Barbara county.
However, he said Orlando Bloom had recently sent him pictures of a paparazzi photographer lying in the back of a 4x4 truck trying to get pictures of the actor out with his kid.
The podcast was released with little fanfare and Prince Harry joked that he did not believe it was a formal "interview."
However, the relaxed conversation got into emotionally intense subject matter, with the prince talking about some of his own mental health struggles.
Speaking of his podcast appearance, Harry said: "I wasn't so much nervous but I guess on this particular subject around mental health, for me, unfortunately in today's world it's quite a sensitive subject, not just for people who are sharing.
"But ultimately the subject matter itself, it has to be handled with care.
"There can be humour there can be everything else but when it ends up getting weaponized by certain people, you can never predict it though in this instance you probably can.
"That doesn't worry me anymore. I used to be fearful of it but now it's almost like the same groups of people that come at it so negatively or try and turn it against you and weaponize it and therefore affect so many other millions of people from doing so actually encourages me to speak out more."