Meghan Markle, Archie Photos Splashed on Celebrity Site Days After Prince Philip Funeral
Unpixelated photos of Archie, the son of Meghan Markle and Prince Harry, being carried by his pregnant mother were published by a celebrity gossip site just four days after Prince Philip's funeral as the royal family were in mourning.
Page Six published the image that showed the toddler's face shortly before his second birthday, which is on May 6, the day after Prince Harry had arrived in America.
The pictures were credited to celebrity photo agency Backgrid. Newsweek has contacted both the agency and Page Six for comment.
On Queen Elizabeth II's request, the royal family observed two weeks of mourning starting on April 9, the day Philip passed away.
On the day the picture was taken, the monarch released a 95th birthday message in which she acknowledged the royal family's "great sadness" at her husband's death.
Meghan has been protective when photographed carrying Archie in the past, including by Splash News.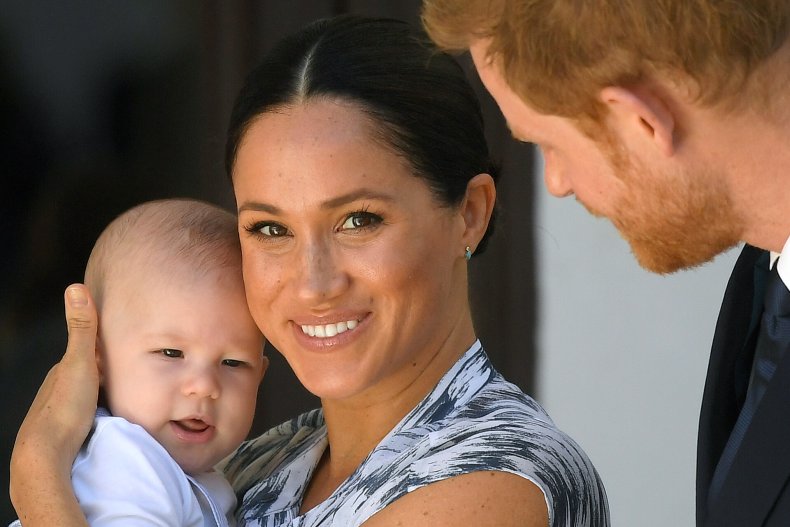 The Duchess of Sussex sued, through the High Court in London, after a photographer for the agency took a picture of her in Horth Hill Regional Park, in Vancouver Island, Canada, with Archie in a sling, on January 20, 2020, prior to the family's move to America.
In December, they settled with the U.K. branch of the company securing a commitment the pictures would no longer be sold.
A spokesperson for Prince Harry and Meghan's lawyers, Schillings, told Newsweek at the time: "As explained in today's hearing, The Duke and Duchess of Sussex have successfully settled a legal claim brought at the beginning of this year against the paparazzi agency Splash U.K.
"This settlement is a clear signal that unlawful, invasive, and intrusive paparazzi behaviour will not be tolerated, and that the couple takes these matters seriously—just as any family would."
Then last month the company's U.S. arm filed for bankruptcy, citing Meghan's legal action as a factor, though a statement released to Newsweek stressed they would continue trading and jobs would be unaffected.
The statement read: "The decision to take the business into a Chapter 11 process was driven Covid 19 trading conditions and also by litigation risk, including an action taken against the company by the Duchess of Sussex on behalf of her son.
"If the legal action were to be successful, Splash would be liable to pay her legal bills which are sizeable."
Harry and Meghan also sued paparazzi agency X17 over drone pictures of baby Archie taken within the private grounds of Tyler Perry's Los Angeles mansion, where they were staying at the time.
The company handed over the pictures and agreed to pay some of the couple's legal fees, in October.
X17 said in a statement: "We apologize to the Duke and Duchess of Sussex and their son for the distress we have caused. We were wrong to offer these photographs and commit to not doing so again."
Harry's first visit back to Britain since beginning his new U.S. life with Meghan saw him walk behind his grandfather's coffin during a service that left the royals visibly emotional.
However, it also saw him speak face-to-face with Prince William amid a long standing rift between the brothers and for the first time since Meghan and Harry's Oprah Winfrey interview.
The prince returned to his Montecito home just before the queen spent her 95th birthday without her husband of 73 years.
In her birthday message, the same day as the latest street picture was published, Elizabeth said: "I have, on the occasion of my 95th birthday today, received many messages of good wishes, which I very much appreciate.
"While as a family we are in a period of great sadness, it has been a comfort to us all to see and to hear the tributes paid to my husband, from those within the United Kingdom, the Commonwealth and around the world.
"My family and I would like to thank you all for the support and kindness shown to us in recent days.
"We have been deeply touched, and continue to be reminded that Philip had such an extraordinary impact on countless people throughout his life."