How Meghan Markle Photos With Archie Could Lead to First U.S. Tabloid Lawsuit
Photos of Meghan Markle and her son Archie out for a walk in Los Angeles were published on "Page Six," the New York Post's gossip column, on Thursday—raising questions over whether she will sue the U.S. tabloid.
The column published the pictures of the pregnant Duchess of Sussex holding her toddler son on her baby bump, in an outing just days after Prince Philip's funeral.
Newsweek understands the incident has not gone down well, as Meghan and her husband Prince Harry fight a running battle with the media.
In the past, the couple have sued over similar images. When they forced paparazzi agency Splash News into Chapter 11 bankruptcy over photos taken of Archie in Canada, those pictures had been published by British tabloid the Daily Mail.
They also sued over drone pictures taken of Archie in Los Angeles last summer. The court filings stressed that the couple had left Britain to escape "incessant U.K. tabloid fabrications" and highlighted the role of "the Daily Mail, a British tabloid" in publicizing "their exact location."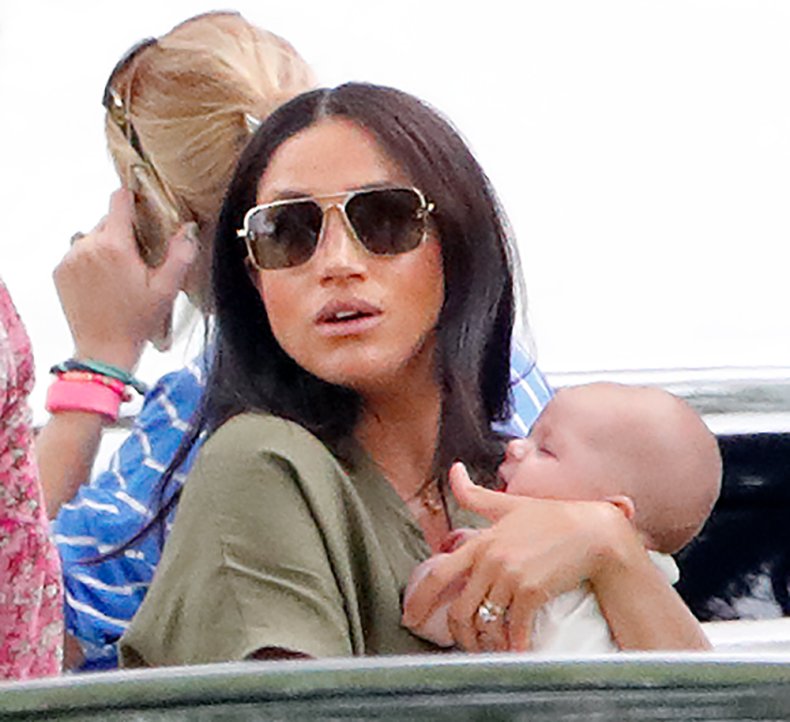 The drone images of Archie were turned down by publications in the U.K. and the U.S., and eventually appeared in the German magazine Bunte, Newsweek revealed last summer.
If Meghan and Harry decide to sue the New York Post or Backgrid, the celebrity photo agency credited in the "Page Six" captions, it will mark the first time they have brought a lawsuit over material published by a U.S. news organization.
Amber Melville-Brown, a media and reputation specialist at law firm Withers, highlighted some of the hurdles the couple would face under U.S. law, which is designed to give protection when there is an element of harassment, stalking or trespass, but not necessarily otherwise.
She said: "It may not be fair that we live by the sword and die by the sword, or by the lens or the pen—but such is the Faustian pact that many a celebrity may regret at a later stage in their life, having once invited the media devil to dance.
"There is not very much that Meghan can do, however much she may dislike it, over photographs taken on a public street in California, where there is no otherwise harassing conduct, and where their publication isn't defamatory or otherwise unlawful.
"But there is a lot that she can do to keep fighting back over other potentially unlawful incursions into the private life of her family—and from every complaint and litigation that she has made and taken to date, it appears that she is intent on doing just that."
Backgrid has photographed Harry and Meghan repeatedly over the past year. Archie's face is not pixelated in the "Page Six" pictures and when Splash News took similar images, the couple sued. The lawsuit helped force that agency into Chapter 11 bankruptcy, although it was brought under English privacy laws.
Mark Stephens, of the English law firm Howard Kennedy, said Meghan could pursue a privacy case at the High Court, in London, because Archie was born in Britain and the online article was accessible there.
He said: "Of course they would have jurisdiction in the U.K. because Archie is a British citizen and they have a home here, she has a reputation here.
"They could also sue in America because one of the conventions that virtually every country on the planet has signed is the UN Convention on the Rights of the Child, which guarantees the privacy of a child.
"So I think there is every possibility that they would be able to successfully sue unless Archie was pixelated."
Meghan sued Splash News over pictures taken in Horth Hill Regional Park in Vancouver Island, Canada, on January 20, 2020, while she had Archie on her chest in a sling.
The U.K. arm of the agency settled out of court in December, when Meghan's lawyers declared the case was a "clear signal that unlawful, invasive and intrusive paparazzi behavior will not be tolerated."
The U.S. division of the agency filed for Chapter 11 bankruptcy last month, citing Meghan's legal action as a factor, but said it would continue trading.
Meghan and Harry will be under pressure to bring some form of legal action to maintain the line in the sand they have already drawn around images of Archie published in the British media.
Stephens said a successful lawsuit was "a very real possibility." He added: "They're attempting to make it uneconomic for the paparazzi to sell these pictures because every time they do they're going to sue them, so there's no market for the pictures any more."
Melville-Brown said Meghan had demonstrated she was protective over pictures of her child taken without authority.
She added: "I say without authority, because he has not been swaddled altogether in the cotton wool of anonymity.
"While Archie hasn't been led along the red carpet as an accessory like the offspring of some celebrities, images of him have been shared by Meghan and husband Harry.
"But where images are unauthorized or taken in circumstances of harassment or privacy invasion, the protective parents have taken action."
Correction 4/28/21, 3:30 a.m. ET: This article was updated to correct the name of law firm Withers.