How Queen Elizabeth II Became a BAFTA Winner and Where She Kept Her Statue
Among the A-list celebrities honored with BAFTA (British Academy of Film and Television Arts) awards, none is more famous, or perhaps more unexpected, than Queen Elizabeth II, whose name was added to the roll call of recipients in 2013.
At the time of her death in September 2022, Queen Elizabeth was Britain's longest-ruling monarch, having served 70 years on the throne. She was also a strong supporter of the BAFTA organization and associated charities for many decades.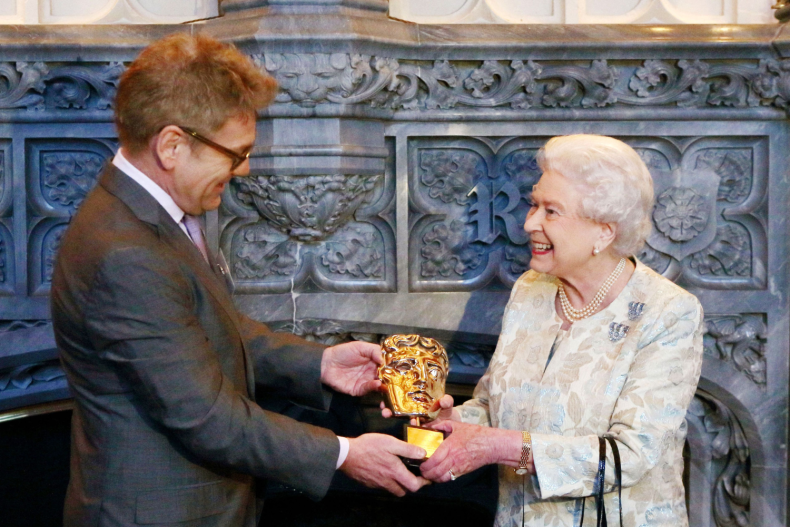 The BAFTA awards (formally known as the British Academy Film Awards) were first held in 1949, three years before Elizabeth came to the throne in 1952. The ceremony was first televised in 1956, hosted by Gone With the Wind star, Vivien Leigh.
It was in 2013 that the queen was awarded her own BAFTA award. However, it was not for her 2012 Olympic Games on-screen credit for the short film Happy and Glorious, in which she co-starred with Daniel Craig's James Bond.
Elizabeth returned to the screen in 2022 to mark her Platinum Jubilee in a special short film, co-starring with Paddington Bear.
The monarch was presented with an honorary BAFTA, in recognition of her decades-long patronage of the film and television industries.
The golden statue is in the shape of a theatrical mask and was first designed by the American sculptor Mitzi Solomon Cunliffe. It was presented to the queen at a Windsor Castle reception in Berkshire, England, hosting notable entertainment industry figures.
BAFTA's then-chairman, John Willis, praised the queen's support and promotion of British film and television, before adding: "I am delighted that this evening has given us the opportunity to give something back. I have the great honour to announce that we are to present Her Majesty with an honorary BAFTA today, in recognition of her outstanding patronage of the film and television industries.
"We should be proud of our industry. The people here this evening represent a vast variety of skills and ground-breaking innovation; they have entertained and informed a generation and inspired generations to come," Willis added.
He also paid homage to her 2012 Olympic skit with Daniel Craig. Willis said that the monarch, who was in her eighties at the time, was "the most memorable Bond girl yet."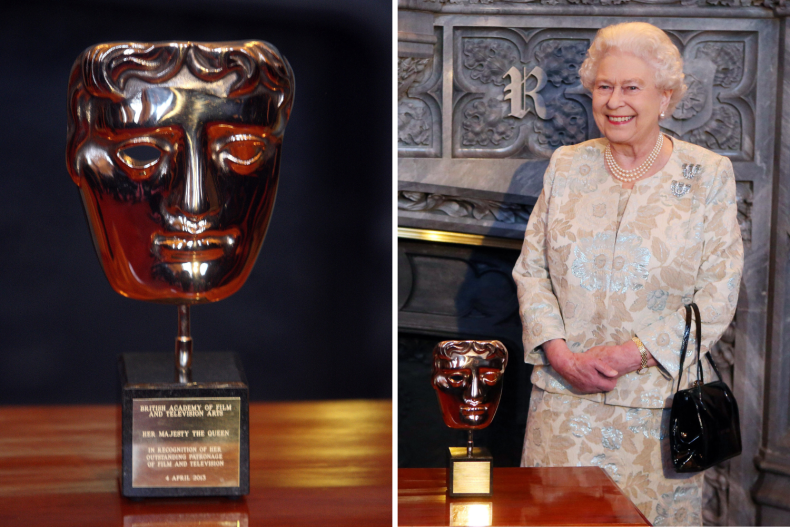 The queen took great pride in her award, posing for photographs as it was presented to her by actor and director Sir Kenneth Branagh.
The following year, the queen spoke publicly about the award, revealing that it took pride of place in her home.
"I couldn't help looking at mine, my BAFTA," she told Dame Angela Lansbury and director Steve McQueen at a Buckingham Palace reception in London, "which I keep on my, above my television!"
In 2017, the queen loaned her BAFTA to the Royal Collection, the largest private art collection in the world. It was put on display at Buckingham Palace in the exhibition "Royal Gifts," marking milestones of Elizabeth's 65 years on the throne.
When Elizabeth died on September 8, 2022, during a stay at her Scottish home of Balmoral Castle, BAFTA released an official statement paying tribute to her decades-long support. Part of it read: "The Queen occupies a unique place in the Academy's history and will be missed enormously."
It has been announced that Dame Helen Mirren, who won a BAFTA and an Oscar for her portrayal of Elizabeth in the 2006 movie The Queen, will pay an official tribute to the monarch at this year's BAFTA ceremony. It will be held on Sunday, February 19, at Southbank Centre's Royal Festival Hall in London. Prince William, the academy's president since 2010, is confirmed to be attending, as is his wife, Kate Middleton.
James Crawford-Smith is Newsweek's royal reporter based in London. You can find him on Twitter at @jrcrawfordsmith and read his stories on Newsweek's The Royals Facebook page.
Do you have a question about King Charles III, William and Kate, Meghan and Harry, or their family that you would like our experienced royal correspondents to answer? Email royals@newsweek.com. We'd love to hear from you.