How Realistic Is Bernie Sanders' Climate Plan? Experts Say the Challenge Isn't the Implementation but Political Will
Vermont Senator Bernie Sanders' climate plan has earned the highest ranking from Greenpeace, but his plan has also raised concerns about cost and time scale, highlighting the contrast between what climate scientists view as necessary action and political will.
Sanders rolled out an ambitious plan for climate change in August, pledging to invest $16.3 trillion in a project that would implement 100 percent renewable energy for electricity and transport by 2030, decarbonize the U.S. economy by 2050 and create 20 million jobs in the process. The plan was met by applause from environmental advocates and scorn from skeptics, who derided it as too expensive and too extreme.
In questions of practicality, Sanders sees a lack of will to address the issue, which he has called a "global emergency."
"Feasibility is just one weapon of the climate denier for inaction," a Sanders campaign spokesperson told Newsweek.
Sanders had promoted Alexandria Ocasio-Cortez's Green New Deal before proposing his own. He has said that climate change is a threat that demands radical action. The message aligns with that of climate activist Greta Thunberg, who has urged U.S. politicians and world leaders to alter climate policy to meet the goals of scientists, who have warned industrial leaders need to decarbonize much more quickly.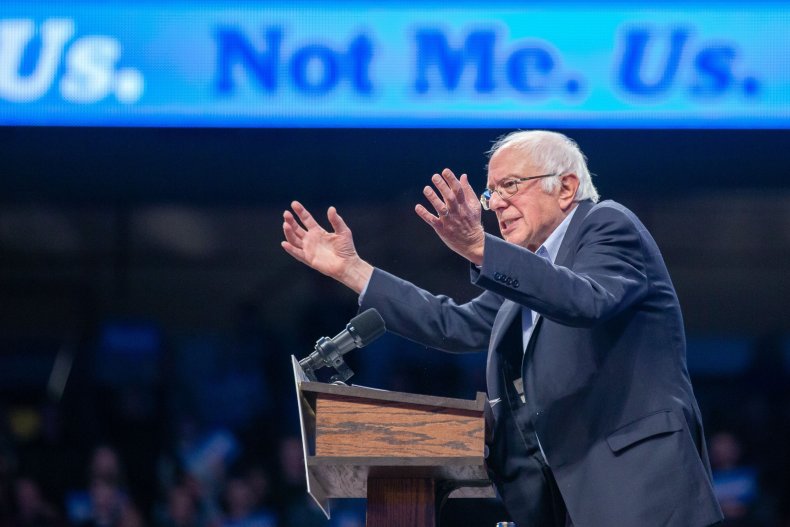 Though Americans have tuned in to this concern and worries about climate change are rising, they are less willing to spend money on the issue. The majority of Americans are unwilling to pay $10 per month to address climate change, an AP-NORC survey conducted last year said.
Financial fears over climate action have long been used to prevent implementation of green energy sources, the Sanders spokesperson told Newsweek. Politicians like President Donald Trump have noted the cost of altering the country's energy structure, though studies have found that the financial toll of not adapting are far greater. These arguments about cost help prevent adaptation, shaping how the public discusses feasibility, the Sanders campaign said.
"I personally don't think 100 percent renewable is unrealistic," Daniel Zachary, the Director of Energy Policy and Climate Program at Johns Hopkins University, told Newsweek. "A big question is how you define realistic and unrealistic, much has to do with political will," he added.
"One hundred percent renewable in this short timeframe can, if done correctly, generate a huge economic boost."
Despite the hope expressed by scientists—and the necessity of fast climate action—meeting Sanders' objectives requires rapid reconfiguration of American energy production.
Though renewable energy is the fastest-growing energy source in the U.S., nearly 64 percent of the nation's energy came from fossil fuels last year, according to the Energy Information Administration. The scale of such changes has provoked concerns.
"There's big questions about the feasibility of Sanders' time scale for the 2030 objective, and not because I wish it wasn't so," Leah Stokes, a specialist in energy and environmental policy at the University of California at Santa Barbara, told Newsweek. "We're talking about very heroic rates of deployment."