How Rising Gas Prices, Electric Car Interest Can Change City Infrastructure
As the price of gas continues to surge, interest in electric vehicles is increasing, and that is likely to cause cities to make changes to their infrastructure.
Currently, the average price for a gallon of gas is more than $4.25, according to AAA, with California's prices the highest at over $5.57 on average. Meanwhile, as the popularity of electric vehicles continues to grow, almost 500,000 were purchased last year, according to Kelley Blue Book. In the fourth quarter of 2021, electric vehicle sales were more than 70 percent higher year over year, KBB said.
Given the rising popularity of electric vehicles, cities should begin by "electrifying buses and municipal fleets," according to the clean technology website CleanTechnica. In addition, cities will need to build sufficient numbers of platforms for charging these vehicles.
Kerri Garvin, executive director of Greater Indiana Clean Cities, told Newsweek, "Cities will need to prepare their infrastructure and utility upgrades to accommodate the increased adoption of electric vehicles.
"We are seeing plenty of cities adding electric vehicle charging stations throughout their city in order to attract visitors and investment, so this has become an economic development opportunity," she said.
In particular, cities will need to provide more stations for charging passenger vehicles. For example, Indianapolis has only 15 public chargers, but there are plans to add more, according to local TV station WTHR. In Indiana, registrations for hybrid and electric vehicles are up by about 25 percent, Garvin told the station.
Lansing, Michigan, is also working on a plan for more charging stations for electric vehicles, according to local TV station WSYM. Only 38 public stations are available now in the city.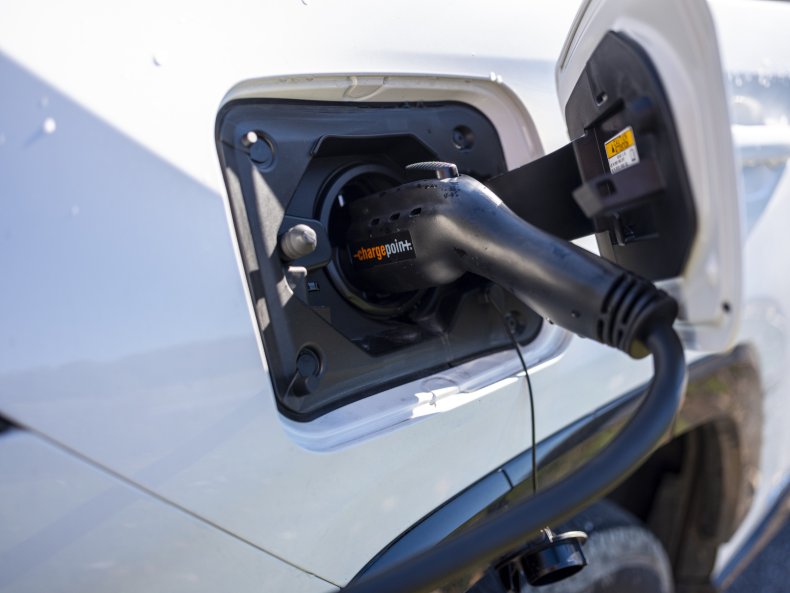 Last week, the Los Angeles City Council passed a measure to streamline the process by which electric vehicle charging stations are approved. Plans are underway in Oklahoma to increase the number of charging stations in that state as well, The Oklahoman reported.
To help with such changes, Garvin told Newsweek, cities can "increase communication and collaboration with their electric utility to ensure the planning and implementation of EV infrastructure is cost-effective and seamless."
She added that she expects the adoption of electric vehicles to increase drastically over the next three years, as well as the funding for programs to increase their adoption.
Rising fuel costs could also mean fewer vehicles on city streets. Cities have been promoting biking and walking as alternative ways to get around, which is likely to result in less wear and tear on streets, the Natural Resources Defense Council (NRDC) said.
Also, the NRDC noted that cities like Boston, Los Angeles, Denver and St. Louis are working on creating electric vehicle ride-sharing programs for the elderly and residents of low-income areas.
One man told WTHR in Indianapolis that he spent more to buy a hybrid car but he's satisfied with his purchase and may soon be in the market for another one.
"I absolutely love it. I was thinking I'm really glad I bought this car a couple months ago. And how do I get another one, a full electric?" Lance Lewis told WTHR.
For those who may be apprehensive about the price of an electric vehicle, Garvin told Newsweek, "Electric vehicles cost less to fuel. On average, it costs around $40 per month to charge an electric vehicle at home. Electric vehicles also have less maintenance costs due to the reduced number of moving parts."
Jason Albritton, the director of Climate and Energy Policy for The Nature Conservancy, in response to Newsweek, also stressed the importance of infrastructure.
"There is growing demand across the country for cleaner energy and transportation – from electric vehicles, to renewables, to public transportation," he said. "To meet this demand, we have to get the right infrastructure in place – and we have to do so quickly and in a way that balances economic, environmental, and individual needs."
He went on to mention the Infrastructure Investment and Jobs Act, which he stated was needed to help build cleaner infrastructure. Albritton also said that supporting such things as national electrical charging stations "makes sense for our economy and our communities."
In December 2021, the Biden administration released an "electric vehicle charging action plan," with funding provided by the infrastructure law that Congress passed last year. The administration said that autoworkers and automakers have agreed that electric vehicles are the future and that the target is to have half of all vehicles sold in the U.S. by 2030 be electric.
In early February, the federal departments of transportation and energy said almost $5 billion had been made available under the infrastructure law to begin achieving the administration's goals on electric vehicles over five years. The money will help states pay for electric vehicle charging stations in what is being called "alternate fuel corridors" along the country's Interstate Highway System.
Secretary of Energy Jennifer Granholm said in a statement the move will help drivers all across the country. "We are modernizing America's national highway system for drivers in cities large and small, towns and rural communities, to take advantage of the benefits of driving electric," she said.
Additionally, some of the money will go toward a grant program aimed at putting vehicle charging stations in locations throughout the country, as well as in rural and underserved areas.
"The Bipartisan Infrastructure Law is helping states to make electric vehicle charging more accessible by building the necessary infrastructure for drivers across America to save money and go the distance, from coast to coast," Granholm said.