Americans Will Waste $450,000,000 Worth of Food This Thanksgiving
For most Americans, planning and cooking a Thanksgiving dinner is fairly straightforward. But the holiday will be more costly this year, and a shocking report reveals that nearly $450 million worth of food will go to waste as a result.
The report from Rethink Food Waste Through Economics and Data, a collaboration of private industry, nonprofit and government participants, estimates that over 3 million pounds of food will be dumped this holiday.
"A dinner for ten people will cost approximately seven more dollars than in 2021, and nine more dollars than in 2020," the report said. "That means that this year approximately $15 in food waste will be generated by each dinner for ten people, about $5 more than in 2021.
"Fifteen dollars per ten people may not sound too expensive, but added up that wasted food will cost nearly $450 million, $40 million more than a year ago," the report said.
A Center for Biological Diversity report revealed that 200 million pounds of turkey will be thrown out, along with 150 million pounds of side dishes like vegetables and potatoes and 14 million pounds of dinner rolls.
Newsweek spoke to a Las Vegas-based chef who shared five tips on how to prevent food waste during the holiday and what to do with the leftovers.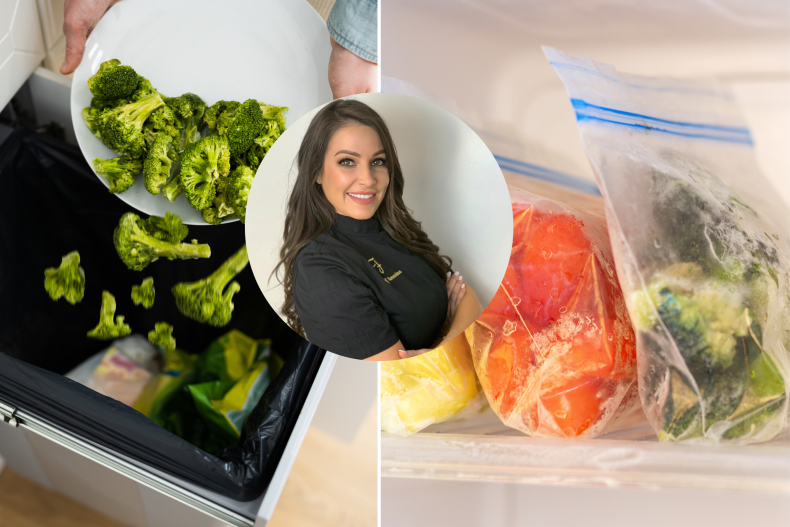 How to Reduce Food Waste This Thanksgiving
Buying the correct amount of food to serve at your dinner party may be stating the obvious and perhaps easier said than done for some people.
Chef Genevieve LaMonaca told Newsweek: "Food waste has been a major problem during the holidays for a long time. It's important for me to educate and offer ideas and solutions to help with holiday food waste.
"There are so many simple ways we can all help reduce food waste, and I am happy to see many of my colleagues in the industry bring even more attention to this issue with solutions," she said.
The popular TikTok chef, who owns Finesse Catering and Events in Las Vegas, has five suggestions to prevent waste:
Plan ahead. Don't make more than what you need. Determine how many servings you will need based on your guest count. Make a list and only buy what you need. Don't forget to check your pantry and fridge first so you don't buy something you may already have.
Keep your scraps. Vegetable scraps, turkey bones and leftover herbs can be turned into turkey stock. Throw everything into a pot and fill it with cold water and simmer for three hours, then strain. You've just made homemade turkey stock. Stock freezes well and can be added to many future recipes for extra depth and flavor.
Turn leftovers into new meals for the week. Use leftover turkey for sandwiches, turkey pot pie or turkey enchiladas. Leftover cranberry sauce can be used as a spread on sandwiches or crostinis. Leftover stuffing can be mixed with eggs and baked into breakfast muffins, added to ground meat to make meatballs or mixed with leftover mashed potatoes and seared in a pan to make patties.
Send guests home with leftovers. If they brought food, pack leftovers in the container they brought their food in.
Donate food. Call local food banks and ask what they need.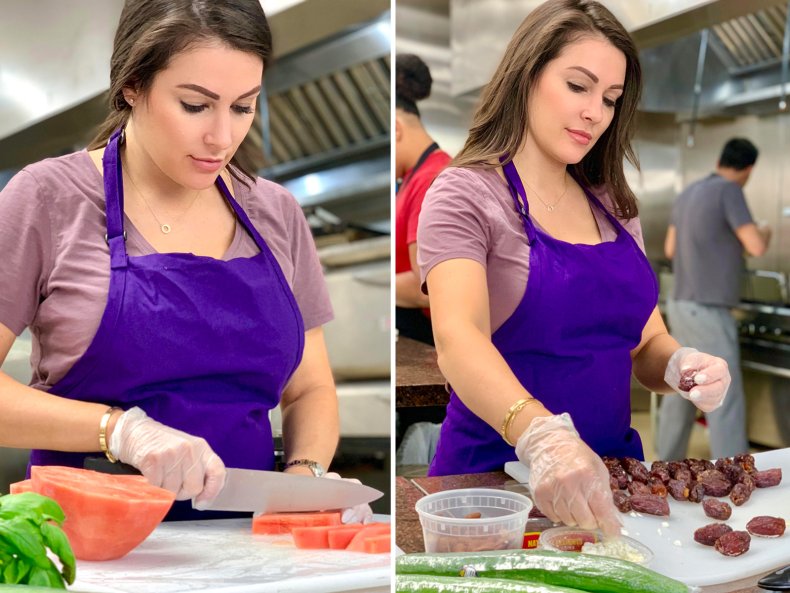 LaMonaca recently shared a video on TikTok demonstrating how to make chicken stock from scratch.
She explained how to make an easy leftover turkey pot pie casserole.
First, you will need the ingredients:
2 cups leftover turkey meat, chopped
2 cups mixed cooked leftover vegetables (you can use carrots, onions, peas, corn or celery)
2 cups leftover gravy or a homemade velouté sauce
2 cups leftover stuffing
Herbs (thyme, sage, parsley and rosemary are all great in this dish)
Salt and pepper
Here's the four-step recipe:
Add your chopped turkey and vegetables to a baking dish. Pour over your gravy (or velouté sauce).
Add your herbs, then season with salt and pepper if needed.
Gently mix together, then sprinkle on your stuffing.
Bake in a 350-degree oven for 30 minutes (cover stuffing with foil halfway through cooking time).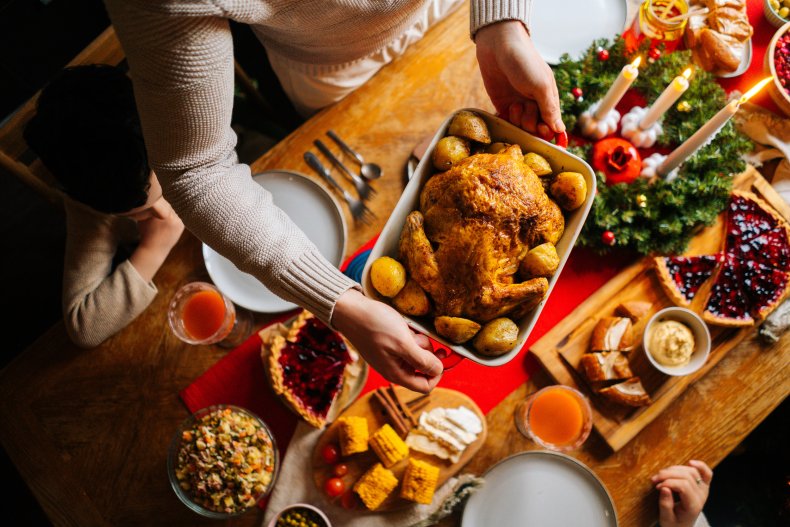 Can You Freeze Leftovers From Thanksgiving?
LaMonaca said it is "possible to freeze many leftovers" that can be used in the future if you don't fancy cooking on the day after Thanksgiving.
You can use sealed sandwich bags or plastic tubs to store your leftovers, but don't forget to label the food with the date.
Vegetables can be frozen for eight to 12 months. Vegetable scraps (including peels, skins and root ends) are onions of all kinds, carrots, celery, turnips and mushroom stems. They can all be used to make a stock.
Cut your leftover turkey into smaller portions first. This way, you can grab what you need for future recipes.
Gravy freezes well for up to six months. Freeze in small resealable bags and lay them flat for easy storage.
Store stuffing in an airtight container and reheat at 350 degrees for 15 minutes.
Freeze cranberry sauce in ice cube trays, then transfer them to a resealable bag. Cranberry sauce is great as a spread on crostinis or in sandwiches
Tear thawed bread and dinner rolls into smaller pieces and toast in a skillet with olive oil to make homemade croutons.