How to Test Drinking Water for Toxic Chemicals After Ohio Train Derailment
Following the release of toxic chemicals from the train derailment in East Palestine, Ohio, some residents are being encouraged to have their water tested for possible traces of these chemicals.
During a press conference on Tuesday, Ohio Department of Health Director Bruce T. Vanderhoff said that many residents in the East Palestine area are under "municipal water," which allowed for officials to use reserves of the "most distant" wells away from the leak of toxic chemicals.
"But nevertheless there are quite a number of people who are on private water systems. Mostly private wells. We have strongly encouraged all of those people on private wells to get their wells tested, and that will be done at no cost to them," Vanderhoff said. "We are strongly recommending those who have not yet had their water source checked to use bottled water."
The comments by Vanderhoff come amid the ongoing response efforts to the train derailment in East Palestine that resulted in the release of several different toxic chemicals. On February 3, a train operated by Norfolk Southern derailed near East Palestine, resulting in a large fire and a spill of several different types of toxic chemicals.
This week, the Environmental Protection Agency sent a letter to the Norfolk Southern Railway company featuring a list of the toxic chemicals that were released from the train derailment, which included vinyl chloride, butyl acrylate, ethylhexyl acrylate and ethylene glycol monobutyl.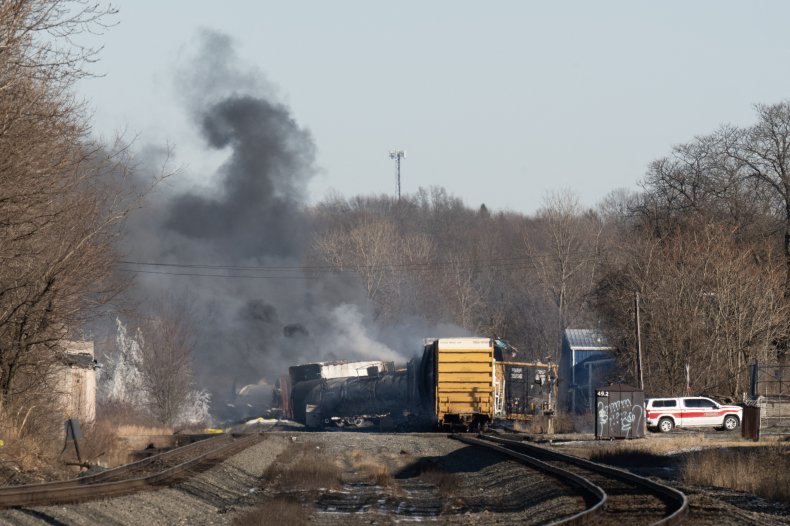 Many residents in the area were evacuated shortly after as the railway conducted a "controlled release" of the chemicals, Governor Mike DeWine's office said. In an updated statement on February 8, DeWine's office announced that it was safe for residents to return to their homes.
"Air quality samples in the area of the wreckage and in nearby residential neighborhoods have consistently showed readings at points below safety screening levels for contaminants of concern. Based on this information, state and local health officials determined that it is now safe for community members to return to their residences," the statement said.
In 2022, Forbes reported that at-home water testing kits are available to purchase for around $20 and include a strip to place into your water that is used to detect possible contaminants. There are also additional tests that may cost more money and will be sent to a laboratory for further testing, Forbes reported.
While speaking with WTAE-TV in Pittsburgh, Laura Fauss, a public information officer for Ohio's Columbiana County, said that private well testing in the county is currently underway.
"We're there for about an hour. We have to run the water for a little bit, fill up several bottles, take a look at the system you have, if you have any filters, or any kind of treatment on there, and take a look at the well itself," Fauss said.
On Monday, West Virginia American Water said in a statement that it was "monitoring" water quality along the Ohio River.
"As of noon on February 13, source water monitoring and water quality testing have not detected any change to raw water at the company's Ohio River intake, though as a precautionary measure, the company has enhanced its treatment processes. The health and safety of our customers is a priority, and there are currently no drinking water advisories in place for customers," the water utility company said in a statement.
Newsweek reached out to DeWine's office for further comment.