Texas Train Derailment Occurs Just Days After Ohio Disaster
A train has derailed in Splendora, to the north-east of Houston in Texas, just days after a cargo train went off the tracks in Ohio.
According to a statement by the Splendora Police Department released late last night, officers were alerted to a crash between the train and an 18-wheel truck at 7:24 a.m. local time (8:24 a.m. ET). Police attended and found the driver of the truck deceased.
"Union Pacific is currently on scene, along with multiple state and federal agencies," it added.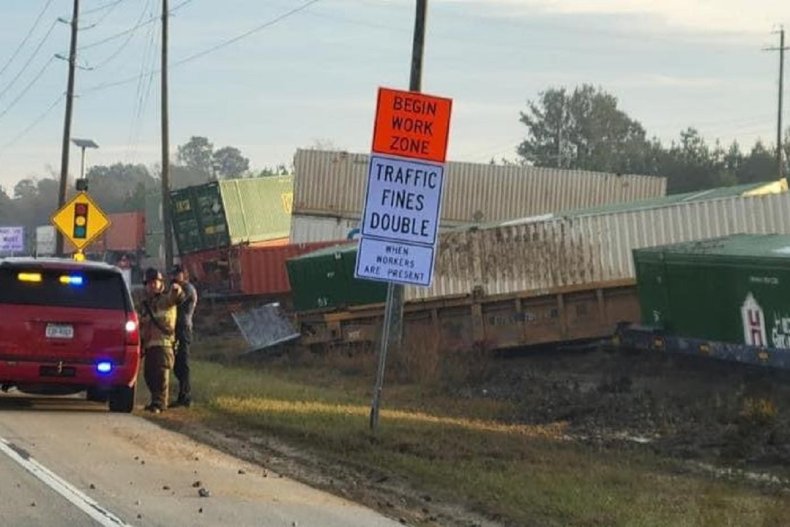 Police told local media that a hazardous materials team from Union Pacific, which operates the railway, were on site as a precaution. Lieutenant Troy Teller, Splendora Police's spokesperson, told Newsweek that 100 gallons of diesel and about 15 quarts of oil had leaked from the 18-wheeler, but that "no other chemicals leaked."
A Union Pacific spokesperson confirmed that the tractor-trailer released diesel and oil, adding that the train crew had not been injured in the incident and 21 cars had been derailed.
They added that the chemicals on board the train were household chemicals, including paint and aerosol cans, and that there had been no hazardous material releases from the cargo.
"Railroads are required by federal law to transport chemicals and other hazardous commodities that our customers produce and Americans use daily, including fertilizer, ethanol, crude oil and chlorine," the spokesperson said. "Railroads are the safest mode of transportation. More than 99.9 percent of the hazardous commodities moved by rail reach their destination safely, without a release."
Teller listed numerous agencies that attended, including the Woodlands Fire Hazmat and the Texas Department of Public Safety, adding: "According to Hazmat, air quality was set-up as a precaution as containers were moved. Normal air quality was detected during the whole process."
In a further update on Monday evening, the Splendora Police Department said access to the nearby town of Midline remained cut off because of the crash. It added that Union Pacific staff were working "diligently" to restore access.
Teller told Houston Public Media that several feet of track had been damaged and would need replacing, and the rail line would likely be unusable until Tuesday.
The exact circumstances of the crash have yet to be determined. The crossing at which the crash occurred had no crossing arms, just a yield sign, Teller said.
A further train derailment occurred in Enoree, South Carolina, at around 6:15 a.m. ET on Monday. Local news station WHSV3 reported officials and staff from CSX Transportation were on-scene.
A spokesperson for CSX Transportation said three cargo rail cars on an industrial spur track near Highway 221 derailed.
"The cars remained upright and in-line with no reported leaks or spills of any freight," they said. "There were no injuries and no impact to the community or mainline railroad operations. The cause is under investigation."
A spokesperson for the Spartanburg County Sheriff's Office said they had not been notified of an incident, but if they were involved, it would have been to provide assistance.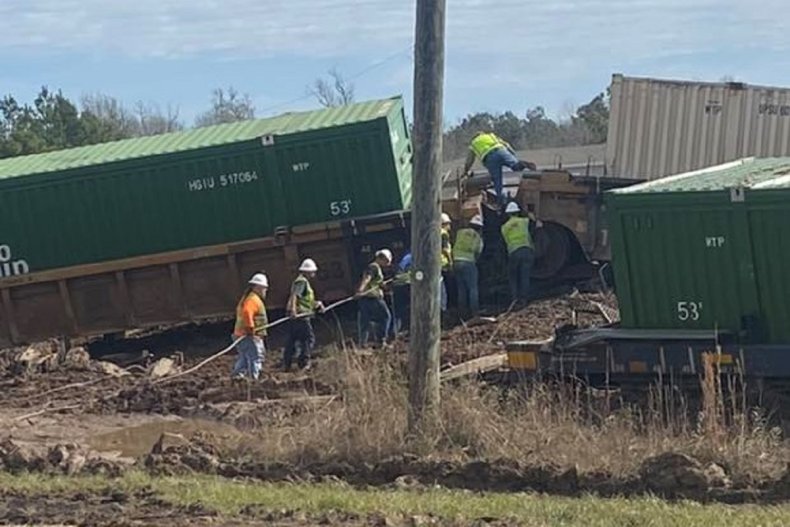 The accidents occurred just days after a cargo train went off the tracks in Ohio causing toxic chemicals to be released.
At around 8:55 p.m. ET on February 3, a Norfolk Southern train of around 150 cars derailed near the town of East Palestine; 20 cars carried hazardous materials. The derailment caused a huge fire.
After seeing a sudden spike in the internal temperature of some of the cars, emergency responders bled vinyl chloride from five cars and burnt it off to avert an explosion of shrapnel and toxic gases.
They warned, however, that it would send toxic gases phosgene—used during World War I—and hydrogen chloride into the atmosphere. Environmental Protection Agency officials have since found three other toxic chemicals in the surrounding soil, air and water.
Residents have been allowed to return to their homes, but some have complained of symptoms of exposure.
Update 02/14/23, 4:16 a.m. ET: This article was updated to include further details throughout.
Update 02/14/23, 11:16 a.m. ET: This article was updated to include comment from Union Pacific, CSX Transportation and the Spartanburg County Sheriff's Office.
Update 02/15/23, 2:45 a.m. ET: This article was updated to include comment from Troy Teller, spokesperson for Splendora Police Department, and further comment from Union Pacific.