How Trump Spent His First Thanksgiving as President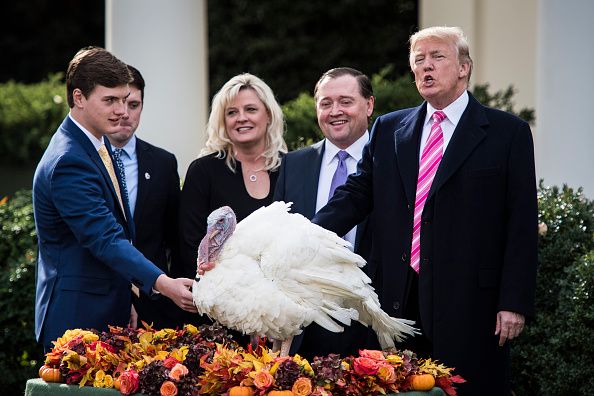 Donald Trump had a very busy first Thanksgiving as president.
Before he could sit down to a scrumptious meal with all the Thanksgiving trimmings with his family at Mar-a-Lago in Palm Beach, Florida, he spent most of his time doing presidential duties.
He began his day telling the U.S. what it should be thankful for. Trump took to Twitter to brag about how great the economy is and gave a list of how well the U.S. is doing.
"HAPPY THANKSGIVING. Your country is starting to do really well. Jobs are coming back, highest Stock Market EVER, military getting really strong, we will build the wall, V.A. is taking care of our Vets, great Supreme Court Justice, RECORD CUT IN REGS, and lowest unemployment in 17 years!" Trump tweeted.
He later highlighted how thankful Americans should feel toward their country in the annual Thanksgiving video.
In the spirit of Thanksgiving, Trump took it upon himself to spread his message of how well he thinks the country is doing to others. He commented on a tweet posted by Washington Post columnist Greg Sargent about an opinion piece he wrote on Trump's tweets about LaVar Ball.
Trump later spoke to troops during a Thanksgiving call with military personnel. During the call, the president took credit for the recent successes in battling the Islamic State militant group, also known as ISIS.
"Everybody is talking about the progress you've made in Afghanistan since I opened it up, and you've turned it around in the last three-to-five months like nobody has seen," Trump said, speaking with the U.S. Army's 82nd Airborne Division via satellite. "They say we've made more progress against ISIS than they did in years with the previous administration, and that's because I'm letting you perform your job."
Trump wasn't doing all the Twitter posting this holiday. First lady Melania Trump took to Twitter with photos from visiting the U.S. Coast Guard in Florida and served them a meal of sandwiches, fruits, and chips.
"Thrilled to spend part of our Thanksgiving w the local Coast Guard station in Florida. Thank you to all members of the military who keep us safe! #HappyThanksgiving2017" the first lady tweeted.
In the excitement of it all, Trump pointed out how muscular the Coast Guard's members were and jokingly challenged one of them to an arm wrestling contest.
"What are my chances of beating him in an arm wrestling contest? I think I'd be in trouble. Trouble? I think I'd be in trouble," he said.
And after all that boasting, the president was finally able to sit down to a meal with his family.
So, happy Thanksgiving, Mr. President!