How Twitter Is Trying to Stop The Spread of 5G Conspiracies
While conspiracy theorists continue to push their baseless claims that 5G cell towers are the main cause of the coronavirus outbreak, Twitter is now slapping those conspiracy tweets with a fact-checking label.
Conspiracy theorists, such as David Icke, and even high profile celebrities like Woody Harrelson and John Cusack, have engaged with claims that 5G cell towers leaking radiation which can weaken the immune system, among other things. Those who take these conspiracy theories seriously believe that the weakened immune system caused by 5G leaves people susceptible to the virus. Efforts have been made to disprove this before, such as YouTube deleting Icke's account. Unfortunately, the false information about 5G continues to spread like wildfire on social media.
Last month, Twitter's Head of Site Integrity Yoel Roth and Director of Global Public Policy Strategy, Nick Pickles, issued a statement about misleading information. Twitter was stamping out specific tweets, which contained "potentially harmful" information related to COVID-19, with new labels and warning messages. The labels would direct users to "a Twitter-curated page or external trusted source containing additional information."
When posts containing 5G conspiracy theories are made, the fact-checking label appears reading,"Get the facts about COVID-19." If you click on the link, users will be sent to a thread filled with various journalists and fact-checkers. In the Twitter page titled, "No, 5G isn't causing coronavirus," The Office of Communications and the UK's Full Fact have confirmed there is no scientific evidence that proves COVID-19 is connected to 5G.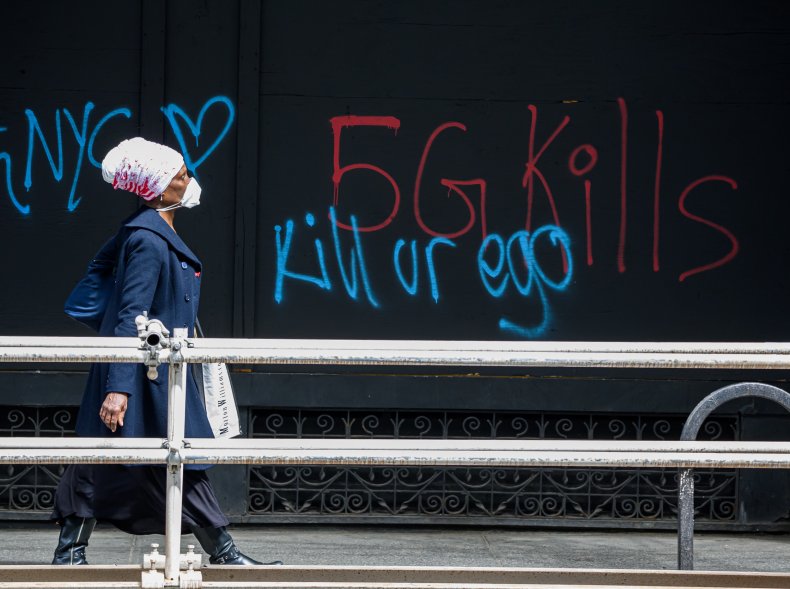 Unfortunately, Twitter's fact-checking system still has some flaws. In jest, Twitter user @FilkinsEd mockingly stated, "5G Corona causes werewolves to become hairless." His sarcastic remark was flagged with the fact-checking label. If you were a werewolf, this would be important to know, but not dangerous to your health. The important thing is, Twitter is taking action to help slow the spread of the inaccurate 5G and COVID-19 information.
About a week and half ago, President Donald Trump tweeted misinformation about mail-in voting being linked to voter fraud. Twitter labeled Trump's tweet with a fact-checking button directing them to a curated thread about the topic. Though Trump argued the social networking service is interfering with his bid for the 2020 Presidential Election, Twitter is continuing its practice.
Ian Punklett, Global Director of Policy at Twitter, reached back and referred Newsweek to this thread on Twitter Safety.