How to Wash a Weighted Blanket
About 40 percent of American adults suffer from insomnia, according to a study in the American Journal of Managed Care—and some of those try to prevent sleepless nights with a weighted blanket. A heavy-duty blanket can help you to doze off, swaddled like a newborn and feeling cozy and secure.
If you've been snuggling under one throughout the winter months, you might be thinking it now needs a wash. But how do you go about this, if it is weighted with fleece or glass beads, or knitted from heavy yarn? Newsweek has asked the experts for advice on how to clean these most bulky of blankets.
How to Wash a Weighted Blanket
Mallory Jones, director of product development at weighted blanket company Gravity, explains that the washing method "will vary by brand, depending on materials used and each blanket's system for attaching the weighted inner to the duvet cover.
"Most weighted blankets use a button or loop system to attach the cover to weighted inners—which could be 30 to 50 buttons or loops to reattach depending on the blanket size—but Gravity uses a zipper fastening system to make removing or attaching the cover for washing an easy task."
First, detach the cover from the weighted inner. The covers are often machine washable, so should be washed in cold water with similar colors. They can also be tumble dried on low heat.
To clean the weighted inner, Gravity recommends spot cleaning with warm water and liquid detergent or dish soap, gently rubbing with a washcloth to remove any stains. Next, air dry your blanket before reattaching the cover.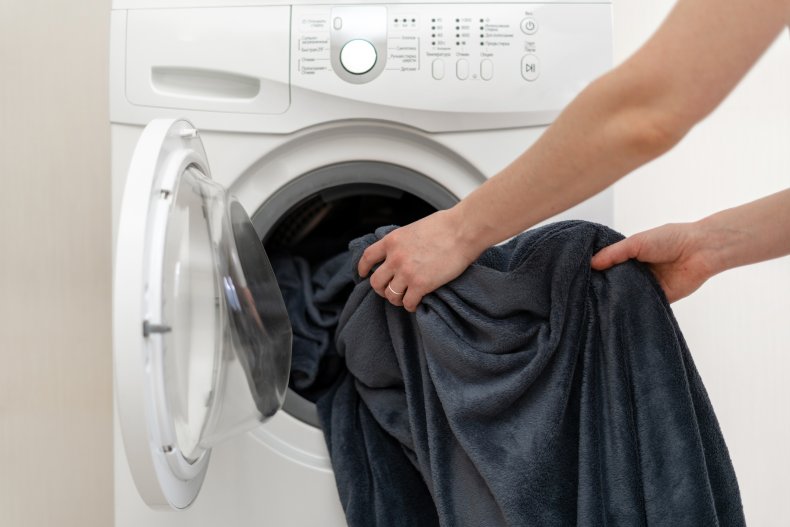 Steve Payne, bedding expert at retailer Sleep and Snooze, points out that some weighted blankets shouldn't be pulled apart and "need washing all in one," so you should always refer to the care label first.
He added: "With weighted blankets, it's not just whether it's cotton or polyester you need to consider, but the filling as well. Some contain glass beads or plastic pellets but others might contain natural materials, and these all need treating differently when washing."
Most weighted blankets require a bleach-free and gentle detergent, however. "You will want to wash them in cool temperatures and on a gentle cycle. If possible, air dry the blanket, periodically shaking it out to redistribute the filling evenly as it dries," Payne said.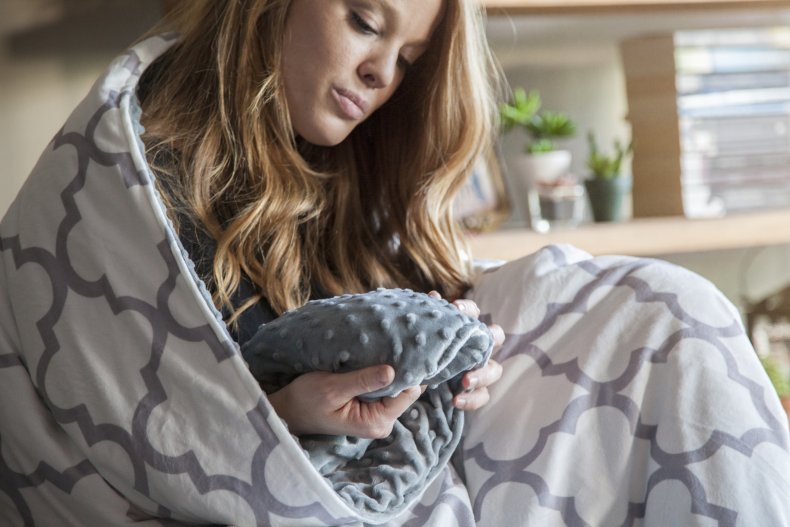 Jonathan Propper, founder and CEO of laundry detergent company Dropps, offers five simple rules for cleaning most weighted blankets:
Always wash on the gentle cycle
Use cold or warm water
Never bleach your blanket
Don't use fabric softener
Tumble dry low after washing.
If your blanket weighs more than 20 pounds, he also recommends "taking a trip to the laundromat to use a commercial washer instead, just to make sure your blanket will be fully cleaned without any wear or tear to your machine."
To reduce the number of times you have to lug that heavy load to the laundromat, "consider using a duvet cover to protect your blanket."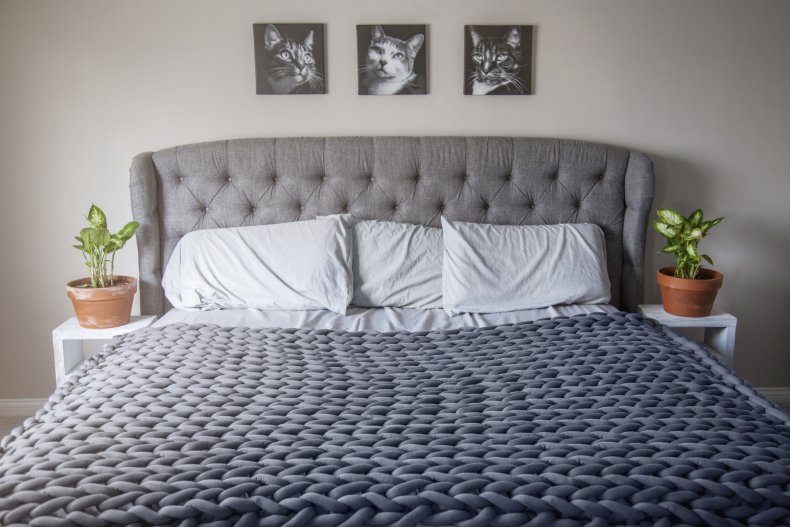 Propper also offers specific advice for different materials:
Cotton weighted blankets
Wash in cold water
Wash in a load by itself, as too many cotton items can agitate the fabric
Skip the fabric softener
Use gentle detergent
Tumble dry on low heat.
Fleece weighted blankets
Wash in warm water
Use gentle detergent
This is the exception to the "no fabric softener" rule; you can use one on fleece
Air dry to reduce pilling of the fleece.
Flannel weighted blankets
Wash in cold or warm water—never hot
Tumble dry on low heat but don't allow the blanket to stay in the dryer for too long after drying.
Minky weighted blankets
Use non-chlorine bleach along with a gentle detergent
Avoid hot water. Minky fabric—a type of soft plush—doesn't tolerate heat well.