How to Watch Donald Trump's Michigan Rally With Tudor Dixon
Former President Donald Trump is set to appear at a Michigan rally on Saturday night in support of several of his endorsed GOP candidates who are running in various races in the state.
The rally is scheduled for 7 p.m. EST in Warren, Michigan, at Macomb County Community College Sports & Expo Center. As a battleground state that went to President Joe Biden in 2020, Michigan is among the states that Trump has focused heavily on heading into November's midterm elections.
One of the candidates Trump will support at the rally is Tudor Dixon, the conservative pundit turned Republican candidate for governor in Michigan. Dixon is facing off against incumbent Governor Gretchen Whitmer, a Democrat leader who became the target of intense conservative outrage in 2020 over her enforcement of COVID-19 protocols during the pandemic.
Other GOP candidates appearing at the rally will include attorney general candidate Matthew DePerno and secretary of state candidate Kristina Karamo. Trump has endorsed all three candidates in the upcoming midterms, and all three would have a major hand in managing future elections and election results in the state if elected to office. This has led to concern from some over how officials who are loyal to Trump in these roles would handle Democrat wins in Michigan.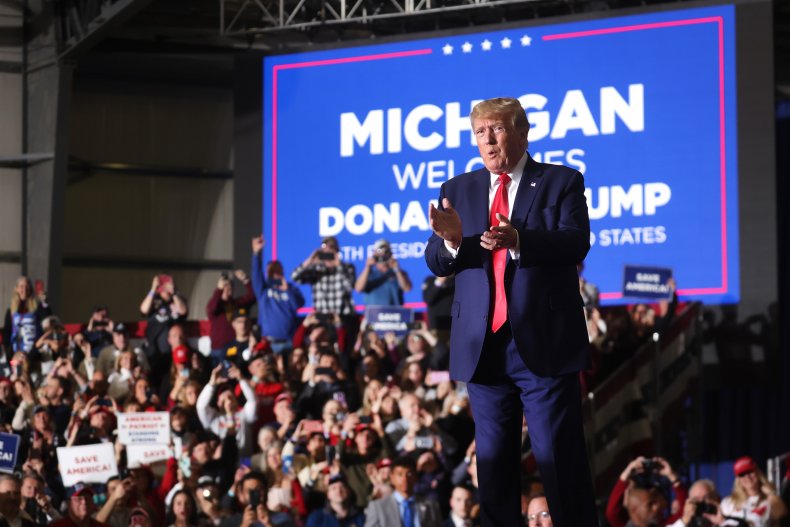 How to Watch Donald Trump's Rally in Michigan
As of Saturday morning, it is unclear which, if any, broadcast news channels will be airing Trump's rally.
One confirmed method for viewing the event is via Trump's official page on the website, Rumble. Founded in 2013, Rumble is a video hosting platform that became popular amongst conservative and far-right political figures in 2020 when mainstream platforms, like YouTube, began to crack down on misinformation. The site also offers cloud services, which Trump uses to host his Twitter alternative, Truth Social.
Recent Trump rallies have often been live-streamed on the conservative YouTube channel, Right Side Broadcasting Network (RSBN). Interested viewers can tune into the channel as another way to view the rally.
"We are excited to welcome President Trump to Michigan this weekend as we build momentum heading into October," Sara Broadwater, communications director for Dixon's campaign, said in a statement to Newsweek on Saturday. "The latest polling numbers prove what we already know to be true - Gretchen Whitmer is vulnerable, the momentum is on our side, and our message is resonating with Michigan voters."
What the Polls Show
According to the most recent polls, Dixon continues to trail Whitmer in the upcoming gubernatorial race. Citing a Detroit Free Press poll from September 18, the polling database FiveThirtyEight, gave Whitmer a considerable 16-point lead against her GOP challenger based on 600 respondents. Meanwhile, a more recent poll with 1,075 respondents from a Republican-partisan operation, the Trafalgar Group, still had Whitmer in the lead by 6 points as of Wednesday. The poll has a margin of error of 2.9 percent.
Newsweek reached out to Trump's office for comment.