How to Watch Donald Trump's Rally for Kelly Loeffler, David Perdue Ahead of Georgia Runoffs
President Donald Trump is making one final push for Republican senators David Perdue and Kelly Loeffler ahead of Georgia's unprecedented double Senate runoff elections on Tuesday.
Trump is scheduled to headline a rally in Dalton, Georgia, on Monday night. The event will kick off at 9 p.m. Eastern time and can be watched on C-SPAN or at the link below, courtesy of Fox News. The event was originally scheduled for 7 p.m.
Perdue will join the rally virtually as he's currently in quarantine after coming into contact with someone who tested positive for COVID-19. His campaign said last week that while the senator and his wife tested negative, they would follow his doctor's recommendations and quarantine in accordance with CDC guidelines.
Trump's appearance in the Peach State comes just after a recording of a phone call released by The Washington Post revealed the president pressured Georgia Secretary of State Brad Raffensperger on Saturday to change the state's 2020 election results.
"All I want to do is this. I just want to find 11,780 votes, which is one more than we have. Because we won the state," Trump said. Trump lost the presidential race in Georgia to President-elect Joe Biden by 11,779 votes.
Raffensperger, a Republican, pushed back and told Trump "the data you have is wrong." The secretary of state has repeatedly defended the integrity of the state's electoral process. Georgia has conducted numerous recounts and audits, all of which found no evidence of the widespread voter fraud Trump and his allies alleged occurred
The president's endless attacks on Georgia has had some Republicans worried that his behavior will negatively impact Tuesday's election. On Monday Georgia Lieutenant Governor Geoff Duncan told CNN: "That phone call did absolutely nothing to help...drive turnout for Republicans here in Georgia, for Kelly Loeffler and David Perdue."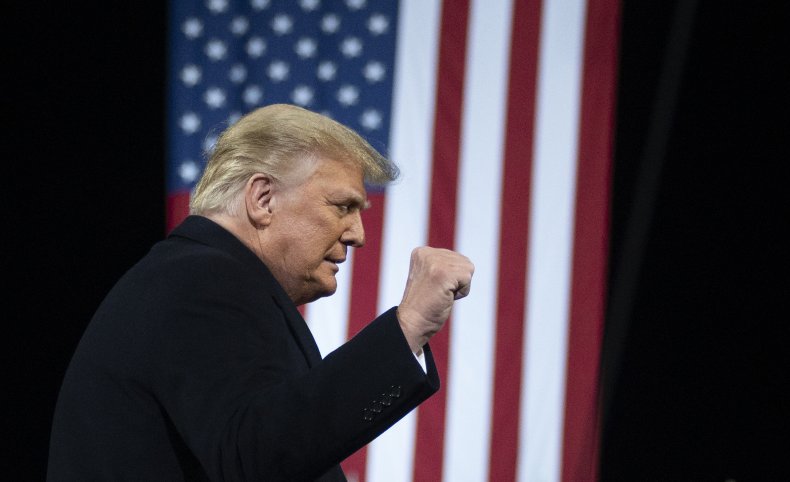 Loeffler and Perdue, however, have been largely supportive of Trump's attacks on the election. Both senators backed a lawsuit filed by Texas Attorney General Ken Paxton last month that attempted to overturn the 2020 results in Georgia and other key battleground states. The Supreme Court rejected that effort.
Loeffler has said she is undecided on whether to join some of her Republican colleagues in challenging the Electoral College's certification of Biden's win. Congress will meet on Wednesday to officially affirm the Democrat's 306-232 electoral victory.
Republicans deem Tuesday's election as a "last line of defense" against Democrats gaining control of the Senate. Loeffler and Perdue need to keep their seats in order for Republicans to maintain a majority in the upper chamber.
"Are you ready to keep fighting for President Trump and show America that Georgia is a red state?" Loeffler said at a campaign event last week. "We are the firewall to stopping socialism and we have to hold the line."
Limited polling of the runoffs shows two tight races. As of Monday afternoon, FiveThirtyEight poll averages showed Ossoff leading Perdue by 1.4 percentage points and Warnock leading Loeffler by 2 percentage points.