How to Watch The Olympics 2021 in The U.S.A.
The Tokyo Olympics 2020 is finally taking place, despite the coronavirus threatening to close the event down. It was postponed from 2020 and will take place exactly one year later in 2021, but maintains its name to reflect the intended start date.
Having said this, events will actually kick off before the Games officially start, with some non-elimination heats of softball and soccer taking place on Wednesday, July 21, and Thursday, July 22.
Team U.S.A. will join countries around the world to compete in 33 different sports, four of which are new for this year, and a fifth having return from Olympics past.
We break down how to watch the coverage as it happens, as well as highlight shows.
Where to Watch The Tokyo Olympics
The first official day of coverage is July 21 at 9:00 a.m. Tokyo time, which in the U.S.A. is the evening of July 20 at 8:00 p.m. ET.
This will be Australia and Japan playing Softball, after which the U.S.A. plays Italy.
Following this, the afternoon events begin with six women's soccer games, including the U.S.A. against Sweden at 5:30 p.m. JST, or 4:30 a.m. E.T. on July 21.
The following day's coverage, which starts on the evening of July 21 at 8:00 p.m. ET, is men's softball with the U.S.A taking on Canada.
The is followed by eight men's soccer games including Germany taking on Brazil and Argentina vs. Australia.
On the day of the opening ceremony, there are several heats of archery and rowing as well as pre-event checks for shooting and equestrian.
None of the pre-Olympics sports will see any teams knocked out.
In the U.S.A., NBC will be carrying the Tokyo Olympics, meaning the NBC Universal platforms will cover the sports, as well as the opening and closing ceremonies.
The Games will be available to stream via Peacock, as well as NBCOlympics.com and NBCSports.com.
Of the events shown on Peacock, all of the event coverage will be free to watch, except for men's basketball.
Peacock will also play studio shows, featuring interviews and a focus on the women's sports, while also showcasing original programming such as Olympic Highlights With Kevin Hart and Snoop Dogg, which will be a comedy take on the Games.
Here is their schedule of studio shows.
6:00-11:00 a.m. ET—Tokyo LIVE
11:00 a.m. –12:00 p.m. ET—Tokyo Gold
Noon –7:00 p.m. ET—Tokyo Gold (encores)
7:00 –7:30 p.m. ET—On Her Turf at the Olympics
7:30 p.m. –12:00 a.m. ET—Tokyo Tonight (this will start one hour earlier on Sundays)
As well as NBC, other channels will be showing the Olympics, including a dedicated channel, NBC Olympics, as well as Telemundo, CNBC, the Gold Channel and NBC Sports Network.
What Time Does Coverage of The Olympics start?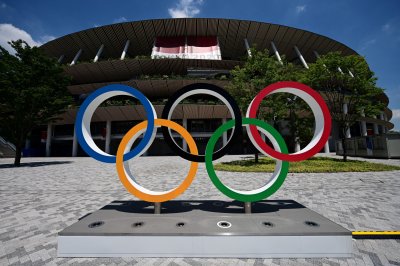 This will depend on where you are watching in the country.
Japan and the U.S. have a substantial time difference, with Tokyo being between 14 and 19 hours ahead of the U.S. depending on your time zone.
As a result, most morning and afternoon events in Tokyo will be able to be viewed in the U.S. in the afternoon and evening.
This means that later events will take place overnight in the U.S, meaning it may be harder to view live.
For those living in Hawaii, in the HST time zone, the time difference will be almost a day ahead, so the start time of events will be closer to the actual event and only a day behind.
Schedules for the events has been released by the Tokyo Olympics, so it is clear to see the order of events and what time fans can expect to be able to watch them on TV.
Will There Be Spectators At The Olympics?
Previously, it was expected that there would be spectators at events at the Tokyo Olympic Games.
However, due to the increasing number of coronavirus cases around the world, it was decided there would be no spectators.
On July 9, the government of Japan released a joint statement with the Tokyo 2020 Organising Committee, the Tokyo Metropolitan Government, the International Olympic Committee and the International Paralympic Committee on this issue.
The statement said the Japanese side informed the IOC and IPC of their intentions to stop spectators from attending events after the government announced a state of emergency in Tokyo.
IOC president Thomas Bach said in a video statement to athletes: "I hope we all agree that the most important thing is that these Olympic Games are happening—that you can make your Olympic dream come true...
"You need not feel alone in these stadia. Billions of people around the entire globe will be glued to their screens, and they will be with you in their hearts.
"I hope that you can feel this support from all these people, who are your true fans, who are your family, your friends and your supporters."