How to Watch Trump's Speech: Time, Live Stream for Faith and Freedom Event
Former President Donald Trump will be the keynote speaker at this year's Faith & Freedom Coalition's Road to Majority Policy Conference.
Trump is scheduled to take the stage Friday at 1 p.m. ET, at the Gaylord Opryland Resort & Convention Center in Nashville, Tennessee, as part of the three-day event that began Thursday and concludes Saturday.
For the second consecutive year, the on-demand Fox Nation will be the conference's official streaming partner. It will stream the entire conference, including additional video of speakers and panels post-event.
Viewers can watch for free and receive 30 days of free viewership by using the code "FAITH."
Newsmax and the Right Side Broadcasting Network will also broadcast the conference.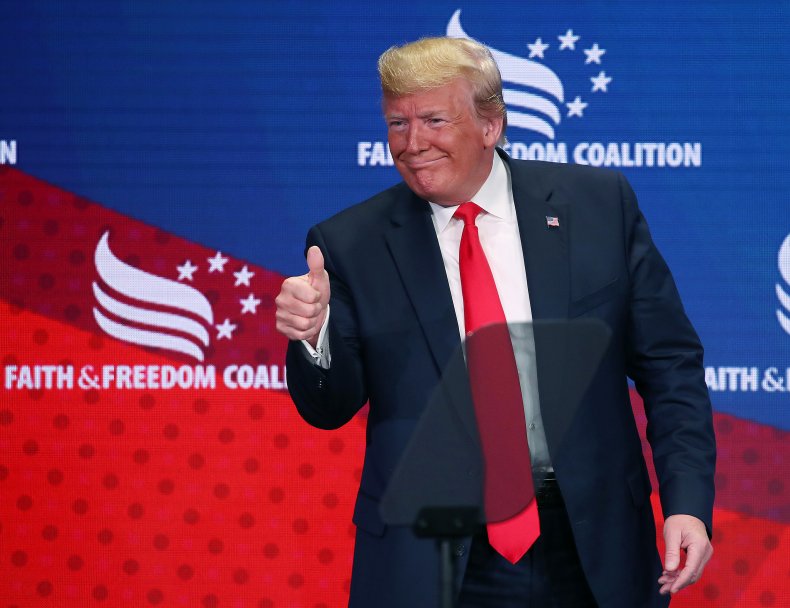 The event, which has been put on for a dozen years, is "designed to empower conservative activists to fight for their values at the polls and in the public arena," according to the Faith & Freedom Coalition's website.
The focus this year involves pushing "conservatives further down the road to majority in the 2022 midterm elections."
Timothy Head, executive director of the Faith & Freedom Coalition, in a statement called the 45th president "a loyal friend to people of faith," adding that he "fearlessly fought to protect the right to free speech, especially in places of worship."
Other Trump acknowledgments included strengthening the United States' alliance with Israel and appointing three Supreme Court justices in addition to hundreds of judges nationwide.
"Six years ago, he began the fight to make America great again, and since that moment he has delivered some of the most consequential victories for our movement and our nation—victories that continue to inspire leaders in states and communities around the country," Head said. "President Donald J. Trump remains committed to protecting religious liberties, defending family values, and putting Americans first."
Trump will take the stage Friday in the midst of the House select committee's January 6 hearings. According to recent polling by Navigator Research, 54 percent of respondents backed the suggestion of the Department of Justice indicting Trump for his actions related to the Capitol riot from last year. About 71 percent of Republicans surveyed oppose potential criminal charges against Trump by the Justice Department over the attack.
Last year's Freedom & Faith Coalition conference featured former Vice President Mike Pence, whose name has been brought up repeatedly in conversations about January 6 and as recent as today. Months after certifying the election in favor of Joe Biden, Pence took the stage in Orlando, Florida, and received some applause mixed with jeers. Some in attendance reportedly called him a "traitor" numerous times.
Other scheduled speakers at this year's conference will include Rep. Dan Crenshaw; Sen. Ted Cruz; Sen. Marsha Blackburn; former U.S. Ambassador to the U.N. Nikki Haley; former U.S. Education Secretary Betsy DeVos; Jeanine Pirro; Sen. Lindsey Graham; Rep. Jim Jordan; Georgia senatorial candidate Herschel Walker; and Rep. Barry Loudermilk.
Loudermilk has become a recent focus of the January 6 committee due to released footage that shows the congressman guiding a group through the Capitol complex one day before the riot. He has argued he is being targeted for guests taking routine pictures.