Howard Schultz Slams Bernie Sanders' Agenda: 'The Democratic Party Left Me, I Didn't Leave Them'
Potential 2020 presidential candidate Howard Schultz has once again hit out at Democratic progressives, claiming the leftward bent of some of the party's most prominent members is too much for him to stomach.
Speaking with Fox Business host Trish Regan on Wednesday, Schultz criticized what he called extremists on both sides of the aisle, suggesting the American people now need a centrist president willing to compromise.
"Bernie Sanders, who three years ago had fringe ideas, is now the poster child for the American people with regard to the Democratic Party," said the billionaire and former Starbucks CEO. "The Democratic Party left me, I didn't leave them."
Continuing his attack on Sanders, Schultz said the Vermont senator "has been running for president for... four years, and he has not demonstrated—in my view—any level of discipline in regard to how he is going to have to pay for any of the things he is suggesting, let alone Medicare for All." He added that there "is a better solution to fix the healthcare problem," though did not elaborate on what he thought that was.
Regan also pressed Schultz on the anti-Semitism debate that is driving a wedge between the centrist and progressive wings of the Democratic Party, which Republicans are gleefully exploiting.
Discussing Minnesota Representative Ilhan Omar—accused of using anti-Semitic tropes in her criticism of Israeli policy and pro-Israel lobbying firms—Schultz said: "I think her comments that she made are not proper and in every way are inconsistent with anyone who is an elected official at the federal level."
As a Jewish-American himself, Schultz said he recognized "a rise of anti-Semitism in America, which concerns me." If he did decide to run for president, Schultz explained, he would do so "as an American who happens to be Jewish."
Schultz noted that he believes "in a two-state solution, that the Israelis and the Palestinians should live together in harmony in a peaceful way." Current Israeli Prime Minister Benjamin Netanyahu—who is set to secure a fifth term following elections earlier this week—is now considered a staunch opponent of the two-state solution, despite accepting it in the past.
"But the issue is not so much the Democratic Party," he told Regan. "The issue is both sides at the extremes are steeped in ideology and unwilling to work together to compromise on behalf of the American people. That is why the country needs a centrist approach, a bipartisan approach to solving these problems that are systemic in our society."
Though he is yet to officially announce his candidacy, Schultz has been traveling around the U.S. to meet voters. He said a common complaint among Americans is that "they want common sense solutions to these problems, and a Democrat or a Republican is not going to give it to them."
Schultz also said he was concerned about racial injustice, bigotry and incitement, suggesting that "the character and the tonality of [President Donald Trump] has produced a level of incitement in our society and I think the dignity of the Oval Office needs to be restored…There is a void of leadership, a void of civility, and we need to restore it."
Democratic Party supporters have criticized Schultz for mulling an independent run for the White House in 2020, arguing he risks splitting the Democratic vote and handing Trump a path to re-election. But he told Regan he considers this "a false narrative," and said he believes he can draw support from supporters of both parties.
"I strongly believe that if I run for president, there are millions of life-long Republicans on the issue of character, dignity, civility alone that will not re-elect Donald Trump," he said.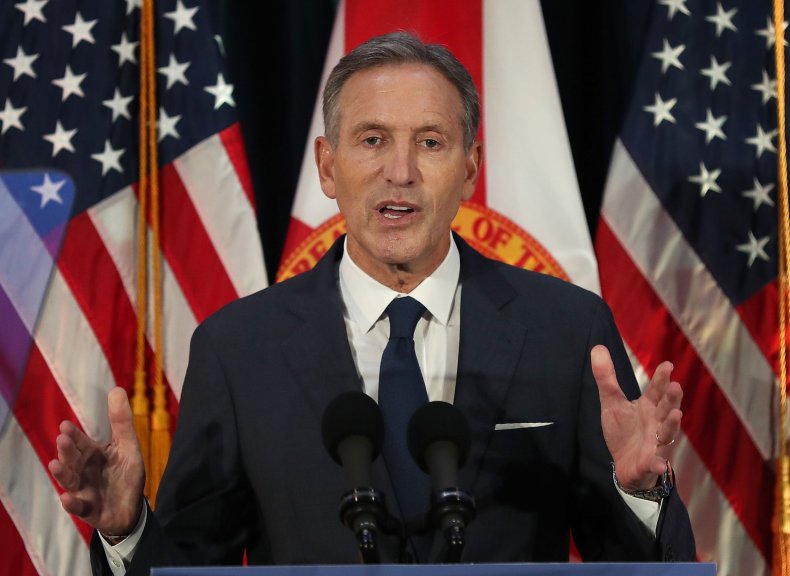 Howard Schultz Slams Bernie Sanders' Agenda: 'The Democratic Party Left Me, I Didn't Leave Them' | U.S.