Huawei FreeBuds 3i Review: Wireless Noise Control Without Busting the Bank
The latest iteration of Huawei's true wireless in-ear headphones, the FreeBuds 3i, do more than simply echo the aesthetics of Apple's AirPods Pro range—offering active noise cancelation and crisp audio at a seriously impressive price point.
Available for $110, the new FreeBuds 3i have been given a fresh design from the FreeBuds 3—the premium open-fit alternative released last year for $150—now fitted with silicone tips that help the pods sit snugly in your ears, isolating sound.
As someone who has become accustomed to over-ear headphones, I was skeptical about the abilities of the two little buds. I'm happy to admit I was wrong.
First, let's get one thing out of the way. Yes, the FreeBuds 3i take a little "inspiration" from Apple's premium in-ear range—complete with a stem design and pure white color. With the new silicone tips, they clearly resemble the AirPods Pro, released last year for $249.
Does it matter? Ultimately, that's up to you, but after testing, it was easy to see the appeal of the FreeBuds 3i. They are an affordable option that doesn't skimp on noise reduction, sound quality or ease-of-use. For Android—specifically Huawei—users, it's a steal.
In the box, you'll find the buds tucked inside a small 51g charging pod, sitting horizontally and held with a satisfying magnetic pull. This will be their home for refueling, but it is also perfect for travel and small enough to keep in your pocket without hassle.
The FreeBuds 3i tested were white, with a small metallic band at the bottom. Weighing 5.4g each, they were light without feeling cheap. A black version is also available.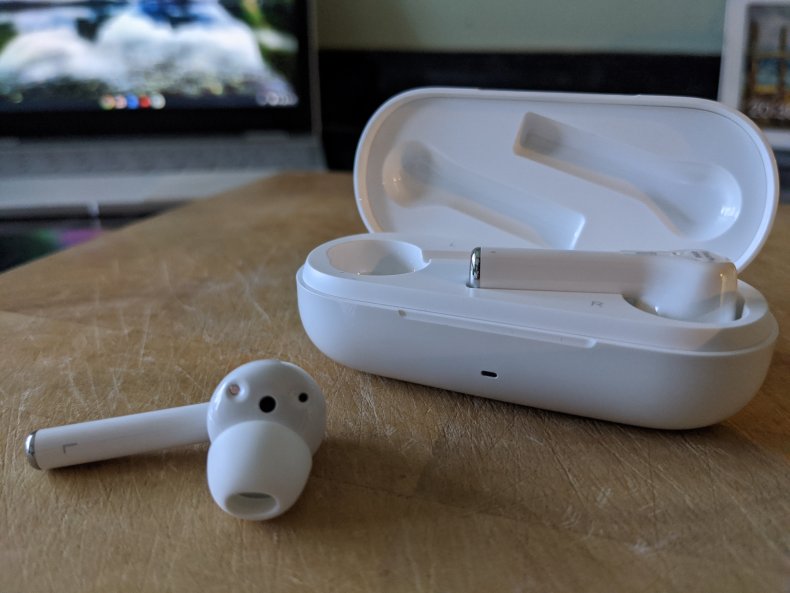 Once paired and in the ear, the FreeBuds can be used via some basic gesture controls. Holding one finger on an earphone for a few seconds turns active noise cancelation (ANC) on and off, while double tapping the side pauses music or answers phone calls.
Unfortunately, there's no volume control directly on the buds, however a sensor does stop all audio when you take off the earpods, which is a welcome touch.
Affordable noise cancelation is a big selling point of the FreeBuds 3i, and they performed great in testing, reducing noise by up to 32 decibels. When activated, two microphones work in tandem, canceling out ambient noise and general interference. They should be able to easily drown out airplane cabins, road traffic or noisy neighbors.
While this conclusion was based on home testing during a lockdown, the noise reduction and sound quality overall was extremely impressive for the $110 price of entry.
Taking advantage of YouTube videos showing city walkthroughs and plane cabin noises, the earpods' output was more than enough to block out unwanted sounds.
The FreeBuds 3i earpods remained sturdy and comfortable through a full rundown of the battery, too, indicating they are unlikely to become annoyaing when used for traveling or while at the gym. They come with silicone tips in four sizes (L/M/S/XS).
It won't win awards, but the battery on the 3i pods is solid, although not quite as good as the FreeBuds 3 or the AirPods. For the price, though, it's hard to complain.
The FreeBuds 3i will give between two and three hours of continuous music on a single charge with ANC activated. Using the battery in the charging case, however, will boost that to about 12 to 14 hours of usage, and that can be topped up via USB-C.
Broadly, the earlier FreeBuds 3 outperform the 3i pods in several ways. Its predecessor has slightly better battery life, more standby time and wireless charging. For connectivity, it should be noted the 3i's use Bluetooth 5.0, while their sibling has Bluetooth 5.1, which in theory provides better quality when synced up to a laptop or computer.
Ultimately, output performance is similar. Choosing between the two is always a matter of preference. Do you like silicone tips and wallet-friendly price tag? The 3i's are for you. Do you like slightly better specs and a four-hour battery? Go for the FreeBuds 3.
Music quality was consistently impressive, and it could be turned up louder than my ears could handle. The output worked well with a variety of genres, from rock to electronic, although it would be nice to get more control over altering the overall mix.
The chugging guitars and drums on Jamie Lenman's Devolver sounded suitably vicious, the acoustics of Glen Hansard's Didn't He Ramble crisp, and a dirty serving of synthwave showed the FreeBuds 3i could easily handle the bass. Again, zero complaints.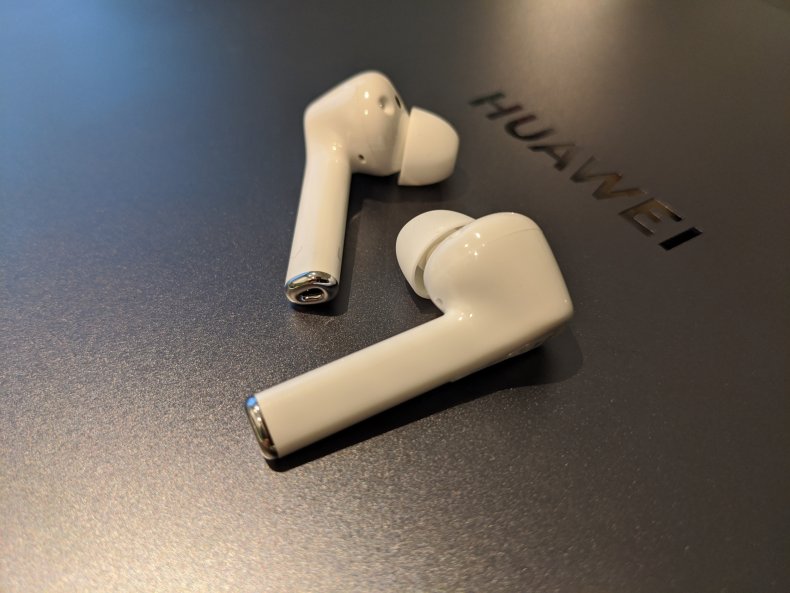 In terms of sound, Huawei says the stem design helps to increase the quality of the voice calls. This was accurate, with audio coming through extremely clear in testing.
The FreeBuds 3i will work with all devices, but some features will perform best for those who are already in the company's ecosystem of phones, laptops or watches.
To get additional features from the headphones it's advised to download the Huawei AI Life mobile app, which will display battery charge status, let you check for updates and change what touch gestures are assigned to each of the two pods.
You can set a double tap to play the next song, pause or wake a voice assistant, while the "touch and hold" option can be altered to turn on an "awareness" mode that will let more outside sound in. After pairing with a Huawei smartwatch, such as the sporty GT 2e, the pods will automatically connect again once the charging case is opened.
As we found when reviewing the MateBook X Pro, the technology giant is increasingly focusing on interconnectivity between products. The FreeBuds 3i are no exception.
Huawei FreeBuds 3i
(9/10)
With great audio quality, these true wireless stereo earbuds are a perfect choice for anyone who needs a comfortable, easy-to-use and loud set of headphones for work, travel or exercise without shelling out hundreds of dollars for the luxury.
They are an easy recommendation for Android users, and even better if you're already in Huawei's ecosystem of devices, as connectivity gets a real boost. Of course there are some downsides: the battery could be juiced up a little and the related mobile application could expand on the available audio settings.
Ultimately it boils down to this: The FreeBuds 3i may look like Apple's AirPods Pro, but they offer really solid active noise cancelation for a fraction of the price.
What's not to love about that?
FreeBuds 3i Specs:
In-ear silicone tip design
Active noise cancelation
Touch gesture control
About 5.5 g (per earbud)
About 51 g (charging case)
41.8 x 23.7 x 19.8 mm (per earbud)
IPX4 water resistant
⌀10 mm dynamic driver
3.5 hour playback on 1 charge
37 mAh battery (per earbud)
Ear tips x 4 pairs (L, M, S, XS)