Starting Tuesday, roughly 300 workers from 50 Amazon warehouse facilities across the U.S. will refuse to work their shifts in protest of the company's alleged non-compliance with guidelines for protecting workers from coronavirus. The employee protest will go for several days as workers without Tuesday shifts plan to call out of work whenever their next shift is scheduled.
Workers in more than half of Amazon's 110 U.S. fulfillment centers have reported cases of coronavirus, according to two workers rights groups, Athena Coalition and Hedge Clippers. The groups allege that Amazon has ignored guidelines from the Centers for Disease Control and Prevention (CDC) about how to safely handle facilities where employees have come down with confirmed cases of coronavirus.
The groups further allege that Amazon facilities have failed to use ventilation fans, close off areas used by infected workers and wait for 24 hours between disinfection and reopening. They also say Amazon hasn't released "a comprehensive health and safety plan" for its facilities and workers, leaving workers potentially exposed to the virus.
Additionally, the National Labor Relations Board is currently investigating claims that Amazon has fired workers who have tried to organize employee protests against the company's coronavirus policies. One such worker is Chris Smalls, a New York employee fired after protesting the company's coronavirus safety precautions. Amazon says he was fired for violating company quarantine policies, but Smalls claims he was fired for trying to organize workers.
During a March 24 CNN interview, Amazon spokesman Jay Carney said the company didn't know how many of its frontline workers have or have had coronavirus, partly due to a lack of available testing nationwide. He said that whenever an Amazon employee tests positive for COVID-19, all employees are informed and "steps are taken to clean the facility" and help anyone who may have come in contact with the infected individual.
However, Amazon employees have told various publications like Business Insider, The Verge and The New York Times that workers with symptoms are being denied paid leave if they lack a confirmed coronavirus test—something that is difficult to get. Workers also say facilities have remained open without deep-cleaning after coworkers come down with the virus, that the rushed work and warehouse spaces make it difficult to stay six feet apart from co-workers and that co-workers sometimes find out about colleagues who have tested positive for COVID-19 through rumors rather than official channels.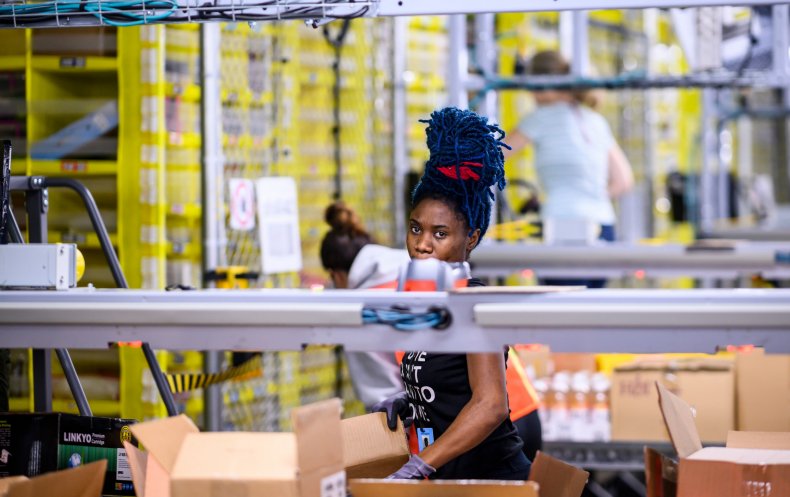 "Self-interested critics, particularly unions and groups funded by our competitors, have a vested interest in spreading misinformation about Amazon but the facts tell a different story," said Kristen Kish, an Amazon spokesperson.
Kish says the company has "implemented more than 150 significant process changes to support our teams including increasing rates of pay, adjusting time off and providing temperature checks, masks, gloves and other safety measures at our sites."
In a letter sent to Amazon in late March, Democratic Governors Cory Booker and Bob Menendez of New Jersey, Sherrod Brown of Ohio and Independent Senator Bernie Sanders of Vermont sent a letter urging Amazon CEO Jeff Bezos to provide additional paid sick leave, time-and-a-half hazard pay for workers and other measures.
Newsweek has contacted Amazon for comment. The company had not responded by the time of publication.