Hundreds of California Pelicans Are Mysteriously Sick and Dying
Hundreds of pelicans are becoming mysteriously sick and dying along the California coastline, baffling experts in the state.
Since May 12, over 200 brown pelicans have been found either sick or already dead. There is currently no solid explanation, although it appears many of them are starving to death.
International Bird Rescue, which is working with the Los Angeles Wildlife Center and the California Department of Fish and Wildlife (CDFW) to rescue the birds, has dubbed the incident the "brown pelican crisis."
Wildlife Centers have been "inundated" with the birds for weeks, International Bird Rescue said in a statement. Rescue groups have not rescued as many pelicans since 2012.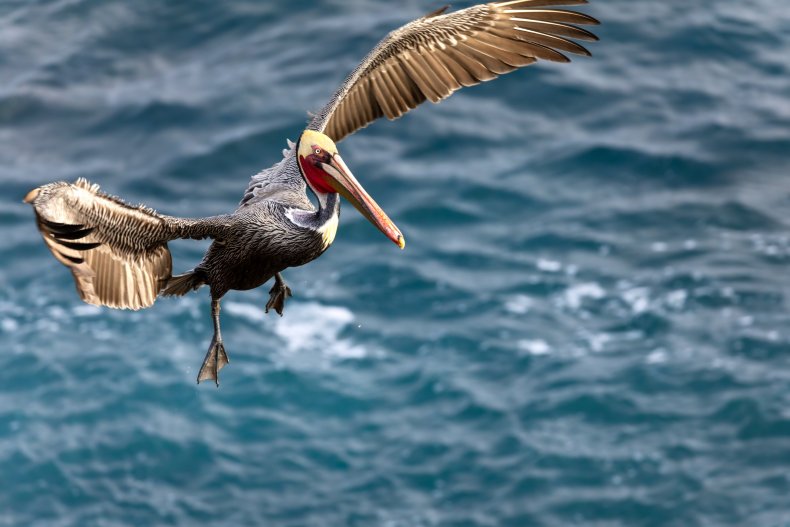 Autopsies conducted on the dead seabirds show "no indication" of disease or parasites, the CDFW said in a statement.
However, according to International Bird Rescue, many of the seabirds appear to have injuries that may have been caused by "risky efforts" to find food.
Many sick brown pelicans have been found in usual places, around 20 miles from the coast.
Experts still do not know what is causing the deaths, however, International Bird Rescue believes "the birds are failing to find enough to eat."
"We're seeing a mix of fledglings, second-year birds, and mature adults, which makes me think it could be a food supply issue rather than a simple influx of starving fledglings," Dr. Rebecca Duerr, International Bird Rescue's Director of Research and Veterinary Science, said in a statement.
The rescue center said all the surviving pelicans need "specialized rehabilitation skills" to be released back into the wild and all the birds need "extensive medical care" to heal.
Although the crisis began along the Southern California coastline, in recent weeks, there have been reports of sick pelicans in Northern California, meaning it could be a state-wide problem.
CDFW said in a statement that many carcasses of dead birds have been sent to laboratories where avian biologists are investigating the cause.
The department is asking the public to report any sightseeing of the sick and deceased birds—a sick pelican can be identified if they appear listless and weak. "For safety reasons" the department is also warning the public not to touch a sick pelican.
There is estimated to be 70,680 breeding pairs of brown pelican in California.
In 1970, they were added to the list of endangered species, following an incident where hundreds died due to exposure of DDT, an insecticide used in agricultural activities. They were taken off the list of the endangered species list in 2009. However, the current brown pelican crisis is cause for concern.
Social media users have speculated the cause in the comments section of a post by the CDFW. One Facebook user wondered whether the fish had eaten fish that was in red tide—a phenomenon caused by toxic algae.
Another speculated whether global warming was causing a diminishing food supply. .
Newsweek has contacted International Bird Rescue and CDFW for comment.