Hundreds of Doctors, Medics Urge Supreme Court to Uphold Roe v. Wade
More than 250 doctors and medical professionals from across the U.S. have urged the U.S. Supreme Court to uphold the landmark Roe v. Wade ruling, and for policymakers to protect access to abortions and those who perform them.
In an open letter, organized by the Committee to Protect Health Care, they said abortions "are an essential element of medical care."
It comes as the high court prepares to hear historic arguments on Wednesday in a case that poses the biggest threat to abortion rights since the landmark 1973 ruling that declared a nationwide right to terminate a pregnancy.
In Dobbs v. Jackson Women's Health Organization, Mississippi is asking the court—which has a 6-3 conservative majority—to uphold a law that bans abortions after 15 weeks.
Ahead of Wednesday's arguments, the open letter said patients needed abortions for a variety of reasons and "as physicians who have a duty to care for our patients, we must protect the pregnant person's immediate or long term health and well-being."
It read: "Restrictive laws against abortions, such as the Texas and Mississippi laws currently being argued in the U.S. Supreme Court, effectively block individuals from a medical procedure that may be necessary for their health, safety, and general well-being."
A month ago, justices heard arguments over a restrictive Texas law that got around Roe, as well as the 1992 ruling in Planned Parenthood v. Casey that reaffirmed Roe, and banned abortions after about six weeks of pregnancy.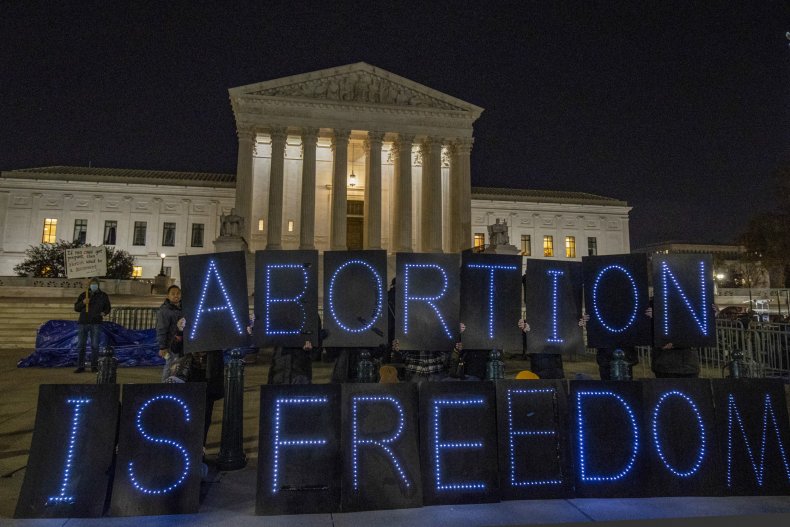 The letter continued: "These laws prevent doctors and health professionals from helping our patients who are seeking our counsel, regardless of the reason they may seek an abortion, be it that they have a pregnancy complication, a health or mental health condition, or that they just do not want to be pregnant now.
"Like every other medical decision, this decision must remain protected between health professionals and our patients."
Forcing people who have chronic illnesses, have had a miscarriage or have been diagnosed with a serious medical condition to carry a pregnancy to term against their will could have life-threatening consequences, the letter warns.
The letter also states that restrictive abortion laws would have a disproportionate impact on Black, Latino/Hispanic and Indigenous people, "who already face significant health inequities and suffer profound health disparities, higher maternal mortality rates and more chronic conditions."
It goes on to say that such laws could see entire communities lose access to a range of lifesaving services, such as cancer screening and prenatal care, if health centers that provide those services as well as abortions close.
"Doctors nationwide are deeply concerned about what will happen to the health and well-being of our patients should the Supreme Court overturn Roe v. Wade and take away abortion access," Dr. Anita Somani, an obstetrician-gynecologist in Columbus, Ohio, said.
"We hope that the justices will protect the fundamental right to an abortion, but we also call on our lawmakers at the federal and state levels to act to ensure our patients are able to safely, legally access abortion."
Dr. Bhavik Kumar, a family physician in Houston, added: "Patients and physicians are already seeing the tragic consequences of abortion restrictions play out in Texas, serving as a warning for the rest of the nation if attacks on abortion access continue.
"Make no mistake, forcing people to carry pregnancies to term endangers lives, particularly for people of color who face higher mortality rates and health care inequities.
He added: "I fear allowing these new abortion restrictions to stand will prevent us from being able to adequately care for all patients and save lives."