The national variety store chain Family Dollar is recalling hundreds of products due to concerns over the temperatures in which they were stored.
The U.S. Food and Drug Administration said on Thursday that the store chain initiated a voluntary retail level product recall of certain products that were stored and "inadvertently" shipped to some stores between May 1 and June 10. The notice did not specifically say which states or which stores were affected, nor did they say from where the products were shipped.
A spokesperson for the FDA told Newsweek on Friday that the recalled products were at distribution centers, but didn't specify the exact locations.
Temperature requirements for over-the-counter drug products are usually established by manufacturers who include those details on the drug facts label. The FDA depends on the distributor of such products to store those items in compliance with the established temperature requirements.
"Family Dollar informed the FDA that they failed to store these drug products in temperature-controlled areas of the distribution centers but did not provide specific storage temperatures," the FDA spokesperson said.
This comes as sweltering U.S. heat prompts warnings and cancellations across the country.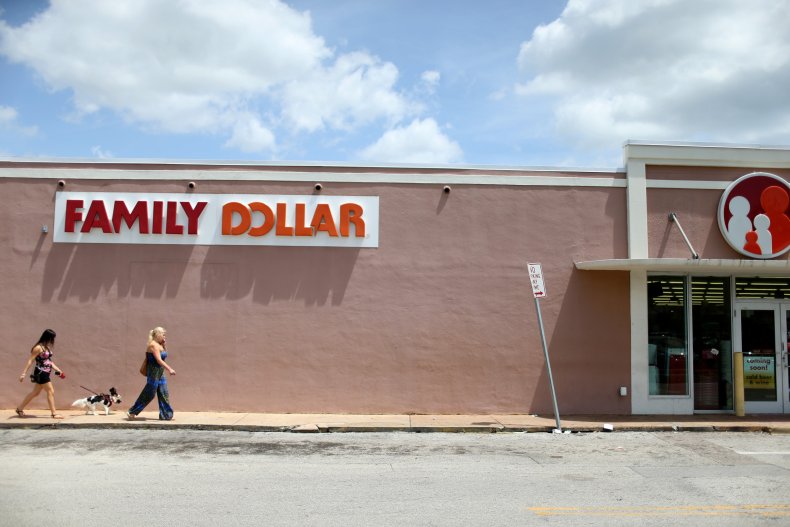 The FDA added that the recall was due to the products being stored "outside of labeled temperature requirements", and confirmed in the statement that no customer complaints or reports of illness were received in relevance to this recall.
"Family Dollar has notified its affected stores asking them to check their stock immediately and to quarantine and discontinue the sale of any affected product. Customers that may have bought affected product may return such product to the Family Dollar store where they were purchased without receipt," the FDA notice read.
Some of the better-known products in this recall include Dayquil Liquid Cold & Flu, Colgate toothpaste, Swan mouthwash, Novelty hand sanitizer, Suave deodorant, Banana Boat Sport Sunscreen, and Tylenol Child Grape Syrup. There are hundreds of products, though.
You can see the 11-page list of all recalled products here.
"This recall does not apply to Delaware, Alaska, Hawaii as no Family Dollar stores in Delaware received any products subject to this recall and Family Dollar does not have any stores in Alaska or Hawaii," the agency said.
The FDA didn't reveal further details about what specifically happened to those products, but warned consumers to contact a physician or a health care provider if they started experiencing any problems after using one of the recalled products.
Other Family Dollar News
In January, over 1,000 dead rodents were found over a five-day period at a Family Dollar warehouse in West Memphis, Arkansas, WGNTV reported.
Consequently, the company temporarily closed 404 of its stores in February due to the rodent infestation and launched a voluntary retail level product recall of certain products at its stores in six states, including Alabama, Louisiana, Tennessee, Mississippi, Missouri, and Arkansas, according to Business Wire.
The company told employees in May that the West Memphis, Arkansas, distribution facility will be closing around July 17, according to WGNTV.
Randy Guiler, Vice President for Investor Relations, said earlier this year in reference to the closure: "This was a difficult decision we did not take lightly, especially because of our outstanding team in West Memphis, our relationship with the community, and the partnership we have had with the State of Arkansas since 1994."
An FDA report also stated that over 2,300 live rodents were caught in the facility last year from March to September.
Newsweek reached out to Family Dollar for additional information and comments.
Other Recalls This Year
A children's book was recalled two weeks ago because the pom-poms attached to the book can and have become disconnected, creating a choking hazard for small children.
Last month, the Nest Swing Egg Chair, a product sold at several popular retailers, was recalled following reports that the use of the piece of merchandise has led to serious injury, mainly caused by the chair's base tipping over.
The FDA in May recalled impacted batches of Jif peanut butter due to reports of salmonella contamination, causing apple slices sold under the GetGo brand to also be recalled.
Update: 07/22/22 06:09 p.m. ET: The story has been updated to include comments from the FDA.