Hundreds of Russian Soldiers Killed as Battles Intensify: Zelensky
Around 800 Russian troops have been killed by Ukrainian ground forces alone since Thursday, Ukrainian President Volodymyr Zelensky said.
During his nightly address Tuesday, Zelensky quoted Oleksandr Syrskyi, commander of Ukraine's ground forces, who provided an update on Ukrainian counteroffensives toward Russian troops earlier in the day at a meeting of the General Staff of the Armed Forces of Ukraine.
According to Syrskyi, his troops had killed around 800 "enemies" since the group had met last week.
"Russia does not count people at all, sending them to constantly storm our positions," Zelensky said during his address. "The intensity of fighting is only increasing."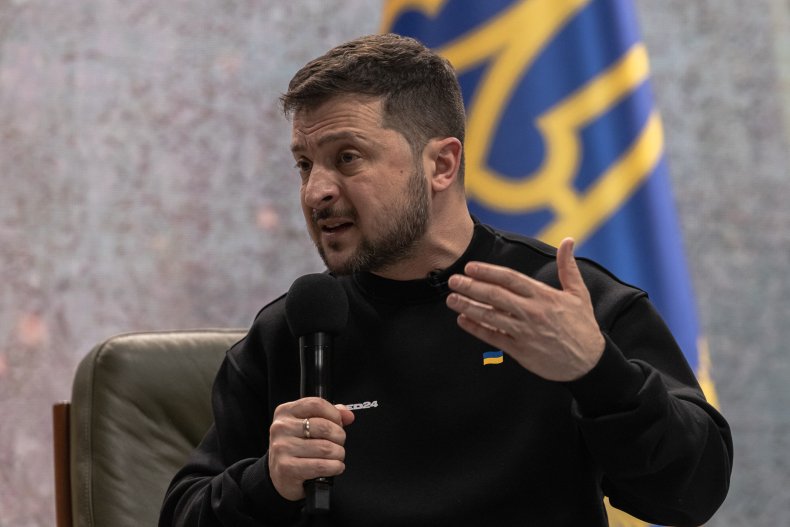 Zelensky also noted that the battle for Bakhmut—an eastern industrial city in the Donetsk region—remains "the most difficult situation" in the war. Syrskyi posted earlier Tuesday that Bakhmut is "extremely tense" on the ground, as Russian troops inch closer to encircling the city.
Russian shelling has also continued in the Kherson region, Zelensky said, adding that there were "more than 30 Russian shelling occasions in the Kherson region" in the past 24 hours.
"They were shelling just streets, just people," he added. "My condolences to all those who have lost their loved ones. Today we have already lost four people. We will do everything to suppress the terrorists."
Fighting has also continued along the northern Ukrainian border in the Kharkiv region, including reports of Russian forces "unsuccessfully" launching attacks in the area on Monday. According to Zelensky's address, Ukrainian joint forces commander Serhiy Nayev said that Kyiv is "in control of the situation."
According to U.S. Lieutenant General Douglas Sims II, who spoke before the House Armed Services Committee on Tuesday, the intense battles throughout Ukraine can be described as reminiscent of World War I-type fighting.
Sims, director of operations for the Joint Staff, said during his testimony regarding oversight of U.S. military aid to Ukraine that fighting between Moscow and Kyiv has become "static," adding that both sides are seeing "minimal changes in territory" despite the intense amount of artillery.
While both sides are also facing a significant number of casualties, Ukrainian officials have estimated Russia's losses near 149,240 since the start of the war, including around 48,440 troops in the past 69 days.
Ukraine's losses are estimated at around 100,000 as of January. A Turkish website claimed earlier in the month that Kyiv's causalities had totaled over 150,000, but Newsweek was unable to verify the report.
Newsweek has reached out to the Russian Ministry of Defense for comment.