Hundreds of Sharks Spotted in Populated Florida Canals May Be Avoiding 'Red Tide'
Hundreds of sharks that have been spotted in canals of a Florida town may be avoiding red tide, according to marine life experts.
The sharks have appeared in the canals near Buttonwood Harbor in Longboat Key, which is south of Tampa, WFLA-TV reported. They vary in size and species. Bonnethead, black tip, nurse, and lemon sharks have all been spotted.
Jack Morris, a senior biologist with Mote's Sharks and Rays Research Program, told Newsweek that sharks do not like red tide and are seeking refuge from it in the canals. Red tide is an irritant that can lead to decreased oxygen levels in the water.
"If conditions aren't favorable, they will find other places," he said.
He explained that canals are not a great habitat for the sharks. There is not a lot of new ocean water running in and out of the canals carrying in fish, so they will eventually run out of prey. "Whatever's there, they will quickly deplete," he said.
"If conditions don't improve where they can go ahead and leave the canal or estuary right there and seek other prey items to survive, they won't survive," he said. "They'll just basically run out of energy and succumb to the conditions they're in."
Another issue is that because the canal is such a small space, there is not a lot of influx of oxygen, but residents have aerators in the canals, which help exchange oxygen in the water. He said it helps the situation, but will only go so far when they run out of prey.
He said that while it's not uncommon to see one or two sharks in the canals, he has never seen this many in his 20 years at Mote's. The last time there was a similar case was 1992.
"It is rare," he said. "But it doesn't surprise me."
He said scientists are still trying to investigate and gain knowledge of the situation.
"Hopefully, when it subsides, they can venture out into their natural habitat," he said.
Tom Harmer, the Longboat Key town manager, said in a statement to Newsweek the town is concerned about the impact of red tide.
"We do not yet know the duration or extent of the red tide conditions in our area, but we are concerned about the impacts to sea life as well as the potential medical and respiratory issues for our visitors and residents," he wrote.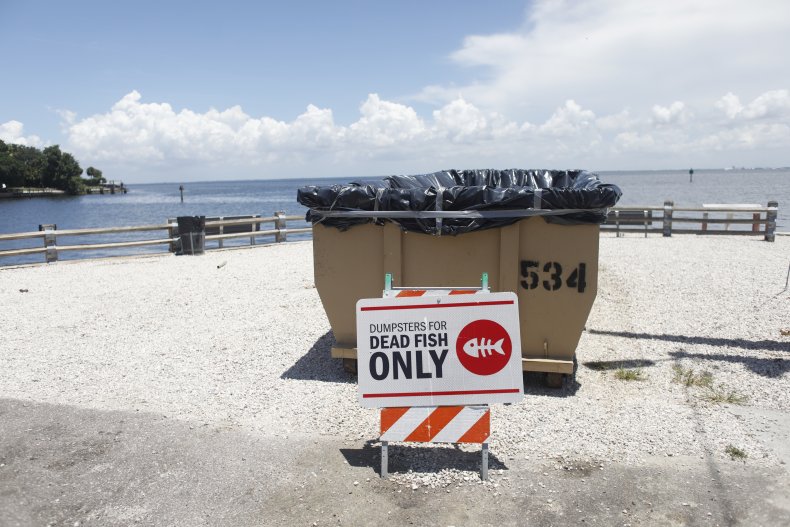 Patchy bloom conditions persist in Tampa Bay, but conditions have improved in the past week, according to the Florida Fish and Wildlife Commission.
Red tide is a naturally occurring algal bloom caused by higher-than-normal concentration of a microscopic alga, typically Karenia brevis, that turns ocean waters in the Gulf of Mexico red, according to the commission. It can be harmful to both marine life and people, causing serious illness for people who have respiratory conditions. It can also last for just a few weeks or as long as more than a year.
Red tide has been linked to a significant number of dead fish found along the St. Petersburg coast in the aftermath of Tropical Storm Elsa. The city had spent $61,000 a day on cleaning up the dead fish. More than 791 tons of dead marine life, mostly fish, had been found on Pinellas County beaches.
Updated 07/27/2021, 5:18 p.m. ET: This story has been updated with statements from Mote's Sharks and Rays Research Program senior biologist Jack Morris and Longboat Key town manager Tom Harmer.