Lifeguards along the New Jersey coast have found hundreds of syringes washed up on beaches, forcing closures and warnings to families to not go swimming in some parts of the water.
The syringes were discovered on beaches, including Monmouth Beach, Sandy Hook and Long Branch, following days of storms, WNBC-TV reported. The needles washed up after New York City and northern New Jersey sewage systems, along New York's harbor, released sewage during heavy rains.
Beach patrollers believe most of the needles came from diabetics who flushed their used needles down the toilet, WNBC said.
Dozens of needles were found on the sand at Monmouth Beach on Sunday alone. According to the TV station, patrollers were seen warning beachgoers that there was a high risk of stepping on the needles if they went into the water.
"I warned them, so there's not much I can really do, you know?" Danielle Britton, who is with the Monmouth Beach Bathing Pavillion, told WNBC.
Other beach patrollers said they were working to clean up the beaches while being careful not to touch the used objects themselves.
"I had gloves on and I had a picker thing, so I didn't touch any of them," beach patroller Kathrine Gough told the TV station. "But it was pretty weird because people were asking questions and we don't know what happened."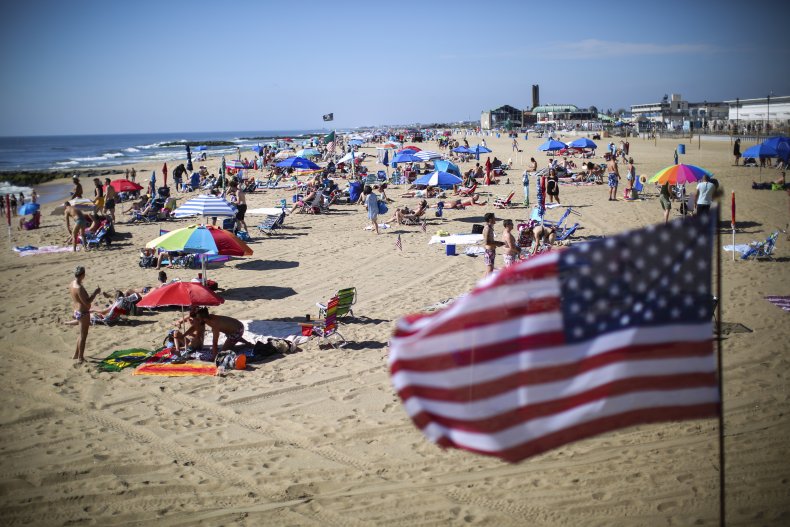 South of Monmouth Beach, workers at Seven Presidents Park said more than 100 syringes have so far been recovered.
Beach officials told WNBC they will continue to patrol below the high tide line in search of more needles. They also said they expected closures and warnings in some areas to last through Monday.
The surplus of needles comes after heavy rains hit New York City and parts of North Jersey from Tropical Storm Elsa last week. Some areas had flash flooding. In New York City, social media videos that went viral showed people trying to wade through flooded subway stations while water poured down from the ceiling and cascaded down the stairs.
On Monday, the U.S. National Weather Service (NWS) issued a flash flood watch warning for several Northeastern states, including Massachusetts, Maine, Connecticut and New York.
The NWS said there is "potential for heavy rain and flash flooding across parts of the Northeast tonight and especially Monday and Monday night, particularly poor drainage areas in the NYC metro region."
Newsweek contacted Monmouth Beach police for additional comment but did not hear back in time for publication.