Hundreds of thousands of Twitter users responded to a poll posted by Representative Alexandria Ocasio-Cortez, a New York Democrat, saying "hell no," another $600 stimulus check is not enough
After progressive Democrats and some Republicans demanded that a new economic relief package include another round of $1,200 direct payments to most Americans, a bipartisan group of negotiators added a provision that would dole out half that amount. Ocasio-Cortez posted the poll to Twitter on Wednesday, asking her followers if this compromise would be adequate to address their financial needs during the coronavirus pandemic.
"Is $600 for a second COVID check enough?" the progressive lawmaker tweeted, giving Twitter users the options of responding "yes," "no" or "hell no." As of Thursday morning, "hell no" had received by far the most support. Nearly 62 percent of respondents said "hell no," while an additional 33.2 percent said "no" and just 5.2 percent said "yes."
More than 806,000 Twitter users had responded at the time of this writing. That means that nearly 497,000 Twitter users have responded "hell no" and nearly 268,000 have responded "no." Combining "hell no" and "no" respondents together shows that 94.8 percent (or nearly 765,000) of the Twitter users do not believe $600 is adequate.
Newsweek reached out to press representatives for Ocasio-Cortez to ask if she would vote against a relief package if the direct payment was just $600, but they did not respond in time for publication.
Notably, the Twitter survey is not a scientific poll, but it does demonstrate that a massive number of the platform's users believe that the federal government should provide more direct assistance to Americans as the pandemic surges nationwide. The latest Department of Labor report, which was released Thursday morning, showed that some 1.3 million Americans filed first-time unemployment insurance benefits in the week ending December 12. Meanwhile, millions of Americans are going hungry, and millions are on the verge of eviction, during this holiday season.
"With the vaccine still months away from being fully available, the needs of the unemployed are not going away anytime soon," Andrew Stettner, a senior fellow at the Century Foundation and a leading expert on unemployment insurance, told Newsweek.
"Congress cannot let competing priorities shortchange the unemployed," he continued. "If lawmakers pass a benefits package that is too meager in aid and too short in duration, millions of workers would once again hit a wall before the economy is able to open up enough for those displaced by COVID to get back to work."
Republican and Democratic lawmakers have said they are on the verge of passing a new relief package, which is expected to cost about $900 billion. The legislation would shore up unemployment assistance, providing jobless Americans with an additional $300 in federal weekly payments for the next several months. It would also include direct payments to individuals of about $600.
Both the extra weekly unemployment benefits and the direct payments are half of what Congress provided through the $2.2 trillion CARES Act that was passed in March. The extra weekly unemployment payments in that legislation ended for most recipients in the summer, and the direct payments have long ago been spent by most struggling Americans.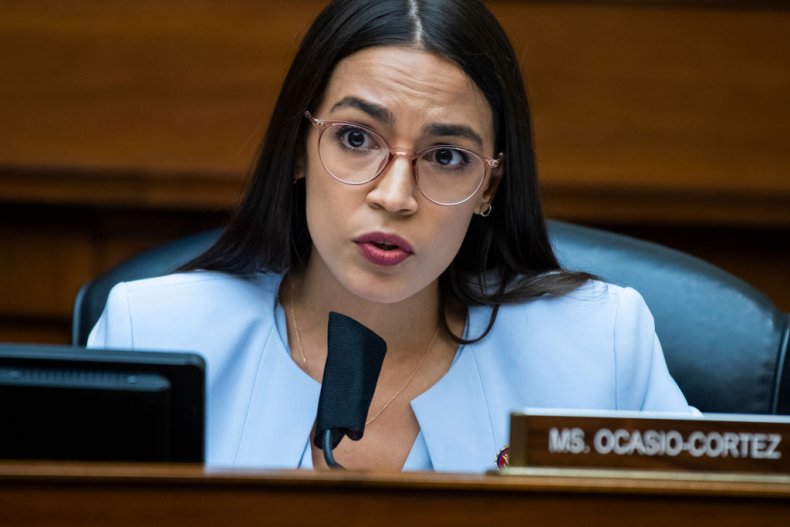 Senators Bernie Sanders, a progressive independent from Vermont, and Josh Hawley, a Missouri Republican, last week introduced an amendment that would provide a direct payment of $1,200 to most Americans. Hawley previously said he had encouraged President Donald Trump to veto any package that does not include $1,200 stimulus checks. But most Democratic and Republican lawmakers appear ready to compromise in an effort to get a bipartisan deal passed.
"And if you don't want your member to vote for a $600 deal, you really need to tell them that. Don't think 'oh I voted for a Dem, we'll be fine,'" Ocasio-Cortez tweeted in a Wednesday thread that included the poll. "No. If there's an amount that's too little, or any other red line that you want them to vote NO on, then you need to tell them that."
The progressive Democrat appealed to Republican voters directly in a separate Twitter post before sharing the poll.
"I don't know if any Republicans follow me, but if you're a Republican voter that wants to see another survival payment and unemployment insurance (or doesn't want to see another Wall St giveaway attached), you should really get on the phone and call your GOP members of Congress," Ocasio-Cortez wrote.