Hurricane Ian Video Shows Spectacular Lightning Swarm Around Eye of Storm
Satellite video taken from above Hurricane Ian shows flashes of lightning around the eye of the storm, which is forecast to make landfall in Florida on Wednesday.
The footage, from the National Oceanic and Atmospheric Administration, has been posted online by the Regional and Mesoscale Meteorology Branch.
The National Hurricane Center has designated Ian a Category 4 storm, with maximum sustained winds speeds of 155 miles per hour recorded.
The NHC tweeted: "Air Force hurricane hunters find Ian has strengthened into an extremely dangerous Category 4 hurricane. Expected to cause life-threatening storm surge, catastrophic winds and flooding in the Florida peninsula."
Across Florida, 1.75 million residents have been given compulsory evacuation orders. About 2.5 million people live in areas covered by hurricane warnings.
On Tuesday, Governor Ron DeSantis told residents who have yet to evacuate that their "time is coming to an end," adding: "Now's the time to act."
There are concerns the Tampa Bay region, home to 3 million people, could be hit by its first major hurricane since 1921.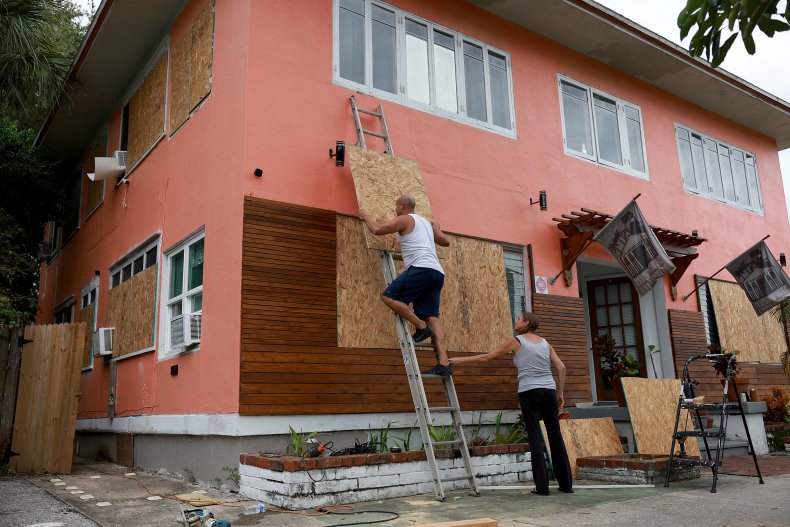 In its latest update, released at 5 a.m. EDT, the NHC warned of flooding in western Florida on Wednesday, as Ian makes landfall.
It said: "Life-threatening storm surge is expected along the Florida west coast and the Lower Florida Keys where a storm surge warning is in effect, with the highest risk from Naples to the Sarasota region. Residents in these areas should listen to advice given by local officials and follow any evacuation orders for your area.
"Hurricane force winds are expected in the hurricane warning area in southwestern and west-central Florida beginning Wednesday morning with tropical storm conditions expected overnight. Catastrophic wind damage is expected near the core of Ian when it moves onshore."
On Thursday torrential rain is expected across much of Florida, with up to 20 inches of water in the worst-affected areas. There is also a risk of flooding in parts of Georgia and South Carolina.
The NHC said: "Heavy rainfall will spread across the Florida peninsula through Thursday and reach portions of the Southeast later this week and this weekend.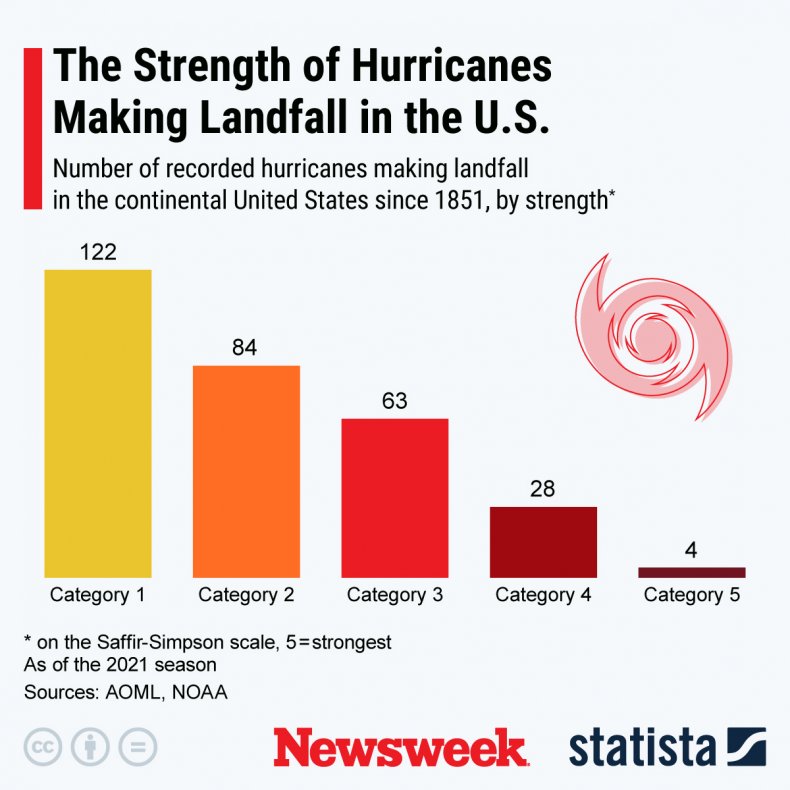 This chart, provided by Statista, shows the number of recorded hurricanes making landfall in the continental United States since 1851, by strength.
"Widespread, life-threatening catastrophic flooding is expected across portions of central Florida with considerable flooding in southern Florida, northern Florida, southeastern Georgia and coastal South Carolina. Widespread, prolonged major and record river flooding expected across central Florida."
DeSantis spoke to President Joe Biden on Tuesday, telling Fox News he was "very thankful" for the president's help.
Across Florida 5,000 National Guard soldiers have been mobilized to support relief efforts.
Tampa Bay Mayor Jane Castor has announced a curfew for those residents who refuse to leave.