Hurricane Ida 'Most Definitely' Stronger Than Katrina, Hitting in 'Absolute Worst Place'
With Hurricane Ida making landfall in Louisiana on Sunday, officials are warning that the storm could be among the worst to hit the state in the last 170 years—with one expert saying it could surpass Hurricane Katrina from 2005 in terms of power.
Speaking with the Associated Press, a hurricane researcher from the University of Miami, Brian McNoldy, gave the rather alarming appraisal that Ida will "most definitely" be stronger than Katrina.
That storm, for example, made landfall as a Category 3 storm with winds up to 127 mph, while Ida is set to hit land as a Category 4 with winds up to 155 mph, slightly shy of the Category 5 threshold.
While Ida is smaller than Katrina, its potential for mass destruction will be exacerbated by another important factor: its angle of attack.
"Ida will most definitely be stronger than Katrina, and by a pretty big margin," McNoldy said. "And, the worst of the storm will pass over New Orleans and Baton Rouge, which got the weaker side of Katrina."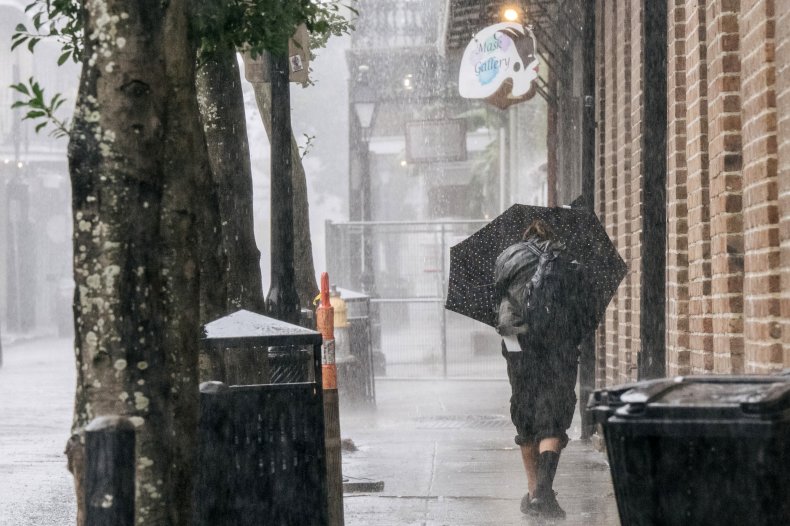 McNoldy explained that when Katrina hit Louisiana in 2005, it came from due south in the Gulf of Mexico. Because of its large size, Katrina was able to reach areas like New Orleans and lasted longer. The devastation wrought by Katrina on New Orleans was, however, notably man-made, as the real trouble came when the levees around the city broke. The parts of the hurricane that hit the city were not even its strongest ones.
Ida, meanwhile, is approaching from the southeast. While its reach might be smaller, its most ferocious parts are set to pass directly over major hubs like New Orleans and Louisiana's capital Baton Rouge.
As Ida made landfall on Sunday, reports quickly emerged about the damage it was already causing. Newsweek reported a little after 4:30 p.m. that over 372,000 homes were without power in Louisiana. By 6:15 p.m., the number had jumped to over 530,000.
"Every storm is unique," Energy Louisiana said in a statement on Sunday. "Based on historical restoration times, customers in the direct path of a Category 4 hurricane can experience outages up to three weeks and beyond three weeks for a Category 5 hurricane."
Videos have also begun to emerge online showing the early damage being done by the storm. In Galliano, a town south of New Orleans and close to the Gulf shoreline, the storm was filmed blowing the roof off of Lady of the Sea General Hospital.
Security footage from St. Bernard Parish also showed the extent of the flooding over the course of one hour after Ida arrived, with roads going from clear to completely flooded.
With the potential for billions of dollars of damage to these important industrial areas and the disruption of important economic activities in the region, another expert called Ida's path "the just absolute worst place for a hurricane."
"It is forecast to track over the industrial corridor between Baton Rouge and New Orleans, which is one of the key infrastructure regions of the U.S., critical to the economy," meteorologist Jeff Masters told the AP. "You're probably going to shut down the Mississippi River for barge traffic for multiple weeks."
Louisiana Gov. John Bel Edwards has stated that while Ida will put an immense strain on the state's current system of coastal levee walls, he believes that they will hold—unlike what happened 16 years ago, Politico reported.
"It's certainly painful to think about a storm like Ida making landfall 16 years to the day after Hurricane Katrina," Christina Stephens, Deputy Chief of Staff for Communications for Gov. Edwards, said in a statement sent to Newsweek. "However, as the Governor said in his remarks to the media and the public yesterday, every hurricane is different and each storm presents different challenges for the state of Louisiana and its people.
"Hurricane Ida is not Hurricane Katrina and Louisiana is not the same state that it was 16 years ago. We have a new Hurricane and Storm Risk Reduction System that was put in place for situations exactly like what we are experiencing with Ida now. We have strong working relationships with our federal and local partners and Louisiana is doing everything that we can to stage assets, prepare and be ready to respond just as soon as the storm passes."
The story was updated with a statement from the governor's office and additional details.