Over 754,000 Power Outages Reported in Louisiana as Hurricane Ida Ravages State
More than 754,000 power outages were reported in Louisiana by Sunday evening after Hurricane Ida made landfall as an "extremely dangerous" Category 4 storm—bringing catastrophic winds, heavy flooding, and a life-threatening storm surge.
Ida hit near Port Fourchon, Louisiana, just before noon local time on Sunday, with maximum sustained winds of 150 miles an hour. Extremely strong hurricane-force winds extended up to 50 miles from the storm's center, which was moving northwestward, and will likely reach from central Louisiana all the way to Biloxi, Mississippi.
According to PowerOutage.us, 754,070 outages were recorded across the state by 8:42 p.m. ET Sunday. Most of the outages occurred in southeast Louisiana, with multiple counties—including Plaquemines and Terrebonne—facing nearly 100 percent of customers without power.
Entergy Louisiana, one of the energy providers in the state, warned in a statement Sunday that customers could be without power for weeks after the storm passes.
"Every storm is unique. Based on historical restoration times, customers in the direct path of a Category 4 hurricane can experience outages up to three weeks and beyond three weeks for a Category 5 hurricane," the company said.
As the storm moved into New Orleans, the city's Sewage and Water Board (SWB) announced Sunday that several of its sewage pump stations have lost power, increasing the potential for sewer backups in homes.
"We urge those residents who still have power to minimize wastewater leaving their homes by not running your dishes or washing clothes. These stations will be out of service until the storm passes and it is safe for us to make assessments," SWB New Orleans tweeted.
Ida's arrival coincidentally fell on the 16th anniversary of Hurricane Katrina, sending hundreds of thousands of people rushing to evacuate this weekend, while countless others sheltered in place. Early reports from the storm's impact showed high winds and roofs being ripped off from homes and police stations.
In New Orleans, emergency medical services have been suspended due to dangerous winds.
As the storm moves northward, officials warned that Ida could bring a life-threatening surge with waters as high as 16 feet above high tide in some places, reported The New York Times. A tornado watch is in effect until 8 p.m. ET for parts of Alabama, Florida, Louisiana and Mississippi, according to the Storm Prediction Center. Meanwhile, Louisiana, Mississippi and Alabama are under a storm-surge watch.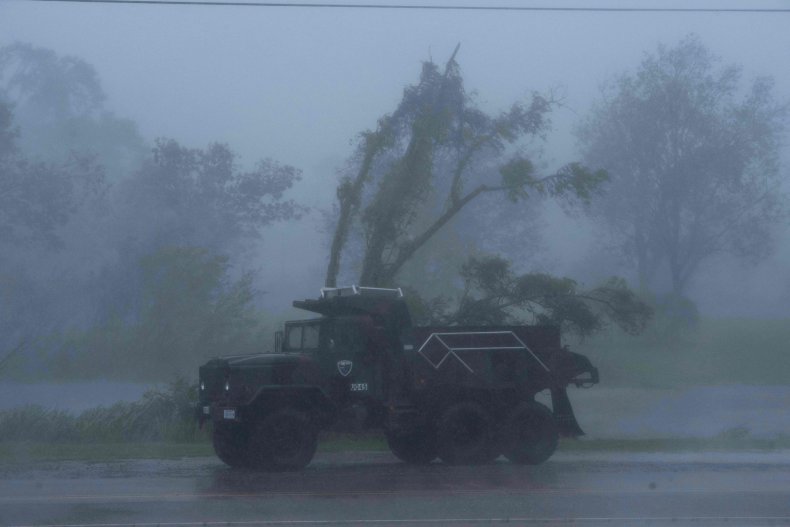 "This is a major, major storm that is going to test us in ways that we have not been tested before," Louisiana Gov. John Bel Edwards said Sunday on CBS News' Face the Nation.
President Joe Biden on Sunday urged residents to listen to officials and stay in place as the storm ravages Louisiana's coast.
"The storm is a life-threatening storm. ... And its devastation is likely to be immense. We shouldn't kid ourselves. And so the most important thing I can say right now is that everyone, everyone should listen to the instructions from local and state officials, just how dangerous this is. And take it seriously. It's not just the coasts. It's not just New Orleans. It's north as well. The rainfall is expected to be exceedingly high," Biden said from the Federal Emergency Management Agency (FEMA) offices.
Louisiana, Mississippi and Alabama each declared a state of emergency in advance of Ida's landfall, and several parishes in southeast Louisiana were under mandatory evacuation orders.
But New Orleans, which was devastated by Hurricane Katrina, did not order mandatory evacuations as Mayor LaToya Cantrell said it was "too late" by Friday night.
Cantrell warned residents Sunday against venturing out or attempting to sightsee during the storm, stating that "this is the time to stay inside."
Ida quickly advanced from a Category 2 storm packing 105 mph winds overnight to a Category 4 storm with sustained winds of 130 mph. It gained even more momentum early Sunday morning with winds at 150 mph—slightly shy from being designated as a Category 5 storm.
"We should be prepared that it can take a long time no matter how much we've prepositioned—which we have—that is going to take a long time for a lot of them to get back up. It could take a matter of weeks for some places," Biden warned on Sunday, CNN reported.
Updated 8:43 PM ET, with the latest number of outages in Louisiana.