Hurricane Irma As It Happened: Category 5 Storm Hits Cuba and Approaches Florida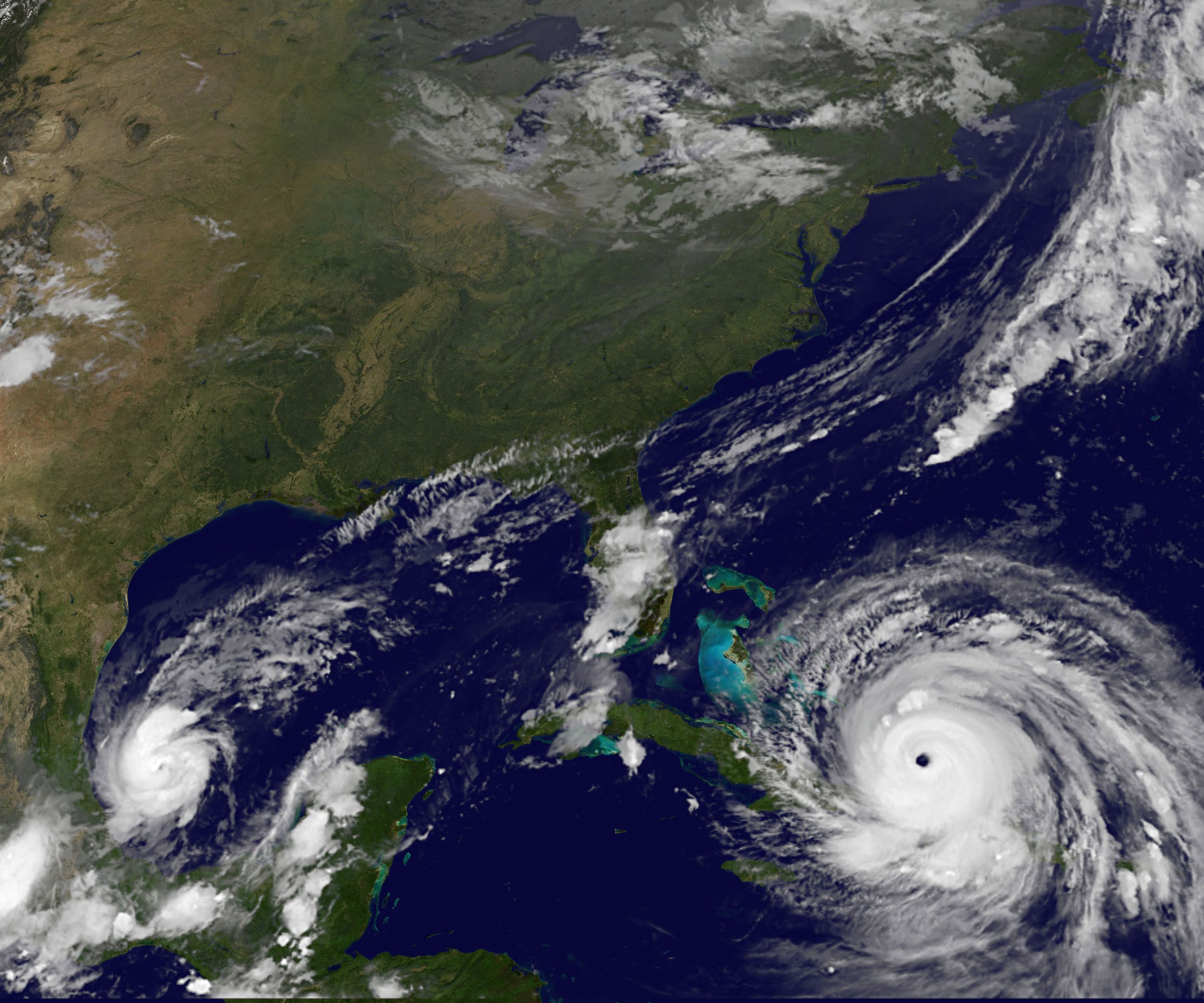 Hurricane Irma made landfall in northern Cuba late Friday.
Florida authorities went door-to-door warning residents of the approaching storm, with northbound highways jammed with people evacuating. About 5.6 million people have been ordered to evacuate.
"You will not survive all this storm surge. This is a life-threatening situation," said Florida Governor Rick Scott, as he urged residents to flee the storm.
The storm regained Category 5 strength, slamming Cuba with 160 mph winds. It was then downgraded to a Category 4, then 3, but is expected to pick up strength again before hitting the U.S..
With the eye of the storm 275 miles southeast of Miami early Saturday, Hurricane Irma is inching toward Florida, and is expected to hit South Florida and Florida Keys early Sunday.
The storm has claimed 24 lives, as before it hit Cuba, it had slammed the Turks and Caicos, and southeastern Bahamas.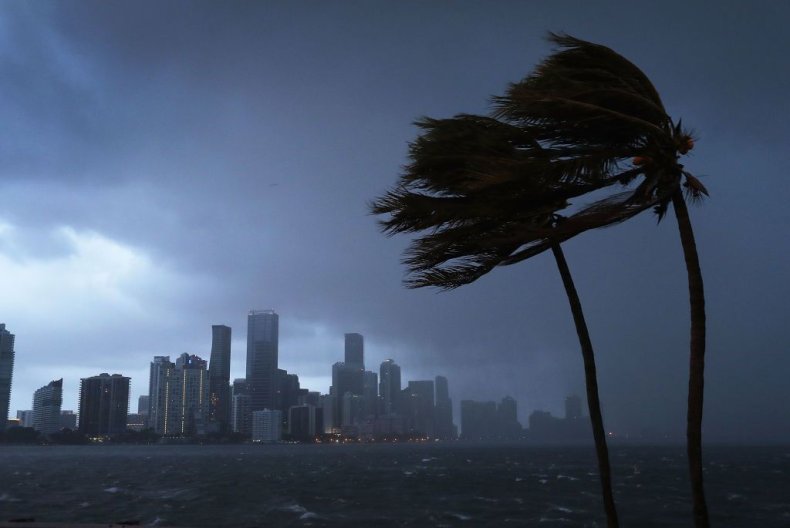 Update: 11.59 a.m. ET - That concludes Newsweek's morning coverage of Hurricane Irma, as it devastated Cuba and moved closer to the Florida coast. For the latest coverage of the storm and its aftermath visit Newsweek.com.
Update: 11:44 a.m. ET - Footage from the Florida coast shows weather getting worse as the storm approaches, with wind speeds picking up and rain becoming heavier.
Update: 11.00 a.m. ET - Hurricane Irma has been downgraded to a Category 3 storm, but it is expected to intensify during the day.
The storm currently has wind speeds of 125mph as it pounds Cuba's northern coastline, with storm swells submerging towns.
Update: 9.49 a.m. ET - Florida Governor Rick Scott is speaking now in Sarasota, Florida.
"If you have been ordered to be evacuated, leave now. Not tonight, right now. Once the storm hits, remember law enforcement can't safe you ... We will do everything we can, but we can't do it once the storm starts," he said.
"I urge everyone to check on your neighbors, your families and your friends."
Update: 9:11 a.m. ET - Footage is emerging from Miami Saturday morning, where the outer bands of the hurricane are lashing the downtown area with wind and rain.
Update: 8:22 a.m. ET - With rumors abounding as Florida braces for the impact of the storm, FEMA has put together a useful list debunking false claims.
The rumor that all hotels are obliged to accommodate pets and other animals belonging to those fleeing the storm is false, however emergency shelters are obliged to accomodate pets.
Romors of high demand for fuel are true, with the agency advising those escaping the storm "to only take the amount of fuel that you need to get your destination."
Update: 7:13 a.m. ET - As the storm approaches the U.S., Newsweek has listed the livefeeds where you can watch the storm as it hits the Florida coast and beyond.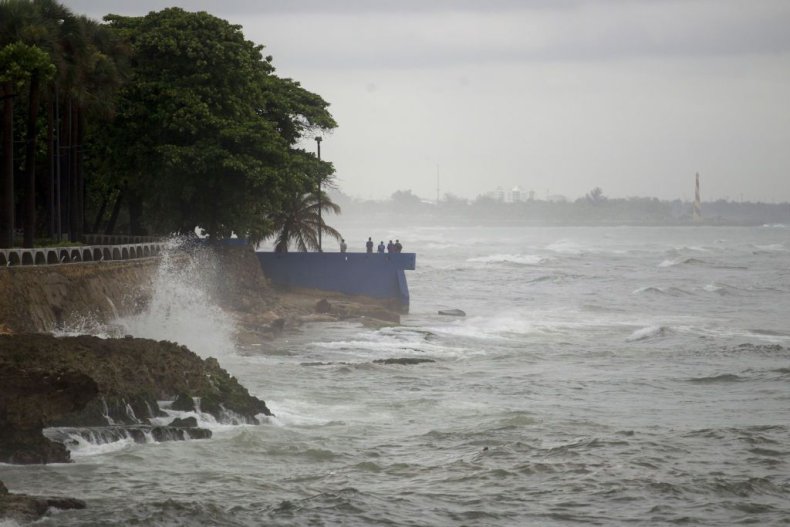 Update: 6:54 a.m. ET - Hurricane Irma will cost at least $1.44 billion in Saint Martin and Saint Barthelemy, a French public reinsurance body said Saturday as cited by Reuters.
The hurricane hit the Caribbean islands earlier in the week, and France's director of public safety Jacques Witkowski said Saturday "there are 1,100 people, both civilian and military, deployed on the islands" to help with recovery, Associated Press reported.
Update: 6:35 a.m. ET - Devastated by Hurricane Irma earlier in the week, the tiny Caribbean island of Barbuda is bracing itself for its second storm in days with Hurricane Jose expected to hit Saturday afternoon.
The Category 4 hurricane has maximum sustained winds near 150 mph, according to the National Hurricane Center, with residents who did not flee earlier being evacuated by a flotilla of vessels.
Update: 6:26 a.m. ET - Incredible footage taken by the Hurricane Hunters shows the eye of the storm as it moved towards Cuba Friday.
Update: 6:06 a.m. ET - Despite urgent evacuation advice from authorities Friday, the Miami Herald reported that some locals in Florida coastal towns where the storm is expected to make landfall early Sunday are refusing to budge.
"I'm born and raised here. I'd much rather stay here when I know the landscape and where people are hunkering down," Key West resident Liz told the publication, with the storm expected to cause a 30 foot storm surge.
Webcam footage from the town shows worsening conditions as the storm nears.
Update: 5:45 a.m. ET - All flights at Miami International Airport are grounded Saturday and Sunday as the storm approaches. Pictures show the airport terminals usually filled with weekend travelers eerily quiet Friday night, after the last scheduled flights departed.
Pictures from Friday evening also show Miami's deserted streets, with thousands of residents having evacuated the city on official advice.
Update: 5:27 a.m. ET - Hurricane Irma has weakened and been downgraded back to a Category 4 storm as it moved over Cuba's Camaguey archipelago, with maximum sustained wind speeds slowing to 155 mph.
Update: 5:10 a.m. ET - Alabama Governor Kay Ivey has overnight issued a state of emergency declaration as Hurricane Irma approaches, with the storm expected to hit the state late in the weekend and early next week.
Update: 5:02 a.m. ET - Patrick Oppmann, CNN's Cuba correspondent, is tweeting live from the country as it is battered by the hurricane, which made landfall late Friday.
He said the storm was so strong it broke Cuban meteorological equipment that measures wind speed.
Update: 4:27 a.m. ET - Here is the latest National Hurricane Center advisory for those in the path of the storm as it approaches the Florida coast, including storm surge and rainfall estimates.