Hurricane Lee is expected to grow in the coming days and has the potential to strike 11 states at the same time with its massive wind field.
As of Wednesday afternoon, Lee was classified as a Category 3 hurricane with sustained wind speeds of 115 miles per hour, according to a public advisory from the National Hurricane Center (NHC). The storm's hurricane-force winds extend 115 miles from its center, with tropical storm–force winds extending 240 miles from the center.
Although the storm is anticipated to weaken before it hits the U.S. by this weekend, Lee's massive wind field could hit 11 states simultaneously, according to a forecast shared on social media by Jeff Berardelli, chief meteorologist at WFLA in Tampa, Florida.
On X (formerly Twitter), Berardelli commented on the "huge" storm, which is expected to triple in size by the weekend.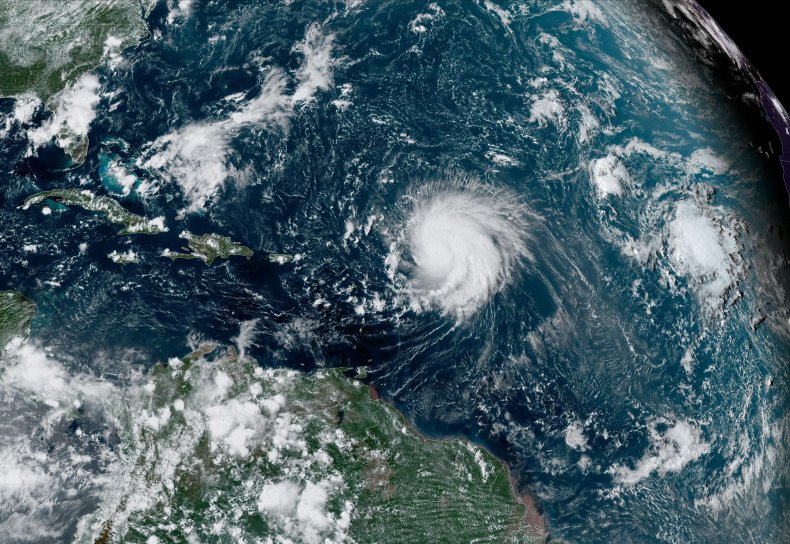 "While Lee's wind field will be huge, it'll also weaken. So the winds felt over extreme eastern New England will mainly be sustained tropical storm force, with some gusts to hurricane force," Berardelli posted on Wednesday with an image of the potential forecast. "Of course this ultimately depends on track. But think broad, but less intense wind field."
The 11 states that could experience Lee's simultaneous impact are Maine, Vermont, New Hampshire, Massachusetts, Connecticut, Rhode Island, New York, Pennsylvania, New Jersey, Maryland and Delaware. Washington, D.C., also could be affected, depending on where the storm makes landfall.
AccuWeather senior meteorologist John Feerick told Newsweek that the greatest impacts will be felt from Cape Cod in eastern Massachusetts up to coastal Maine. However, some areas like New York City and Philadelphia could experience gusty winds at the same time the hurricane strikes the coast.
"The real damaging wind is going to be mostly confined along the coast," Feerick said. He added that people in New England should "brace for significant impact from Lee."
In a follow-up post, Berardelli said that massive waves and substantial storm surge are big consequences of large, fast-moving systems. Storm surge can increase the risk of flash flooding. Downed trees and power outages also are expected.
Tropical storm–force winds could extend up to 300 miles from Lee by later this week, according to a storm briefing by the NHC. This heightens the risk of the storm lashing the East Coast with wind, rain and flooding even if Lee doesn't make landfall.
Lee was previously categorized as a Category 5 hurricane earlier this week but was downgraded to a Category 3 as it continued its trek across the Atlantic. The most recent update by the National Hurricane Center, on Wednesday afternoon, said the storm was moving north-northwest at 9 miles per hour.
The NHC expects the storm to make a northward turn by Thursday and then pick up speed. Forecasts show the storm approaching New England and Atlantic Canada on Friday and Saturday.