Hurricane Lee is anticipated to take a crucial turn midweek, sending the Category 3 storm barreling toward the northeastern United States and Atlantic Canada.
The hurricane had sustained wind speeds of 115 miles per hour as of Tuesday morning. The National Hurricane Center reported that the storm was moving west-northwest at about 7 miles per hour. A map created by the NHC shows the storm taking a turn toward the north by midweek. The storm's wind strengths are expected to weaken, but it will grow in size after it makes its turn on Wednesday.
If the storm grows, the potential for impacts along the Eastern Seaboard is high, even if the storm doesn't make a direct hit. Hurricane Lee is already large, with winds extending outward up to 80 miles from the center of the storm. Weaker, tropical storm-force winds extend outward up to 185 miles.
Tropical storm-force winds could extend up to 300 miles from Hurricane Lee by later this week, according to a storm briefing by the NHC. The size heightens the risk of the storm lashing the East Coast with wind, rain and flooding, even if Lee doesn't make landfall.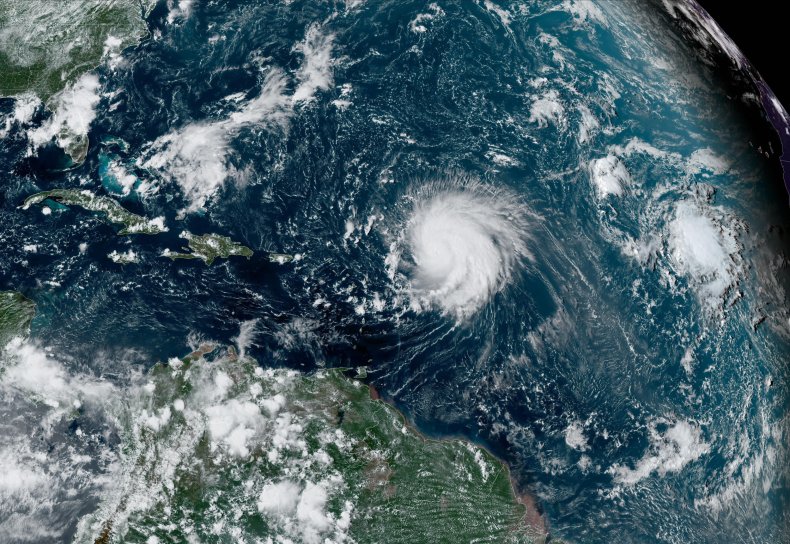 AccuWeather meteorologist Brandon Buckingham told Newsweek that there are two low pressure systems near the Canadian border that could interact with the storm and change its track.
"If Lee moves slow enough to miss the first one, there's kind of a gap...where [Lee] could continue to lift north or perhaps take a slight westward jog," Buckingham said.
In a storm briefing earlier this week, NHC Director Michael Brennan said there's still "a lot of uncertainty" about the hurricane's track and how close it will get to the New England coast.
Lee's current track has the winds arriving in the northeast United States late Friday night into Saturday morning. The NHC warned of an "increasing risk of strong winds, rainfall, and high surf" to Bermuda later this week, although it's uncertain if the storm will make a direct hit to the archipelago.
The NHC noted that it was too soon to tell what damage Lee would bring to the Northeastern U.S. and Atlantic Canada and warned that wind and rainfall hazards would extend "well away from the center" as the storm grows in size.
Hurricane Lee was categorized as a Category 1 hurricane last Thursday and quickly gained speed, intensifying to a Category 5 later that night. It has since slowed slightly but maintains major hurricane strength just a few weeks after Hurricane Idalia barreled into Florida's western coast. Hurricane Idalia made landfall in Florida's Big Bend on August 30 and tore across the state before impacting Georgia and South Carolina.
Hurricane Idalia killed at least three people were killed in Florida, with another death occurring in Georgia.